White cockatoos rescued from Bangladesh border
The BSF contacted the forest department who identified the birds and advised them to give them some fruits and water; they were later handed over to Alipore Zoo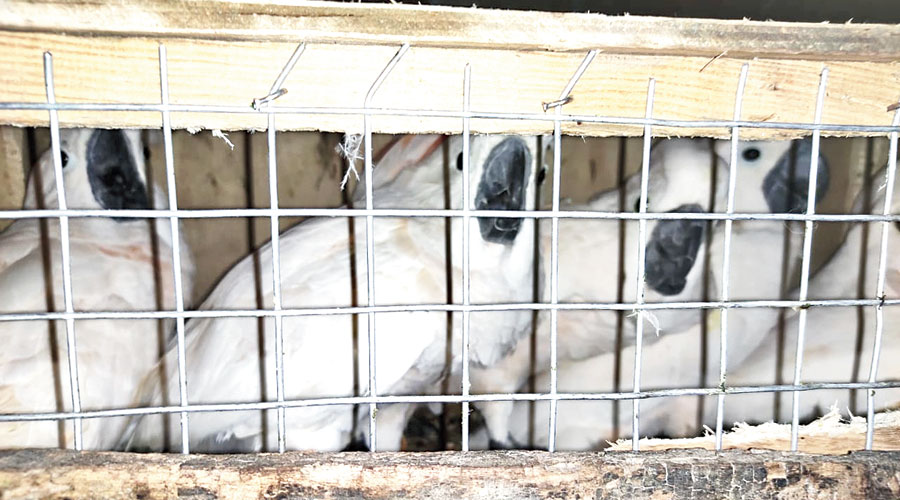 ---
Calcutta
|
Published 30.10.20, 03:06 AM
|
---
More than a dozen White cockatoos were rescued on Thursday while they were possibly being smuggled into the city from Bangladesh, the BSF said.
Border Security Force officers posted along the India-Bangladesh border near Bongaon in North 24-Parganas rescued the birds.
The BSF had received information that several birds would be smuggled into the city from Bangladesh near the Pipli border outpost in Bongaon, a BSF officer said.
A patrol posted at the border outpost spotted a few men moving suspiciously with two large gunny bags on their heads, the officer said.
Asked to stop, they dropped the bags and ran into the forested area. "On closer inspection, our men found the birds crammed into two wooden boxes," the officer said.
The BSF contacted the forest department who identified the birds and advised them to give the birds some fruits and water.
The birds have been handed over to Alipore zoo.
A zoo official said the birds were "extremely traumatised and dehydrated". "We have given them oral rehydration salts as well as some fruits."
The birds will be in quarantine for at least 14 days.
The Indian Wildlife (Protection) Act, 1972, bans wildlife trade but wildlife trafficking has emerged as a multi-billion dollar trade. Southeast Asia is the largest market for wild animals, birds and products from India and Calcutta the preferred corridor of smugglers, a forest official said.
"Consignments change hands multiple times before reaching the final destination," the forest official said.
A week ago 54 Lorikeets had been rescued.