Bengal polls 2021: TMC supporters celebrate party's victory on Zakaria Street
Trinamul's Vivek Gupta won Jorasanko — Zakaria Street is part of that constituency - after trailing the BJP's Meena Devi Purohit for a long time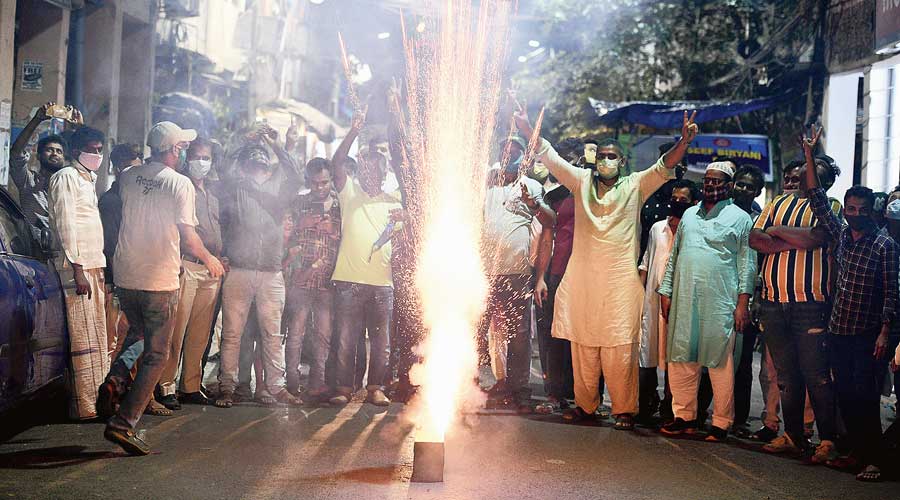 ---
|
Calcutta
|
Published 03.05.21, 02:32 AM
---
Celebrations look different in times of Covid. Zakaria Street was celebrating nonetheless on Sunday evening after a long day glued to TV screens.
The familiar celebratory Ramazan market on Zakaria Street was missing. Gone was the inviting aroma of haleem and kebabs. But young men and women gathered after the iftar.
They congratulated one another on the Bengal result. Sweets were distributed. Some of them burst firecrackers but stopped soon after some elders said the smoke could cause problems for Covid patients in home isolation.
"Our happiness knows no bounds today but we shouldn't take chances with Covid," a young man said.
"Today is one of the happiest days of my life. I have sent messages to many Hindu friends saying thank you," said Abdur Rahman, 33, a Zakaria Street resident.
A 60-year-old man, who usually sells sewai and sheermal on Zakaria Street, said the Bengal vote results reasserted Muslims' as equal citizens on this land. Many people on Zakaria Street and neighbouring areas, who woke up before 4am for sehri and namaaz, did not go back to sleep after that on Sunday.
They remained awake and closely followed news of the election results. But at the end of the day, the anxious and tedious wait paid off. After iftar, residents came out, congratulating one another and distributing sweets to celebrate the BJP's defeat.
Many residents had told this newspaper in the run up to the Assembly elections that they were pained by the rise in Hindutva politics in the country over the past few years. But in the same vein, they had also said they were confident that the politics of polarisation would not work in Bengal.
They had ample trust in their Bengali Hindu brethren and the secular fabric of Bengal. The Sunday results vindicated that trust.
Rahman owns a gym near Ram Mandir in central Calcutta. Many of his regular patrons are Hindus. "I go to Hindu friends' places during the Puja. They come to my house during Id," said Rahman, a fourth-generation resident on Zakaria Street.
A number of residents said the aggressive BJP campaign was unnerving. "No BJP leader bothered to knock on our doors in their campaign trail. But at rallies and roadshows, they kept targeting us and calling us names," said Ajmal Khan, 28.
"But our elders kept reassuring us that Bengal would give a befitting reply to the BJP. That is what happened."
Trinamul's Vivek Gupta won Jorasanko — Zakaria Street is part of that constituency - after trailing the BJP's Meena Devi Purohit for a long time.
Some traders who shut their stalls gathered in front of Nakhoda Mosque after it was certain that the BJP was losing Bengal.
"If the BJP won Bengal, then we would have felt homeless in our own state. But this verdict shows we are also citizens of this very land. We want to thank our Hindu brothers for letting this happen," said the 60-year-old man, who sells sewai and sheermal.
"I had told you so," was the first thing that Muhammad Mahmood told this newspaper after the results on Sunday.