Bengal Polls 2021: North Calcutta TMC candidate releases election manifesto for his constituency
Atin Ghosh, who was deputy mayor of Calcutta, said his experience as councillor for 35 years helped him identify the problems that still plagued the area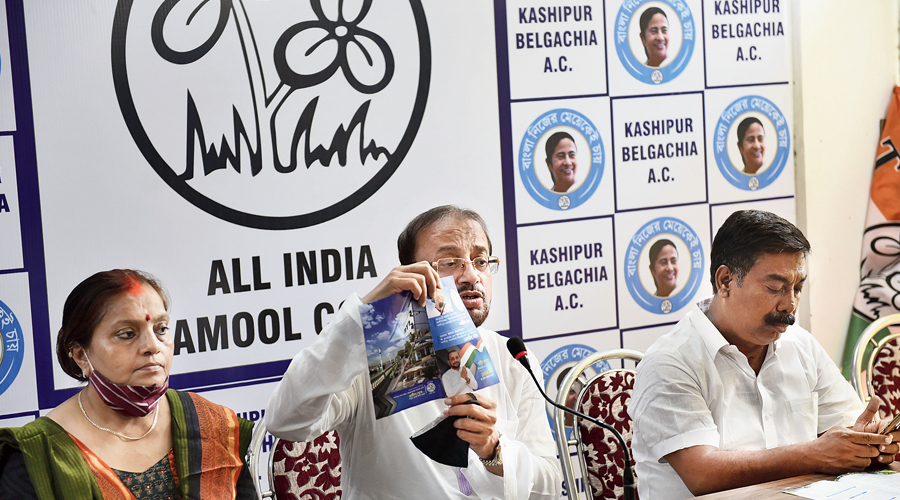 Atin Ghosh releases the election manifesto on Monday.
Picture by Bishwarup Dutta
---
Calcutta
|
Published 13.04.21, 01:26 AM
|
---
The Trinamul Congress candidate from Cossipore-Belgachhia, in north Calcutta, released an election manifesto for his constituency on Monday and said it was a "promise in writing" of the things he would deliver if elected.
The candidate, Atin Ghosh, who was deputy mayor of Calcutta, said his experience as councillor for 35 years helped him identify the problems that still plagued the area.
All political parties release manifestos containing a list of things they will do if voted to power. Individual candidates releasing manifestos ahead of an election is not common.
Ghosh's 13-page manifesto mentions that he will build an underground drainage system on either side of BT Road, between the Tallah bridge and Sinthee More. The 2.5km stretch of the road has open drains on both sides.
Ghosh has also mentioned in his manifesto that he will convert other open drains in the constituency into underground ones.
The manifesto mentions that he will build three footbridges at Chiria More, Sinthee More and at the intersection of Dum Dum Road and Raja Manindra Road.
"I am giving in writing to the people what I will do for them if elected. This will be on record and with people for days to come," said Ghosh.
"I have been a councillor for 35 years and worked on civic issues. My background as councillor naturally drives me towards finding deficiencies in the development of a place. I have been going around in the Cossipore-Belgachhia constituency since March 4, immediately after my party nominated me as candidate," Ghosh said while releasing the manifesto at his election office on Raja Manindra Road.
While visiting various areas of the constituency, Ghosh said, he spotted pockets lagging behind in development. While speaking to residents of the areas, he found that they, too, thought on similar lines.
He has also included in the manifesto demands raised by the people he called on after being nominated as candidate. Residents of the Belgachhia slum, for instance, have demanded a community hall.
"People of the Belgachhia bustee told me that they face a lot of difficulty in organising wedding receptions and other family programmes. Despite being one Calcutta's largest slums, there is no community hall in the area. I will build a community hall for them," said Ghosh.
"We will be accountable to the people of this constituency. They can question the candidate later if he fails to deliver on the promises made in the manifesto," said Priyadarshini Ghosh, Atin's daughter, who is his campaign manager.
The Cossipore-Belgachhia seat has about 2.40 lakh voters, with a mix of Bengali, Hindi and Urdu-speaking population.
Trinamul's Mala Saha had won the seat in the 2016 Assembly polls. She had defeated the Left Front's Kaninika Bose by 25, 810 votes.
Cossipore-Belgachhia is part of the Calcutta North Lok Sabha seat. In the 2019 parliamentary elections, Trinamul's Sudip Bandyopadhyay, who had won from Calcutta North, was ahead of the BJP's Rahul Sinha in the Cossipore-Belgachhia segment by 13,592 votes.
Ghosh admitted that there could be an anti-incumbency factor against him because his promises in the manifesto would give rise to allegations that the outgoing MLA - from his party –had failed to deliver.
"She did a lot of development work, but these are some of things that are still left to be done," he said.
The BJP has fielded Shivaji Singha Roy, a former president of the party's North Calcutta district, from the constituency. The Sanjukta Morcha candidate is Pratip Dasgupta from the CPM.
Cossipore-Belgachhia will vote on April 29, in the last phase of the eight-phase Assembly elections.