Water woes in Salt Lake
Several residents of IA and LA blocks in Sector III suffered a water crisis after an underground pipeline sprung leaks in at least five places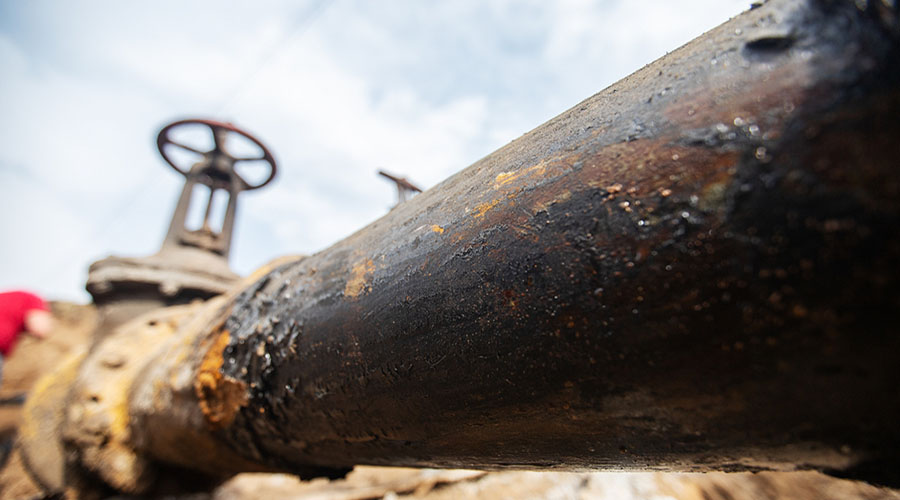 ---
---
An underground pipeline network in Salt Lake's IA Block has sprung leaks in at least five places, triggering a water crisis in a couple of blocks.
At least two craters filled with water and multiple puddles have formed near the Amul roundabout close to Salt Lake stadium.
On Saturday, several residents of IA and LA blocks in Sector III said they did not receive water in the morning.
Rathindranath Mukherjee, a resident of IA Block said, water in his house ran out by 11am. "We were without water without any warning. We had to buy packaged water jars."
Bidhannagar Municipal Corporation officials noticed water leaking from a joint connecting several pipes in the network, a civic engineer said.
The pipes carry water from Tank No. 13 to IA, IB, IC, JC, JD, KB, KC, LA, LB and a few other blocks in Sector III.
Broadway has been filled with several craters because of the leak.
"These pipes are joined with a lead joint, which seems to have given away. Multiple pipelines have leaks as well," the engineer said.
Indrani Bhattacharya, a resident of IB Block, said her family had been facing water shortage for the past several days.
"The supply has reduced to a trickle… our water tank at our house barely gets filled," Chakraborty said.
A resident of IC Block, Sandeep Kumar Jha, said the crisis had forced him to buy potable water. "We are storing as water as much as possible… but I still have to buy drinking water."
Another engineer of the Salt Lake civic body said all joints as well as pipes in the underground water network would be replaced in phases.
The civic body has started overhauling and cleaning water pipes to prevent leaks and wastage. But the existing network, which had been laid when the township was coming up, has weakened with age, the engineer said.
"Sediment deposits inside pipes have reduced their capacity to a large extent and weakened them considerably," the engineer said.
Salt Lake is supposed to receive close to eight million gallons of water every day from the treatment plant in New Town. But the township hasn't been getting it because of inadequate supply pipelines.
The Calcutta Metropolitan Development Authority has been laying pipelines across Salt Lake to ensure it gets adequate water supply. The new pipes are made of high-density polyethylene — a synthetic material, which according to officials, is not prone to leaks.