Schools shut, trains see low passenger count
Government holidays for festivities have also led to a lower count on trains and at stations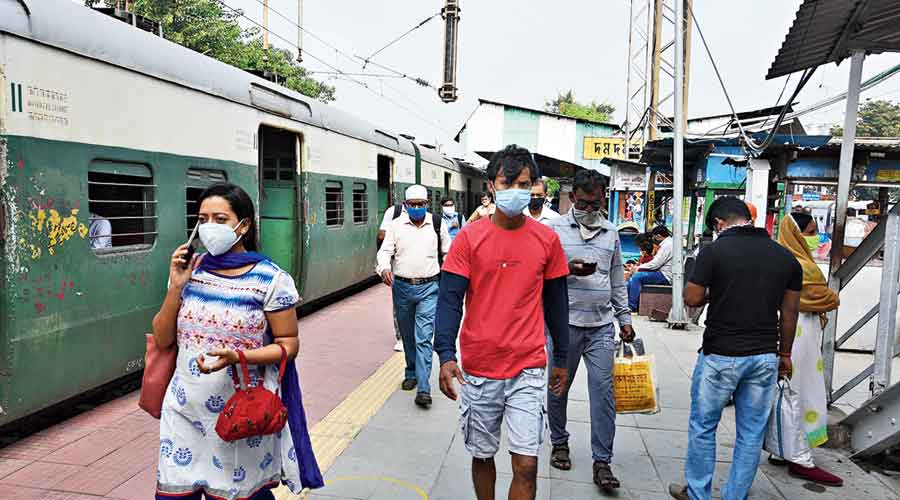 ---
---
Closed schools and colleges and the absence of casual travellers are the main reasons behind the low passenger count on local trains, rail officials said on Friday.
Suburban train services resumed in the state on November 11.
Also, government holidays for festivities have led to a lower count on trains and at stations, the officials said.
The Sealdah division saw close to 632,000 passengers on Thursday and around 660,000 on Wednesday, roughly a fourth of its average daily passenger count before the pandemic, an official said.
The Howrah division saw close to 460,000 passengers on Wednesday, less than half its usual daily count before the pandemic.
The Telegraph has been doing the rounds of Sealdah and Howrah stations for the past few days. During rush hour, every now and then, a packed train arrives at one of the stations. Trains and stations are emptier otherwise than what they used to before the pandemic.
In rail parlance, rush hour means 8am to 11am and 5pm to 8pm.
"The seating capacity of a local train is 1,200. Even during rush hour, the average passenger count on a train is between 1,800 and 2,000," an official in the Sealdah division said. "The average count throughout the day is around 1,150."
The number was 3,000-4,000 on a train before the pandemic, he said.
No students
Schools and colleges are shut; which means absence of students and their guardians on local trains.
Thousands of students from the suburbs and many from rural areas used to get off trains at Sealdah and Howrah to go to their colleges. Streams of students walking down towards College Square from Sealdah were a recurrent sight every morning. Lake Gardens, Ballygunge, Dum Dum and some other stations used to see a sizeable student crowd. Guardians used to often accompany their schoolchildren on trains.
Chief minister Mamata Banerjee had said towards the end of July that the government might reopen schools and colleges on alternate days in September "if the situation improved in August".
The plan had to be scrapped as the Covid situation continued to remain grim. In the first week of November, Mamata said that schools would remain closed at least till the first week of December and a decision on reopening them would be taken after that.
Colleges are likely to resume from December, government officials have said.
Need-based travel
Casual travel has taken a back seat for fear of the virus. The trend suggests only those who have to go out are the ones travelling on local trains.
Holiday season
October-November is the festive season and government offices are closed on several days.
In this week, for example, only Wednesday was a working day.
Most private offices are following the work-from-home model. The result — the number of office-goers on local trains is lower than usual.
Rail officials expect the crowd to go up once the festive season is over. The additional load of students will have an impact once schools and colleges reopen, especially during the morning and evening rush hour.
The Sealdah division has been running around 550 trains every day and Howrah around 360. But in both divisions, rush hour trains are nearing their pre-pandemic capacity.
That will be tested once the crowd count goes up in the coming days, a rail official said.
Train cancelled
A festive special train from Howrah to Jammu Tawi, which was scheduled to leave Howrah on Saturday, has been cancelled because of the ongoing farmers' agitation in Punjab, a railway official said on Friday.
The train was supposed to depart at 11.55pm.