St Xavier's College to start first-year UG classes on September 10
The institution had started receiving application forms for undergraduate courses on June 22; classes to continue to be held online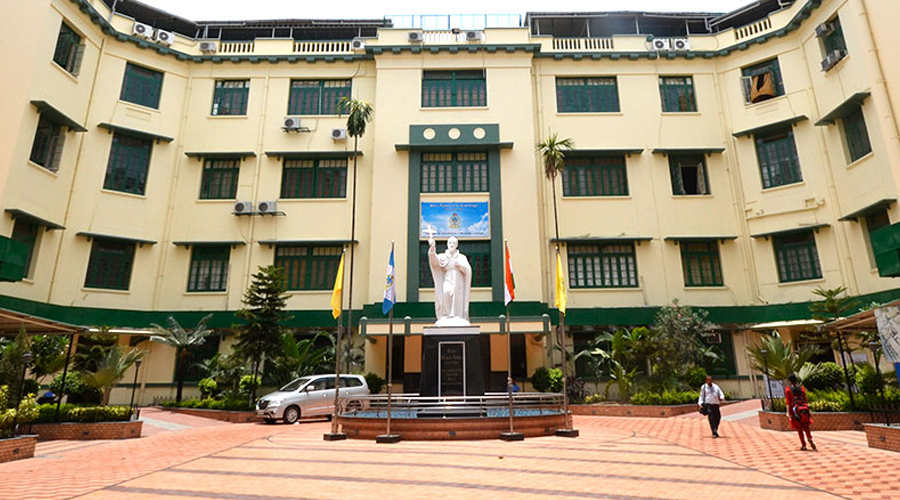 St Xavier's College
File picture
---
Calcutta
|
Published 09.08.21, 02:09 AM
|
---
St Xavier's College will start first-year undergraduate classes on September 10, an official of the Park Street institution said, well ahead of the state-aided colleges where classes are to start on October 1.
St Xavier's College started receiving application forms for undergraduate courses on June 22.
At the state-aided colleges, submission of filled-in forms started on August 2.
"First-year classes must start early for the syllabus to be completed on time," said Father Dominic Savio, the principal of St Xavier's College.
"Considering that the state higher secondary council, CBSE and the ICSE council published their Class XII board results in July on respective dates, August 10 happens to be the last date of applying. Once we are through with the publication of the merit list, classes will start latest by September 10," Father Savio told Metro.
"An early start of the first-year classes is a must to cover the syllabus and conduct the semester exams on time."
The decision as of now is that classes will be held online, as a precaution against Covid.
The college, while drawing up the merit list for the undergraduate courses, is giving 75 per cent weightage to the Class XII board result aggregate and 25 per cent to the board marks in the subject in which an aspirant wants to study honours.
St Xavier's University, New Town, will start its undergraduate classes on digital platforms on August 9.
The Park Street college is waiting for an advisory from the state government about the resumption of in-person classes.
Chief minister Mamata Banerjee had said on Thursday that the government would consider reopening schools and colleges after Puja if the Covid situation remained under control.
"As the state government is exploring the possibility of reopening colleges in November (Diwali is in early November), we will soon start sending circulars to the students to get themselves vaccinated. Vaccination with two doses will be mandatory in the event of resumption of on-campus classes," said Father Dominic Savio.
If students face constraints in getting vaccinated, he said, the college will arrange for their inoculation.
The college had in June arranged for free vaccination of the students who were in the intermediate semester in the second and third year.
"If the state government allows reopening of college in late October, it will not be possible to get all students fully vaccinated by then. We have to keep in mind that there is an acute shortage of vaccines all over because of erratic supply. If we don't start alerting students now, they won't be able to take the jabs in time," said an official of St Xavier's College.
The National Institute of Technology, Durgapur, and IIM Calcutta have announced that the research scholars and students who are being allowed to return to the campus will have to be fully vaccinated.