Private bus and minibus operators 'hike' fares to resume service
A ride from Baguiati to Ultadanga could cost Rs 12, instead of Rs 7 and a trip from MG Road to Howrah station will cost Rs 10, instead of Rs 7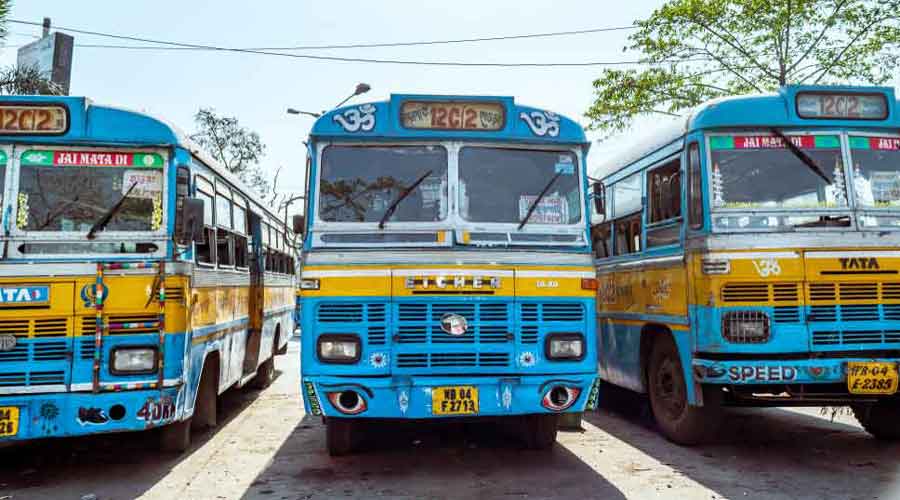 The bus operators' committees on a few routes said on Monday they had drawn up their new fares, while others said they were in the process of doing so.
File photo
---
Calcutta
|
Published 06.07.21, 12:52 AM
|
---
A section of private bus and minibus operators has decided to resume their services on Tuesday charging fares that have been locally agreed upon, instead of the one approved by the state government.
At a meeting of bus owners to discuss their course of action late on Monday evening, several operators said commuters across many routes in Calcutta had told them that they were ready to pay increased fares provided the hike did not pinch them too hard.
Since the passengers are willing to walk the extra mile, bus owners said they would resume their services on Tuesday and charge fares that had been locally agreed upon taking into account the diesel price.
On Monday, a litre of diesel sold in Calcutta for Rs 92.27, compared with Rs 77.41 on January 1.
If the new rates come into effect, a ride on a private bus from Baguiati to Ultadanga could cost Rs 12, instead of Rs 7. A trip from MG Road to Howrah station will cost Rs 10, instead of Rs 7.
The bus operators' committees on a few routes said on Monday they had drawn up their new fares, while others said they were in the process of doing so.
"The bus owners on some routes have worked out a rate chart themselves, wherein for every 4km the fare has been increased by Rs 5," said Pradip Narayan Bose, of the West Bengal Bus and Minibus Owners Association.
"Please understand we are not opposing the state government on anything. But this is reality."
Private and government buses, along with other forms of public transport, had been off the roads since May 16 as a precaution against Covid.
The state government allowed resumption of bus services from July 1 but the majority of the 5,000-plus private buses in Calcutta and its adjoining areas are yet to roll out of the garage, with the owners demanding a fare hike.
The government has been sending feelers and requesting operators to resume their service but most stuck to their demand for a fare revision following a steep rise in fuel prices.
On Monday, transport minister Firhad Hakim met Swarnakamal Saha, Trinamul MLA and leader of the Bengal Bus Syndicate, and engaged him to find a way out after talking to bus and minibus unions.
Hours later, representatives of several bus and minibus unions came together to strategise their next step amid mounting pressure from the state government to run buses. After rounds of heated deliberations, a section of bus owners said it was not possible to resume service if the fares remained unchanged.
"The last time fares were revised was in 2018. How can we now force bus owners to resume service? If passengers are ready to pay increased fares, the administration should ideally regularise the hike with a government notification," said Rahul Chatterjee, the general secretary of the All Bengal Bus Minibus Samannoy Samity.
Hakim said the government was trying its best to arrive at a solution keeping in mind the woes of private transport operators. "But it is our appeal to all operators to resume services before there can be any discussion," he said.