PM lands in Calcutta on 'Parakram Diwas' meant to commemorate Netaji
Aircraft lands at airport at 3 pm, minister receives Modi there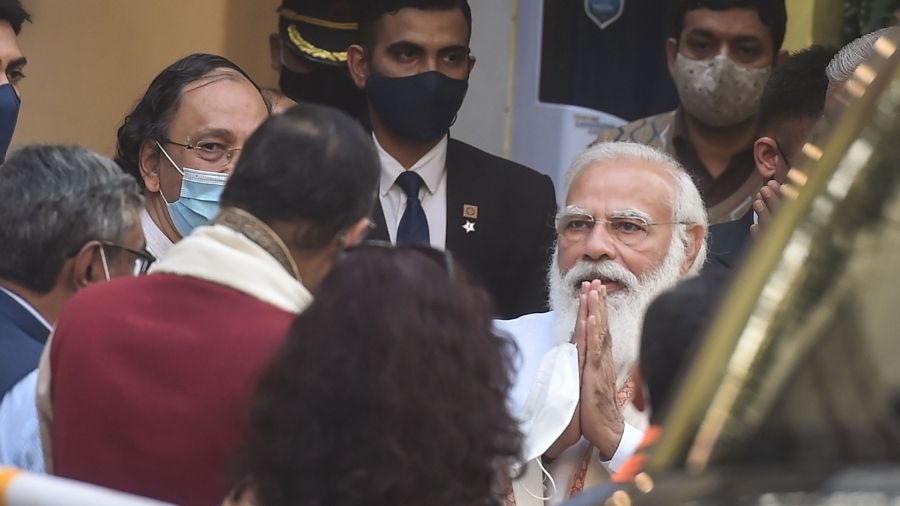 Narendra Modi at Netaji Bhawan in Calcutta on Saturday.
PTI
---
Published 23.01.21, 05:55 PM
---
Prime Minister Narendra Modi arrived in Calcutta on Saturday afternoon to take part in the 125th birth anniversary celebrations of Netaji Subhas Chandra Bose.
The prime minister's aircraft landed at the NSC Bose International Airport around 3 pm, from where he took a helicopter for the city.
State minister Purnendu Basu received him at the airport.
Modi's copter landed at the RCTC Ground in the heart of the city at 3.25 pm.
The prime minister was received there by Governor Jagdeep Dhankhar and state minister Firhad Hakim.
Modi will deliver the valedictory address in an international seminar on Bose titled "Re-visiting the legacy of Netaji Subhas in the 21st century" at the National Library.
Following this he will participate in a programme at the Victoria Memorial.
There, he will inaugurate an exhibition and a projection mapping show on Netaji that is intended to be showcased all around the year.
He also visited Netaji Bhavan, Bose's residence.
Earlier in the day, the prime minister paid homage to the freedom fighter in a Twitter post.
"Tributes to Netaji Subhas Chandra Bose, a great freedom fighter and a true son of Mother India, on his birth anniversary," the prime minister said in the tweet in Hindi.
"A grateful nation will always remember his sacrifice and dedication for the independence of the country," he said.
The government has decided to observe January 23 as "Parakram Diwas" to commemorate the birth anniversary of Bose, who was born on this day in 1897.
Ahead of his visit, state Chief Minister Mamata Banerjee attacked the Centre and said it only remembers Bose when elections are due.
"We don't remember Netaji before the elections. He is in our hearts for 365 days. We are in touch with his family," she said.
"Why was the national Planning Commission, which was conceptualised by Netaji in independent India, dissolved? Why is the demand for a holiday on Netaji's birthday by our government not yet met," Mamata said after paying tributes to Bose.
Earlier in the day, Mamata kicked off a grand procession in Calcutta to pay tribute to Netaji.