'Google' goes to office even during pandemic
Meet the Siberian Husky from EC Block that lets out a bark post breakfast, as if to announce that he'll be leaving now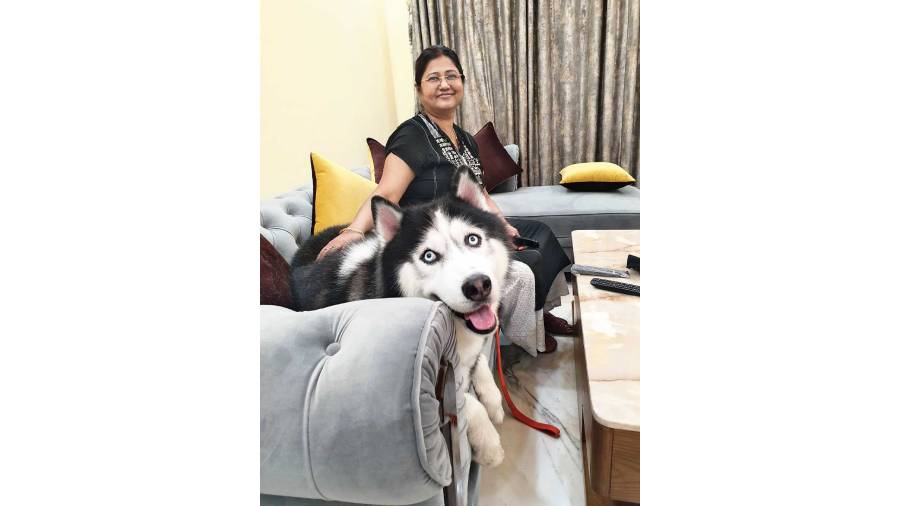 Google gazes into the camera with Mousumi Das seated behind him
---
Salt Lake
|
Published 23.07.21, 12:18 AM
|
---
You may be working from home these days but a Siberian Husky from EC Block continues to go to office. Even on Sundays.
"Every day after breakfast Google lets out a bark, as if to announce that he'll be leaving now. I call our driver, who escorts him to the car and takes him for a drive around Central Park," says Mousumi Das. "The dog loves feeling the wind in his face. In fact, he'll bark to object if the driver ever switches the AC on. Onlookers wave at Google and tell one another that he's off to office!"
Google had come into the family three years ago, when Mousumi's son finally managed to convince his parents to get a dog. "I was skeptical as it would be difficult looking after a dog and my son was anyway planning to go abroad for his Masters at the time. Finally they convinced me saying the dog would be like a younger son to us when our own son went away," says the lady who has never once regretted her decision thereafter.
Google was named so by Mousumi's son Poorbayan, who wanted a unique name for him.
Google's birthdays are celebrated with cake, guests, music and decorations. But Mousumi and her son missed his first birthday. "We had to leave town for my son's college the day before his birthday and it broke our heart. We attended his party over video call," she says.
If there's one thing Google hates, it's suitcases. "Whenever my husband takes one out Google knows he's going on tour and gets morose. It's the same if I pack my bags. But in my case, even if I go to City Centre he leaves all else and sits in the balcony waiting for me to return."
The Husky has a soft coat, piercing blue eyes and a fluffy tail that Mousumi likens to the chamor used during pujas. He is certainly a high maintenance breed, needing the AC round the clock. Why, even the water he drinks must be chilled, with ice cubes. "If by chance his water isn't cool enough he'll look at the fridge and bark," Mousumi smiles.
So popular is Google that on his walks, he spends less time walking and more time obliging his fans. No wonder at a pet show last winter someone came over to Mousumi and asked if she was the lady who lived in Google's house!
If you have a pet you have brought up at home as a family member and which has its eyes only for you, write to us with your contact number at The Telegraph Salt Lake, 6, Prafulla Sarkar Street, Calcutta 700001 or email to saltlake@abp.in