Karate class in CC Block
During the pandemic, most children have only been watching TV, fiddling with their phones and eating junk food. They need physical exercise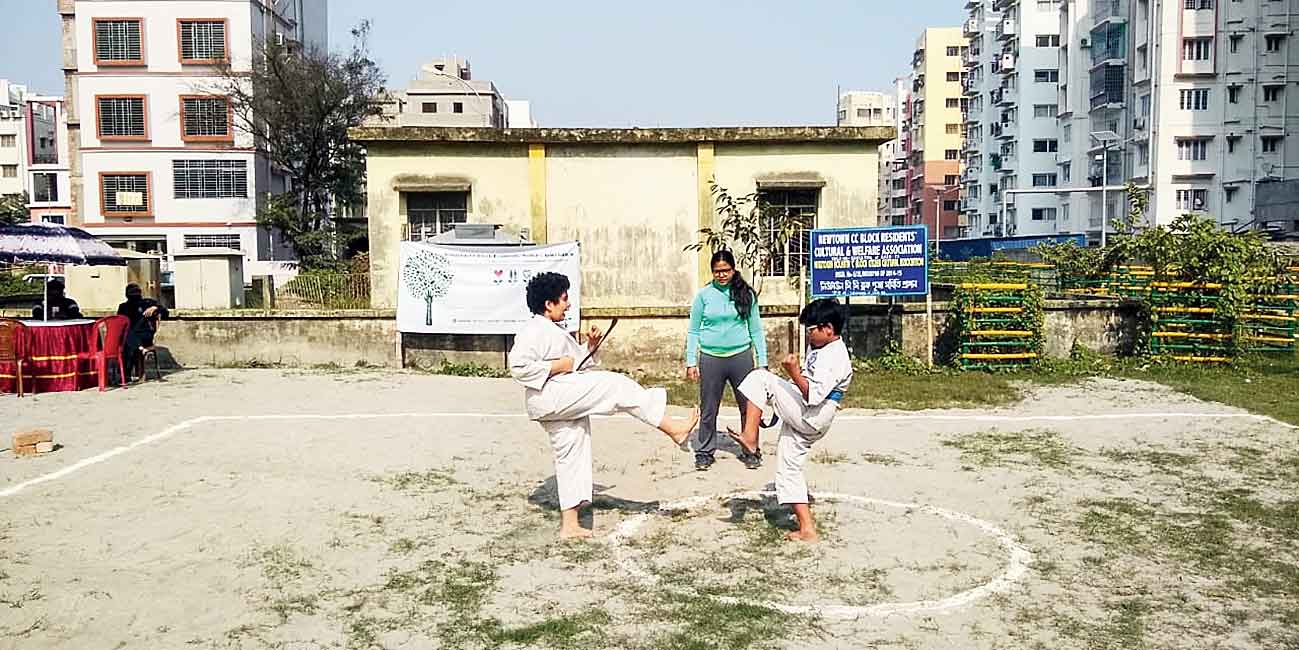 Young karatekas demon-strate moves at the launch of their coaching centre in CC Block, New Town
Sourced by the correspondent
---
New Town
|
Published 01.01.21, 01:51 AM
|
---
CC Block in New Town has announced a karate coaching centre for children and classes should commence this weekend.
"The idea germinated when during the lockdown we would go door-to -door to raise funds for charity," said secretary of Newtown CC Block Residents' Welfare Association Atanu Mahapatra. "Their parents would mention how fatigued and irritable kids were getting from round-the-clock online classes. They asked us for a solution."
Meanwhile, Mahapatra's son Arhan and his friend Barnak Samaddar had been learning karate on the ground floor of their co-operative building for years. "Other parents passing by would notice them and ask us to arrange classes for all," said Barnak's father Biman Samaddar, who is also vice-president of the association.
So now an arrangement has been set up with World Modern Shotokan Karate Association of West Bengal, and its president and chief instructor Anil Kumar Ram will be teaching the kids. "During the pandemic, most children have only been watching TV, fiddling with their phones and eating junk food. They need physical exercise and this will be good for them," said the sixth dan black belt.
There was a karate demonstration by students at the inauguration too.
Details of the classes are yet to be finalised but they should begin this weekend at CC Block puja ground. "We don't have a playground and have written to the authorities to build us one. Once that happens, we can start cricket and football coaching too," said Mahapatra. "For now, karate is a sport that will require limited space but provide the kids high intensity workout."
The fees should be around Rs 500 and the classes are open to those living outside the block too. The minimum age of enrolment is three years.
Ten boys and girls have already signed up. "I have been learning for six years and have already got a black belt," said 10-year-old Barnak excitedly. "The shihan (instructor) has said that I shall be an assistant teacher now and help him teach the juniors."