Jewellery hub reflects Covid crisis
Slump forces outlets and workshops to stay away from Vishwakarma Puja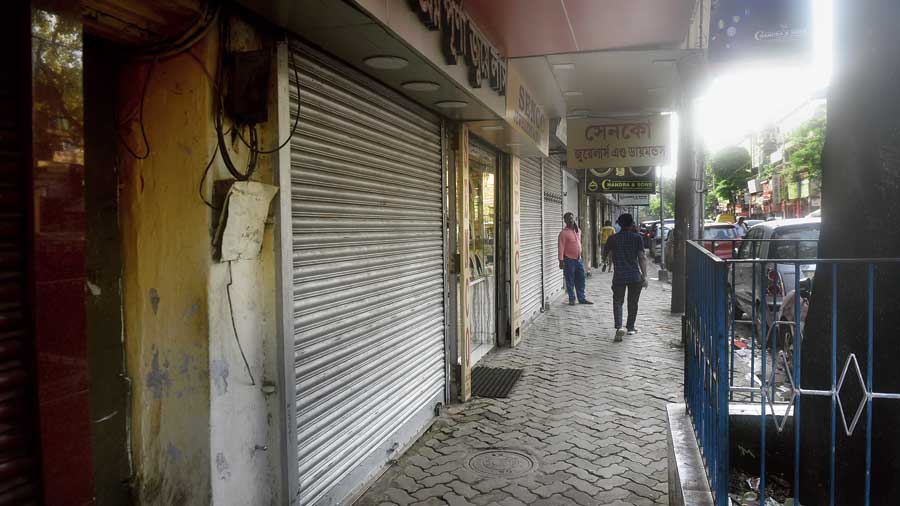 ---
|
Calcutta
|
Published 18.09.20, 02:13 AM
---
Just about 300 shops and workshops out of the 7,000-odd in the jewellery hub of Bowbazar celebrated Vishwakarma Puja on Thursday with most shop-owners and goldsmiths opting to stay at home, struck by the Covid-induced slump in business.
The ones that held the puja had an early closure. The familiar sight of elaborate lunch with generous servings of biriyani was missing and so was the loud music.
Across parts of Nabin Chand Boral Lane, Prem Chand Boral Street, Durga Pituri Lane and Syakrapara Lane, the stillness of the afternoon reflected the crisis that one of Calcutta's most booming businesses has slipped into.
"There have been no orders for almost six months now. People have stopped visiting ornament shops, leave alone buying," said Tapan Ghosh, the owner of Gold Plaza jewellery shop on Durga Pituri Lane. "There is nothing to celebrate this year. Not even Vishwakarma Puja."
Ghosh, like several others, didn't open his shop on Thursday. Not one of his five goldsmiths stepped out of their homes during the day. They haven't earned anything for the last few months.
Traders and market watchers said the central Calcutta jewellery hub would witness a transaction of around Rs 450 and Rs 500 crore around this time every year. Orders would pour in from across India with customers choosing their trusted shops in the lanes and bylanes such as Durga Pituri Lane, Gour De Lane and Radha Mohan Pal Lane.
It would be the busiest time for the 15,000-odd artisans engaged in the gold trade in Bowbazar. Many of them commute from parts of Naihati, Baruipur, Sodepur and Amta.
"The first setback came last year, when Metro tunneling work created a subsidence," said Bharat Soni, the owner of a jewellery shop in Syakrapara Lane. "Then came the Covid-19 pandemic."
"I didn't even feel like going to Bowbazar today," said Gopal Modak, who owns a jewellery shop. "Several of my friends who have been allotted an alternative space by Metro following last year's cave-in didn't open their shutters. Byabshai nei, ki korbo (There is no business. What do we do)."
Traders and members of the Bangiya Swarna Shlipa Samity, an umbrella organisation of gold traders, said Calcutta would consume around 50 tones of gold annually and Bowbazar would contribute the largest share. This September, the slump has brought the business down by almost 70 per cent.