IIEST decides to hold online exams due to rise in Covid-19 cases
The institute authorities felt the need to review their decision to call the students back and an emergency meeting of the institute's senate was held on Wednesday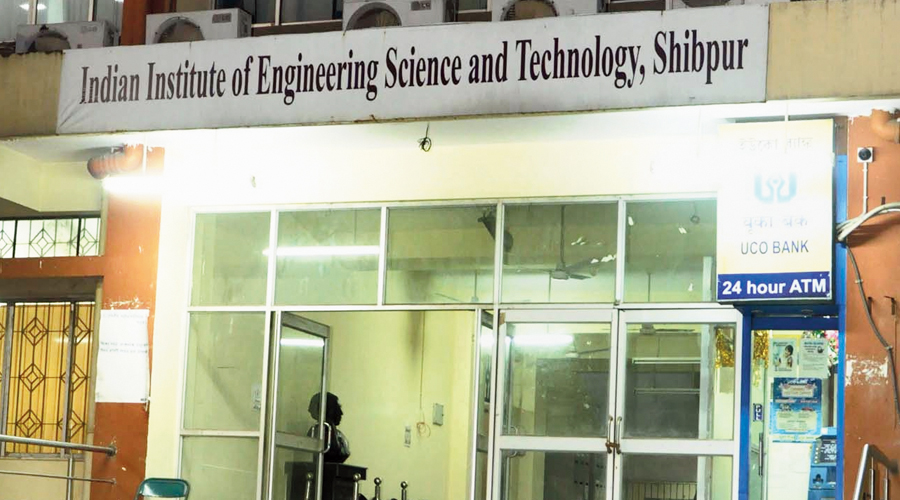 ---
Howrah
|
Published 08.04.21, 01:48 AM
|
---
IIEST, Shibpur, will not call its students back to the campus for supplementary tests and hold the exams online because of the rise in Covid-19 cases across the country and on the campus, an official of the institute said.
Last month, the Indian Institute of Engineering Science and Technology (IIEST)'s senate, the highest academic body, had decided that BTech supplementary exams would be held on campus in May and the 370-odd outgoing postgraduate students would be called to the campus from mid-April for hands-on laboratory training.
The students' senate, which represents all students of the institute, in late March had sought a review of the decision to hold on-campus exams following a spike in Covid cases. 
The IIEST authorities felt the need to review their decision to call the students back and an emergency meeting of the institute's senate was held on Wednesday.
"We have put on hold the decision to recall the postgraduate students. The situation will be assessed in the first week of May and then we will take a call. The supplementary exams that were scheduled to be held from May 5 to May 10 on the campus will now be held online during the same schedule. Since the pandemic is raging, it would not be advisable to recall students now," said IIEST deputy registrar (academic) Nirmalya Bhattacharyya.
On Tuesday, IIEST decided to close three departments till April 11 after some teachers attached to them tested positive for Covid-19.
At Wednesday's meeting, IIEST director Parthasarathi Chakrabarti briefed the members of the senate about the situation on the campus and the stand of the students' senate.
"All of us agreed that it would not be proper to recall the students now. There has been a drastic change in the situation on the ground between March 17 — when the senate had met last — and now," he said.
Repeated calls to director Chakrabarti went unanswered. He did not respond to text messages either.
Many of the students are from worst-affected states, like Maharashtra, Tamil Nadu and Punjab, and were worried about travelling in the current situation, said Aman Kumar, the acting general secretary of the students' senate.
"We are happy to know that the supplementary exams will be held online. The decision only goes to show the extent of the crisis," Kumar, who attended Wednesday's meeting, told The Telegraph.
Half the seats at IIEST are reserved for students from outside Bengal.
A member of the highest academic body said they apprehended travel restrictions being reinforced to contain the spread of the virus, which could disrupt the examinees' return to the campus.
Why had the authorities decided to hold on-campus BTech supplementary exams?
"Supplementary exams for the second-year postgraduate students in the previous semester were held on the campus in November," an IIEST official said. "We had decided to recall the outgoing masters' students as the Centre in its Unlock-V directive last year had said higher education institutions could reopen from October 15 for research scholars and postgraduate students in technology and science streams requiring lab work."