ICSE council seeks X and XII questions
A check on standards that have been maintained by affiliated schools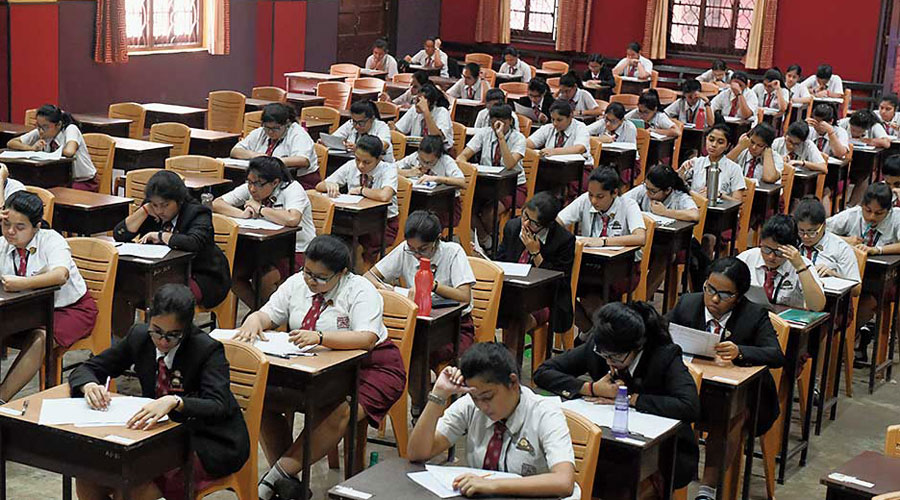 ---
Calcutta
|
Published 15.10.20, 04:03 AM
|
---
The ICSE council has asked its affiliated schools to send question papers of their internal examinations for Classes X and XII. 
"We are keen to know the kind of tests conducted (half yearly or unit tests), the standards that have been maintained, the portion of the syllabus covered, the pattern of question papers and the rubrics the schools have followed," Gerry Arathoon, the secretary and chief executive of the council, told Metro. 
This is the first time everything is being done online, from teaching to assessment of the children, and the council needs to know how the question papers have been set, said Arathoon.
The chief of the Council for Indian School Certificate Examinations addressed more than 150 principals online at a regional meeting of the Bengal chapter of the Association of Schools for the Indian School Certificate on Wednesday. 
During the meeting, he asked the principals to send the question papers to the council. 
"Different schools may be doing it in different ways - some may be setting multiple-choice questions, some one-line answers or a paragraph and some may be giving subjective questions. We will get an idea when we see the question papers," said Arathoon.
"We will want to see only the question papers and that too for the board classes."
While holding the exams, some schools have asked students to write answers and upload them.
In some schools, the question paper is a combination of multiple-choice questions and subjective questions for senior classes. Not all schools are setting 100-mark paper; some are opting for papers with less marks.
Across the city, schools have been conducting the exams online and in some institutions teachers have devised ways to proctor the examination using technology. 
In several ICSE and ISC schools, exams were held in September and they were preceded by unit tests. 
Regarding next year's board exams, the council could not say anything for certain because of the raging Covid pandemic. 
"We don't know when it is going to happen and in what form (pen and paper or online). It will depend on how the situation unfolds," Arathoon said. 
Usually, the board exams start in February and the practical tests precede the theory papers. 
"We have got some plans in mind. But we have to prepare for all eventualities and keep plans in place and fit those plans depending on the prevailing conditions," Arathoon told this newspaper. 
He said the council would have to get the nod from the Centre regarding board exams and also find out whether it would be viable for the states to conduct them. 
"What we understood is that we will have to collate all the tests that we have conducted for Classes X and XII so far and send the question papers to the council. The council will study them," the principal of an ICSE school said. "Some of our questions are application-based."