Bagbazar fire: Homes to be rebuilt, assures CM
Calcutta Municipal Corporation will start constructing dwelling units once the area is cleared of debris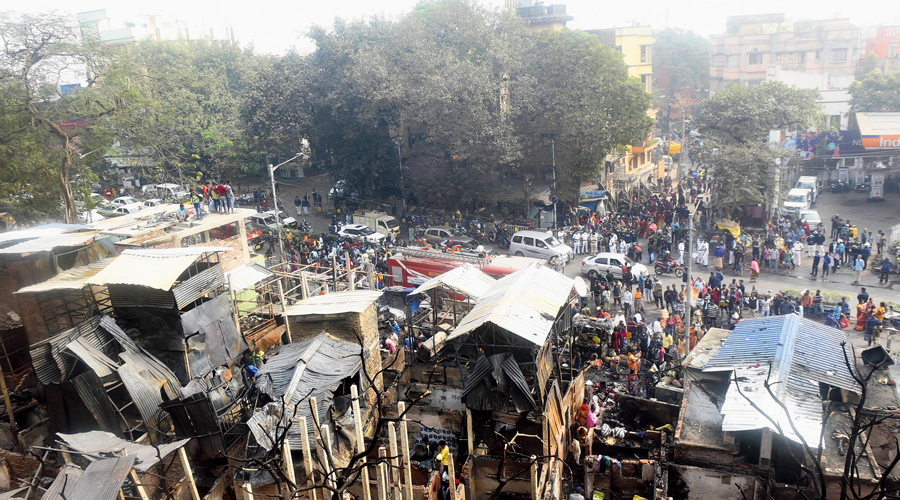 ---
|
Bagbazar
|
Published 15.01.21, 02:38 AM
---
More than 150 families who used to live in shanties next to the Udbodhan building in Bagbazar lost their homes in Wednesday night's fire.
Chief minister Mamata Banerjee visited the fire-ravaged area on Thursday afternoon and promised to rehabilitate the residents. The Calcutta Municipal Corporation, she said, will start building dwelling units once the area is cleared of debris.
"Today we will clean the place, after this we will construct houses for all the people. Each family will get their house rebuilt here," Mamata said.
She also told the dwellers, who had gathered since morning to salvage their possessions from the burnt remains of their houses, that they could stay at Women's College nearby till the dwelling units are built.
"We will give 5kg of rice, lentils, vegetables as well as milk to each family," Mamata said, before instructing Sashi Panja, the local MLA and state minister for women, child development and social welfare, to distribute blankets and woolens among the affected people.
Throughout Thursday, families tried to salvage whatever they could from their gutted homes. Many looked distraught after failing to find crucial documents such as ration cards, voter identity cards and Aadhaar cards.
Many youngsters were seen rummaging through debris in search of headphones, speakers and other electronic devices.
Sapna Dolui, a 23-year-old homemaker, stared at what seemed like a burnt piece of cloth at the spot where stood her home even a day before, for several minutes before tears welled up in her eyes.
Dolui, who was accompanied by husband Mongol, a daily labourer, said the burnt piece of cloth used to be her handbag where she had kept three Rs 500 notes — her wage for working at a fast food stall — as well as their voter ID cards.
"I had planned to buy groceries, vegetables and other essentials with the money. We lost all the money as well as our home. The voter cards are gone, too, and I don't know if we can apply for new ones in time," said Dolui.
As evening set in, a group of young businessmen and professionals visited the slum and distributed blankets and dry food items.
"The people here have lost all their possessions and we wanted to make sure they at least had a blanket each," said Jignesh Thakkar, one of the men who distributed the blankets.
Thakkar, who lives near Shyambazar, said he and his friends had appealed to people on social media to donate blankets and food and they were "amazed" at the overwhelming response.