Holistic learning in focus
From celebrating multilingualism to saluting national heroes and Covid warriors, city schools engaged in a series of virtual event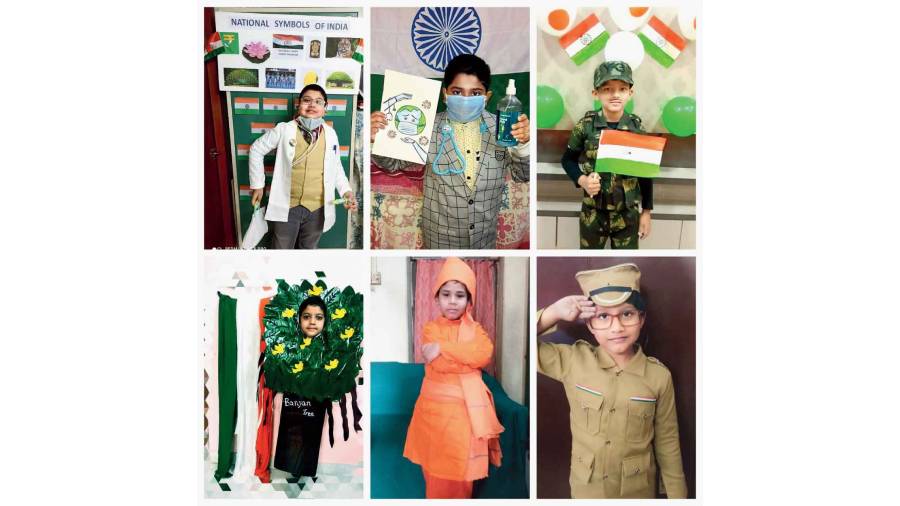 Students during the virtual event at Apeejay School, Park Street
Sourced by the correspondent
---
Calcutta
|
Published 11.02.21, 01:54 AM
|
---
Apeejay School, Park Street
Apeejay School, Park Street, recently celebrated the 124th birth anniversary of Netaji Subhas Chandra Bose virtually. The significance of the day was emphasised through different events organised by the kids from Lower Kindergarten to Class V. The children of Lower and Upper Kindergarten dressed for a fancy dress programme, where some dressed as national heroes and some as frontline warriors for Covid-19 to pay homage to their untiring contribution during the pandemic. Students of classes I and II presented patriotic songs in different languages to pay respect to the diverse culture of the nation. An event to make collage of Indian national symbols was organised for the children of Class III, while the students of Class IV wrote Jai Hind in various languages. Class V students presented a throwback on the national heroes. Quiz and poem recitation were also included in the event. Parents and teachers also took part.
A processed painting session, Splash, was organised for both parents and students to be in tangent with each other. "At a time when we all are struggling in our own ways, who would be better to remember than Netaji Subhas Chandra Bose, India's greatest son. He continues to inspire millions even today. While the seniors reflected upon the various national symbols, the blooming buds presented a few songs that gave goosebumps," said principal Paromita Guha Ray. Akshar School
Akshar School celebrated multilingualism with a variety of vernacular language activities for students of classes UKG to V. It was a part of theme-teaching. Children did prayers, recited poems in various Indian languages such as Gujarati, Odia, Coorgi and Bengali and performed Tamil wedding songs on the theme, India Travelled and Unravelled. Students of Class I dressed up in traditional attire and spoke about how to take care of them. The children of classes UKG, I and V recited poems in their mother tongues eloquently and confidently. "We are making the children aware of the cultural diversity and encouraging them to learn from each other through these activities. Being a school that has students from different regions, children can delve into every language," said principal Kavneet Khullar. Future Hope School
Future Hope School recently organised their annual inter-house Katie Baddley Drama Competition on a digital platform. The theme of this year's festival was Dickens with a Twist. The four Houses — Panther, Cobra, Elephant and Tiger — chose Oliver Twist, A Tale of Two Cities, David Copperfield and Pickwick Papers. The participants had practised over Cisco Webex under the guidance of thespian Amlan Chaudhuri for nearly a month before putting up their plays on YouTube.
New South Wales-British Council director Rebecca Gould, Dance Theatre UK director Nelson Fernandez and thespian Vivek Mansukhani judged the plays online. "The scripts were executed well and appropriate twists were given to the main plot," said Gould. Mansukhani felt a revival of memories seeing the plays. Elephant House clinched the Katie Baddley trophy and the Best Script award. The Best Actor award went to Sujan Hussain of Cobra House, while Sweta Gupta of Panther House was adjudged the Best Actress Fun-Learn Day Boarding School
Fun-Learn Day Boarding School recently organised its seventh annual sports meet on a digital platform. The indomitable spirit of the students, teachers and parents prevailed when school founder Udita Chakraborty declared this year's annual sports open with a short film clip showing the flight of the pigeons. Like the free-spirited birds, the Fun-Learn children — from Play Group to senior classes — rose to the occasion. With Queen's We will Rock You and Radio Ga Ga belting in the background, the children of the four houses — Kalam, Keller, Tagore and Derozio — marched confidently in front of their devices, albeit from their respective homes. The school performed a synchronised drill and yoga as a part of their school sports. "We have not let this pandemic overwhelm our lives. Physical exercises and yoga periods are included in our daily online timetable. Staying physically fit is the need of the hour to keep us mentally strong in these trying times. And this daily practice showed as our children performed the drill and yoga on the sports day. I must thank our yoga teacher Meenakshi Yadav for this," said Chakraborty.