Family income hit, IIEST students seek fee waiver
The board of governors has advised the institute's director to write to the HRD ministry about the request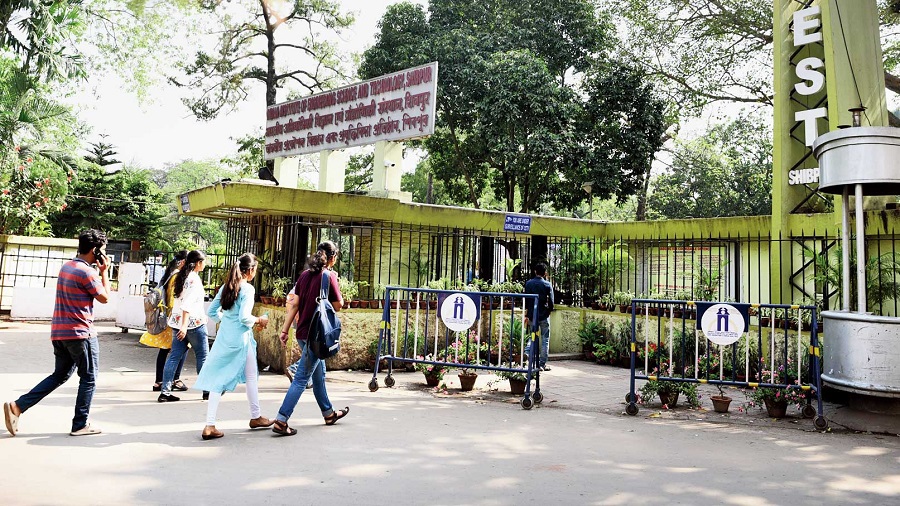 IIEST Shibpur
File picture
---
Howrah
|
Published 27.09.20, 01:38 AM
|
---
Some students at IIEST Shibpur have requested the authorities to waive their tuition fees because "family earnings have been hit" by the pandemic.
The board of governors, the highest-decision making body of the Indian Institute of Engineering Science and Technology, met recently. The board has advised institute director Parthasarathi Chakrabarti to write to the HRD ministry about the request by the students, a board member said.
The board has adopted a resolution on the matter.
The annual tuition fees is Rs 1,25,000, excluding the annual hostel and mess charge of Rs 50,000. Several students have been struggling to pay the fees because of loss of income in the family during the pandemic, an IIEST official said.
"Students from all years other than first year (BTech as well as MTech) have requested director Chakrabarti that tuition fees be waived. As the director cannot decide on the matter by himself, it was placed before the board," the official said.
The ministry fixes the tuition fees; so, the director has been advised to write to the minister, another official said.
The institute already has a mechanism in place that ensures full tuition fee waiver if a student's annual family income is less than Rs 1 lakh, the official said. If the income ranges between Rs 1 lakh and Rs 5 lakh, he/she is required to pay half the amount.
"But during the pandemic, the institute has been receiving waiver requests from all categories of students. Even students whose annual family income is above Rs 5 lakh is seeking a waiver," he said.
The institute had in August decided that students need not pay Rs 17,500 as mess advance, Rs 3,000 as mess entrance fee, Rs 1,000 as seat rent, and Rs 800 as electricity and water charges for the autumn semester that started from August 24.
Following an appeal from the students' senate, the institute had decided to waive activities fee of Rs 500 and to bring down the infrastructure fee to Rs 1,000 from Rs 2,500 for this semester.
Repeated calls to director Chakrabarti went unanswered. He did not respond to text messages either.
"Many are worried about the grim job situation. There is no guarantee they will get jobs after graduating from the institute, given the sharp fall in employment," a teacher said. "People in their families have lost jobs because of the situation triggered by the pandemic. Everybody is trying to save whatever is possible."
A multinational ride-hailing company, headquartered in the US, had in early May withdrawn its job offer to three engineering students of the institute, citing "business decision" because of the economic downslide caused by the pandemic.