E-buses to replace diesel-run fleet to curb rising air pollution levels
According to senior officials of West Bengal Transport Corporation, electric vehicles are both cost effective and helpful in reducing automobile emission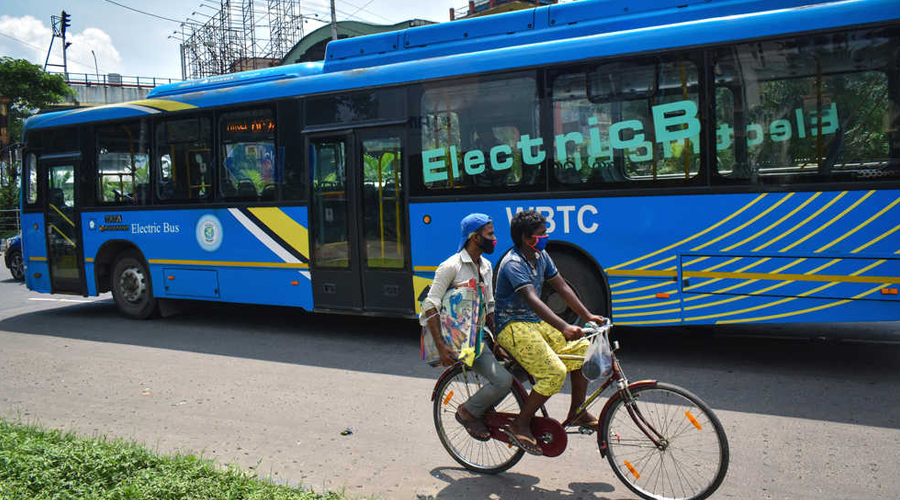 ---
Calcutta
|
Published 08.06.21, 12:32 AM
|
---
The fleet of diesel-powered government buses in Calcutta will be replaced by electric buses to curb the rising levels of air pollution, transport minister Firhad Hakim said on Monday.
"From now on we will focus on electric buses to battle the rising levels of pollution in Calcutta. The replacement will be carried out in phases," Hakim said.
A little over 1,200 government buses ply in and around Calcutta and all of them are oil guzzlers, transport department officials said.
Last year, the state government had replaced 75 of them with electric vehicles, which are powered by rechargeable lithium ion batteries.
To begin with, 400 buses will be replaced by electric buses and the remaining fleet of nearly 800 buses will be replaced subsequently in phases.
Growing levels of air pollution in the city remains one of the biggest causes of concern for residents. Calcutta had suffered its worst air pollution in two years in the first week of December 2020, a study by the Delhi-based Centre for Science and Environment (CSE) revealed.
Senior officials of the West Bengal Transport Corporation said electric buses were cost effective and would help reduce automobile emission considerably.
"The cumulative cost of running non-AC buses is around Rs 35 a kilometre and close to Rs 50 for an AC-bus. For an electric bus, it is around Rs 12 a kilometre," said an official.
"We have set up a separate cell in the transport department to look into the challenges for charging batteries....," said Hakim.
Hakim said apart from converting buses, the government has decided that while offering new permits to autorickshaws preference would be given to those who would opt for either CNG or electric autorickshaws.
Fresh permits would be issued to autorickshaw operators on the fringes where urbanisation was taking place particularly along the proposed Metro rail routes.