Durga Puja organisers tweak plans to abide by Mamata's plea
Expanding pandal size and increasing ceiling height are among options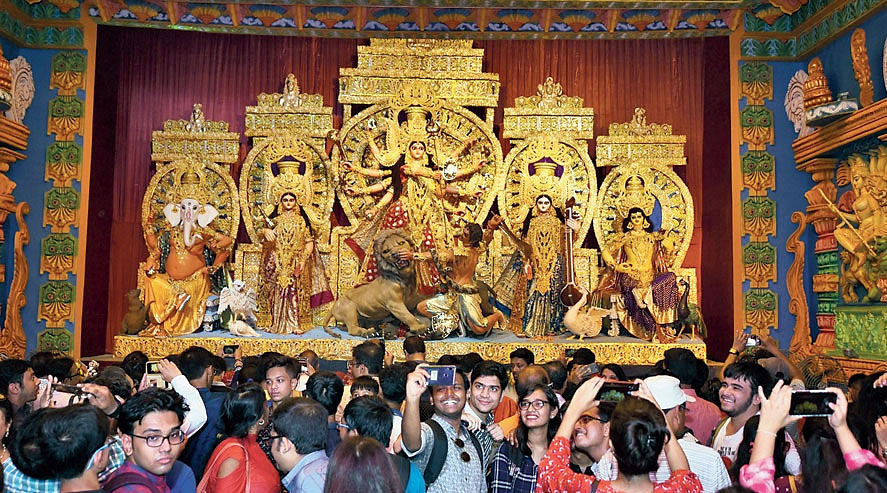 ---
|
Calcutta
|
Published 16.09.20, 03:12 AM
---
Several Durga Puja organisers have decided to alter their structures to ensure pandals have a bigger space and air circulates freely, conditions that experts say hinder the spread of Covid-19.
Throughout Tuesday some of the organisers met their artists and decorators to discuss ways to abide by the advisory issued by chief minister Mamata Banerjee on Monday. They discussed how to go about altering their pandals with less than 40 days to go till the Puja.
Some organisers wondered whether the ceiling height of the pandal could be increased, while others pondered over how to build additional gates to ensure the air flow was not hindered.
Organisers who have an open space to erect pandals — like Deshapriya Park and College Square — discussed multiple options, including increasing the overall square feet of the structure to have more space for less visitors. Those who have just a lane or a road to erect pandals — like Nalin Sarkar Street and Kalighat 64 Pally — were planning to suitably modify their themes in keeping with the advisory of the chief minister.
Mamata had on Monday said Durga Puja pandals should be open on all sides so that there was free movement of air. "Durga Puja is a big challenge and in Bengal it is a national festival. Let the pandals be kept open so that there is circulation of air," Mamata had said. "Open thakley hawa batash boibe (If it is open, air will flow). It is for precaution. To be safe."
By Tuesday evening, many of the organisers managed to firm up their alternative plans.
"After a long discussion with our decorator we decided to do away with a thakur ghor from this year so that there is more space for air to circulate," said Kajal Sarkar of Bosepukur Sitala Mandir Puja Committee. "If the chief minister wants so, we have to abide by it."
Some organisers, including Kalighat Milan Sangha and Maddox Square, have similar options.
"We will have a space, measuring around 30 feet X10 feet, which will separate visitors from those who will be engaged in rituals in front of the idols. The ceiling height is also being increased. The idea is to have free circulation of air," said Sandipan Banerjee of Behala Notun Dal puja committee.
"There are several ways to tackle the challenge. The usual style of forcing visitors to take zig-zag turns to enter a pandal will have to be done away with," said Biswanath Dey, a theme artist who is working with at least three big pujas in south Calcutta this time.
"Installations before reaching the main idol will have to be removed and where the space is constricted, adjoining houses and buildings can be made to look like a part of the overall concept."
In July, the Forum for Durgostav, an umbrella organisation of about 350 pujas in Calcutta, had agreed on a 17-point code on how to organise the Puja amid all restrictions. One of the codes was that pandals would be constructed in a way so one could see the idol even from a distance.
"After the chief minister's appeal, we have asked all our members to find ways so that air circulation is not hindered in a pandal," said Saswata Basu, the secretary of Hatibagan Sarbojonin Durgostav Committee and also secretary of the forum.
The chief minister is scheduled to meet Puja organisers on September 25.