Dubai tower inspires Sreebhumi puja
The puja, organised by the club helmed by fire and emergency services minister Sujit Bose, will be modelled after Burj Khalifa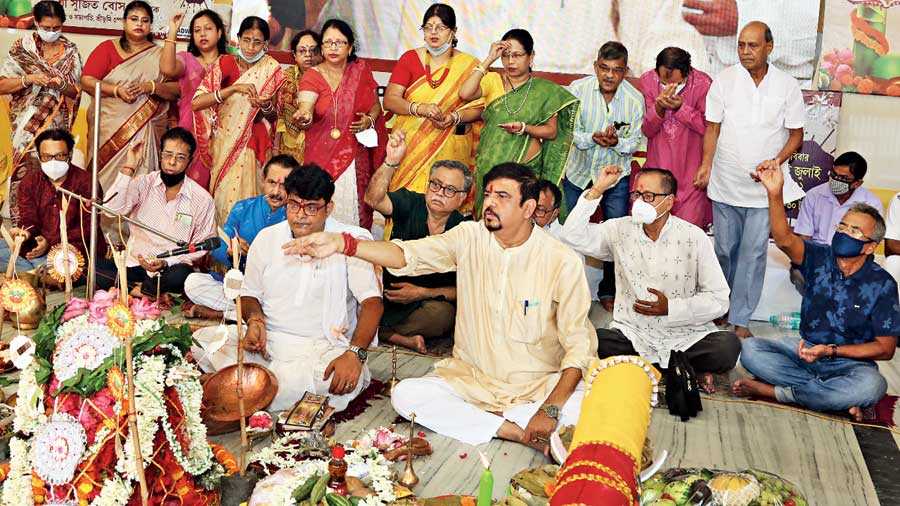 Club president Sujit Bose attends khuti puja at Sreebhumi on Sunday
---
Salt Lake
|
Published 16.07.21, 12:05 AM
|
---
Despite the pandemic showing no signs of receding, Sreebhumi Sporting Club is aiming high. The puja, organised by the club helmed by fire and emergency services minister Sujit Bose, will be modelled after Burj Khalifa, the tallest building in the world.
"Every year, we try to give visitors something special. Almost all interesting structures of India, from the temple of Puri to Chittor fort, have been replicated here. Many of our members have been to the tower in Dubai and we had considered this structure earlier as well but never took it up as building it is a complicated job. In our pre-golden jubilee year, we thought of taking up the challenge," said Dibyendu Kishor Goswami, chief coordinator of the puja committee. The club held its khuti puja on the day of Rath Yatra.
While the Dubai tower stands at 2,722ft, with 163 floors, 57 elevators and eight escalators, the Sreebhumi tower will be at least 110ft tall. "The structural drawing is being finalised. It will be critical for a temporary structure with such complicated architecture."
The tower rises from the flat desert base with 27 setbacks in a spiral pattern, that decreases the cross section of the tower as it rises and creates outdoor terraces at each level. These setbacks are arranged and aligned in a way that minimises vibration wind loading.
Another challenge would be attaining the finish of the tower's cladding system which has more than 26,000 reflective glass panels, and aluminium and textured stainless steel spandrel panels with vertical tubular fins. The glass acts as an anti-glare shield for the intense desert sun and strong winds.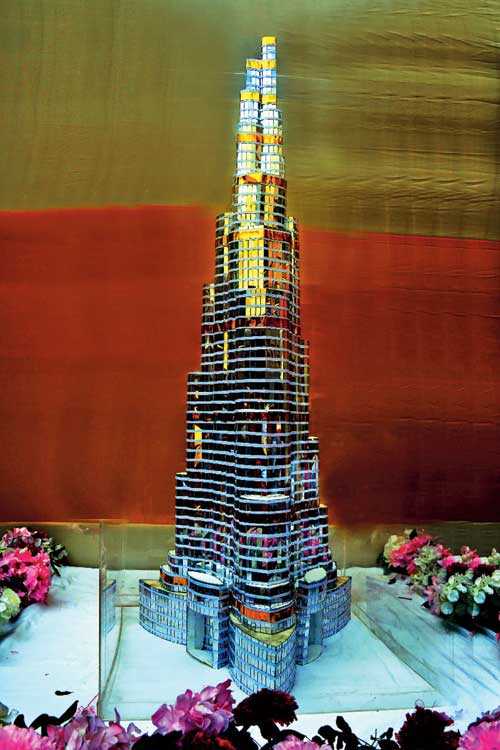 Experiments are on with various shades of acrylic paint to achieve the look of the reinforced concrete, steel and aluminium.
But there will be no experiments with the idol. "It will be traditional goddess, sculpted by Pradip Rudra Pal, clad in gold jewellery," he said.
The organisers agree that the theme is bound to pull crowd. Is that not a concern with the third wave of Covid-19 looking in the horizon? "Some people will go out pandal-hopping, whatever be the situation. Scaling down is not an option for us as about 300 families depend on us, including those of the 120-odd labourers who are engaged in the making of the pandal. We will comply with whatever restrictions are set by the government at the time," Goswami said.
The organisers are betting on vaccination to minimise risk. "We are trying to vaccinate all our volunteers and the pandal-makers in phases." The club is connected to Gandhi Seva Sadan, a local hospital which houses a vaccination centre run by the South Dum Dum Municipality.
Will you visit the Sreebhumi puja this year? Write in to saltlake@abp.in