Bengal boys to take field in Argentine colours
Maradona tribute in Britain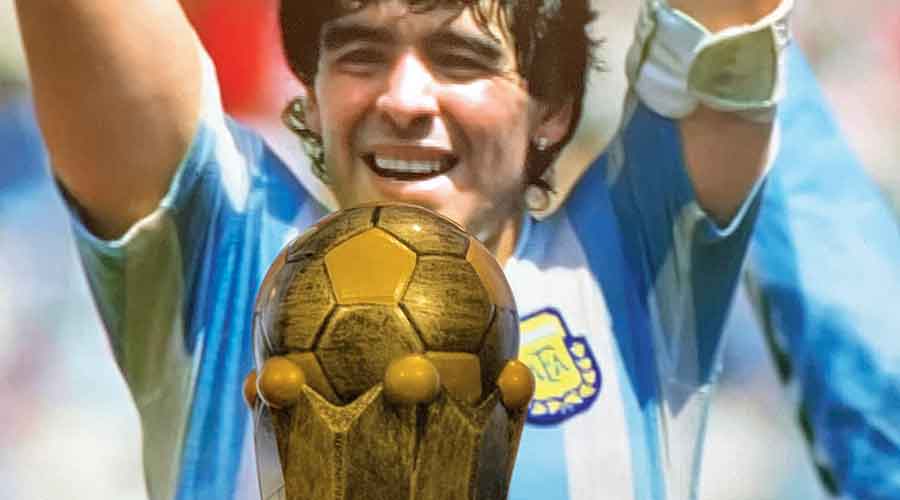 The trophy for the memorial match
Telegraph picture
---
Calcutta
|
Published 18.12.20, 02:27 AM
|
---
At 11.35am GMT on Thursday, a consignment of 26 Argentina football jerseys landed at Heathrow airport all the way from Calcutta. Tracking its progress online was a bunch of Bengalis in London.
On Saturday, they would put on the colours of La Albiceleste and take the field in memory of Diego Maradona.
The emotions that the talismanic footballer's death have ignited in the community in Blighty will result in a match defying biting cold and Covid-19 fears.
"We'll start at 3pm, half an hour before sunset. The temperature would be around 5 degrees Celsius then," said Pratik Dutta, who had the jerseys flown over from the Maidan market.
The two teams will be named Boca Juniors (Argentina) and Napoli (Italy), in a nod to the two club teams Maradona served with passion and distinction. "Their jerseys proved difficult to source and our memories are linked more to the Argentina colours. So we settled for the home and away jerseys of the 2018 World Cup," said Dutta, who saw Maradona from the Salt Lake stadium gallery in 2008. "I got passes as we used to play in FD Park in Salt Lake, close to Subhas Chakraborty's house." The then sports minister had organised Maradona's tour. 
A trophy, engraved with the words Diego Maradona Tribute Cup, has reached Srijit Bhaumick's house in Hayes. Both Srijit and Pratik are 1986-born and missed seeing Maradona in his prime. "But I had him in my life because of my brother, a fan. Our room was full of posters, football video cassettes and sports magazines."
In the squads will also be seniors like Sourav Niyogi and Suranjan Som, the president and vice-president respectively of Bengal Heritage Foundation, the umbrella under which the match will be held.
"Like most Calcuttans, we were introduced to live international football — and Maradona — through the 1986 World Cup. He is an integral part of our childhood," said Som.  
Which is why when they met on Zoom after Maradona's shock demise, everyone wanted to pay a tribute. "Initially we thought of a football quiz. But Srijit insisted on a match. Others were hesitant because of the cold, but later came around," said Niyogi. The Goals Gilette Corner, a practice facility in west London, was booked.
Covid cast a shadow on the match earlier this week when London  was put under a stricter lockdown. "We are in Tier III now. Though organised outdoor sports has been allowed, only the players can attend. We also had to reduce the size of the squads."
Now it is down to 13 in each team.
Since not everyone is in shape, the match will be a 50-minute affair.
"Some of us will take turns, letting the young Turks carry on full time," said Niyogi, who has started running daily.
To compensate for the reduced participation, the prize distribution will occasion a virtual meet on December 22, an evening bound to be soaked in football nostalgia.