Denied slot in London, AI direct flight goes hopping
A four-hour delay in Calcutta for passengers from the city and another three-hour wait in Delhi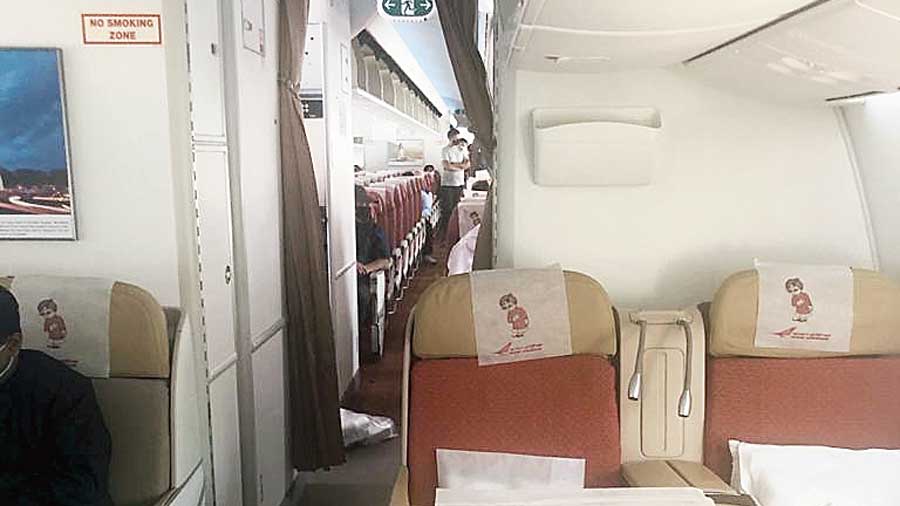 ---
|
Calcutta
|
Published 18.09.20, 01:58 AM
---
Air India's promised direct Calcutta-London evacuation flight on Thursday finally turned into a Calcutta-Delhi-London flight with a four-hour delay in Calcutta for passengers from the city and another three-hour wait in Delhi.
Air India blamed Heathrow for refusing a slot for the Calcutta flight at the last moment but aviation industry sources said such things rarely happened with other airlines.
An official at the Calcutta airport said airlines usually applied for slots for evacuation and air-transport-bubble flights seven to 10 days in advance. "If the application is submitted well in advance, all airports either give permission for the slots or ask for another date well in advance," said the official.
An official of an international airline that operates out of Calcutta said airport slots and timings were crucial, which are ensured before opening bookings.
"Applying for slots is now done one month before because of Covid-19. During regular operations, it is done several months in advance. This needs a lot of planning. Once an airport approves the slot, we open bookings and inform passengers about the timings," said the official. "If a slot is sought at the last moment, chances are an airport will reject the request. But I don't know what happened with Air India's flight," said the official.
The flight, a Boeing 787 Dreamliner with 234 seats, including 32 in business class, was scheduled to take off from Calcutta at 6.20am. The plane had arrived from London early on Thursday with 14 passengers, 12 in economy and two in the business class.
But the flight, with 72 passengers, finally took off at 10.05am. It first landed in Delhi at 11.50am and after a layover of three hours, took off for London around 2.45pm, said sources. At the Delhi airport, 86 other passengers boarded the plane. The flight landed at 6.56pm, London time.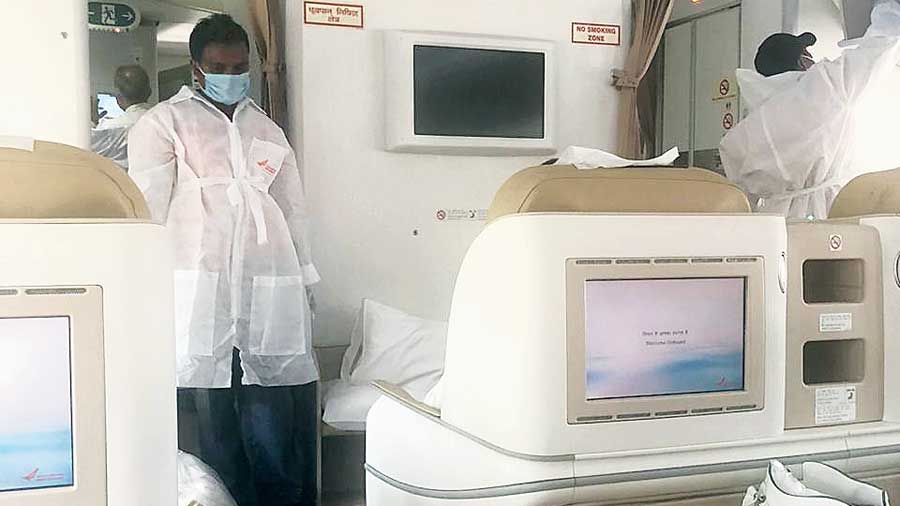 Pritha Kejriwal, flying to London from Calcutta to submit her PhD thesis, said she would not have booked a seat on the flight had she known it would not fly directly to London.
"AI 1149 was the original flight which was meant to fly directly to Heathrow from Calcutta, which was then changed to AI 111, which is hopping via Delhi and reached London six-and-a-half hours later than scheduled," said Kejriwal.
At 1am on Thursday, she received a call from Air India informing her that the flight would take off at 10am, instead of 6.20am, and would go via Delhi.
"They initially said the reason was technical. At the airport, Air India staff told us they did not get a slot at Heathrow. I was shocked," she said. "At the Delhi airport, we had to sit inside the aircraft for three hours."
Air India had earlier announced a twice-a-week direct flight between Calcutta and London under the Vande Bharat programme (evacuation) till October 24. On Thursday, an official of Air India said he was not sure whether the rest of the flights would be direct.
"If we get slots for the Calcutta flight to land in Heathrow, it will be direct. Otherwise passengers would be taken via Delhi," he said.
The spokesperson for Air India said: "Today, due to the last-minute non-availability of slot at Heathrow Airport, which was communicated to us late on September 16 evening, the flight from Calcutta could not be operated directly from Calcutta to London. This was something beyond our control as we had been assured of a slot…. The same aircraft from Calcutta with a brief stopover at Delhi left for London... Slot for this flight from Delhi is available at Heathrow."