Dakshineswar Metro makes commute a breeze for many
Two terminal stations were connected as commercial services on the extended Noapara-Baranagar-Dakshineswar stretch started on Tuesday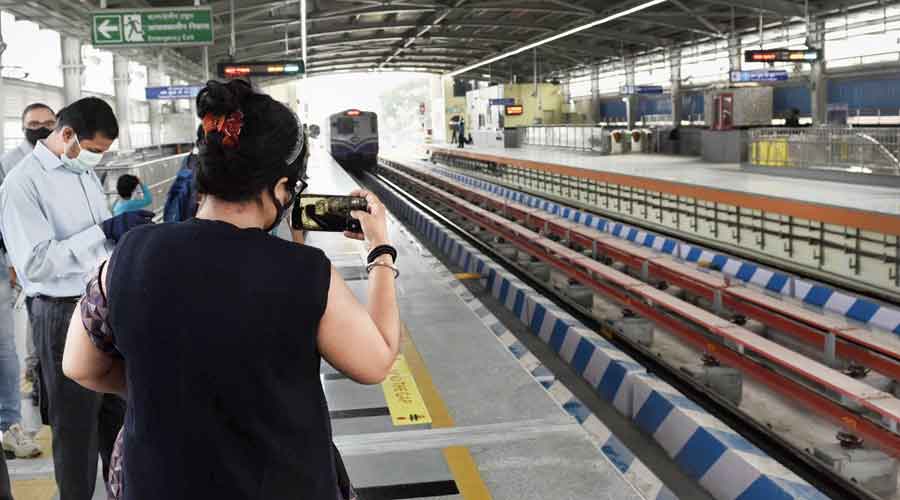 ---
|
Calcutta
|
Published 24.02.21, 02:03 AM
---
The north-south corridor of Calcutta Metro lived up to its name on Tuesday when a train left Dakshineswar station at 7am and reached New Garia (Kavi Subhash) a few minutes past 8am.
The two terminal stations, on the northern and southern fringes of Calcutta, were connected as commercial services on the extended Noapara-Baranagar-Dakshineswar stretch started on Tuesday morning.
The Metro passenger count on Tuesday was 2,60,014. Around 9,000 of the passengers were from the two new stations, said an official.
Passengers from areas like Dunlop, Bonhooghly, Khardah and other areas on both sides of BT Road took Metro from Baranagar.
Many people living across the river in Hooghly took the Metro from Dakshineswar.
The Telegraph spoke to many passengers who boarded trains from Dakshineswar and Baranagar on Tuesday morning. Here's how their daily commute has changed.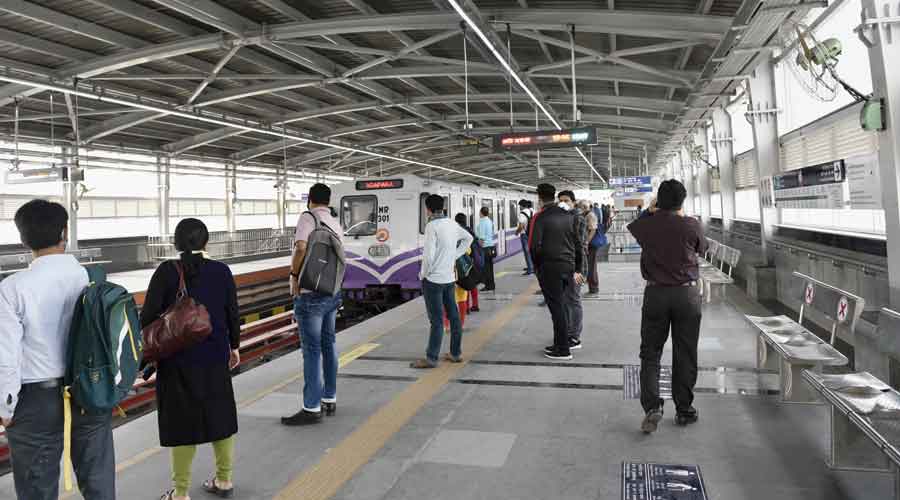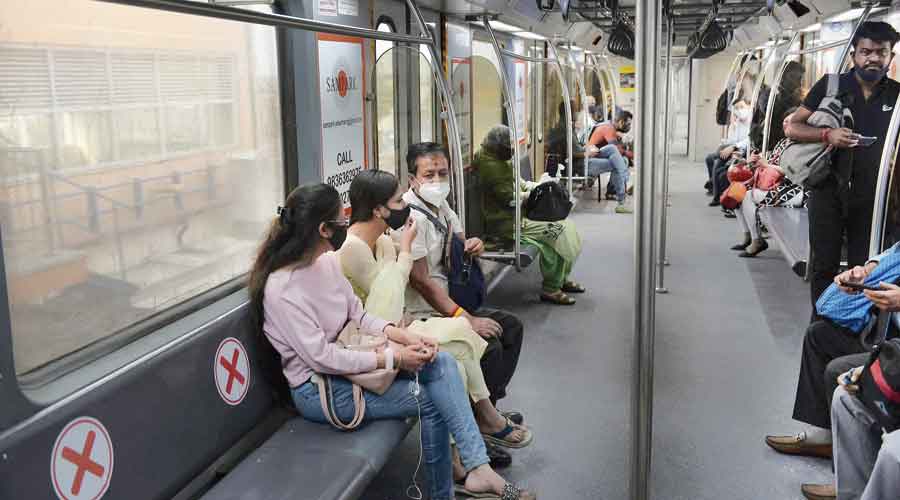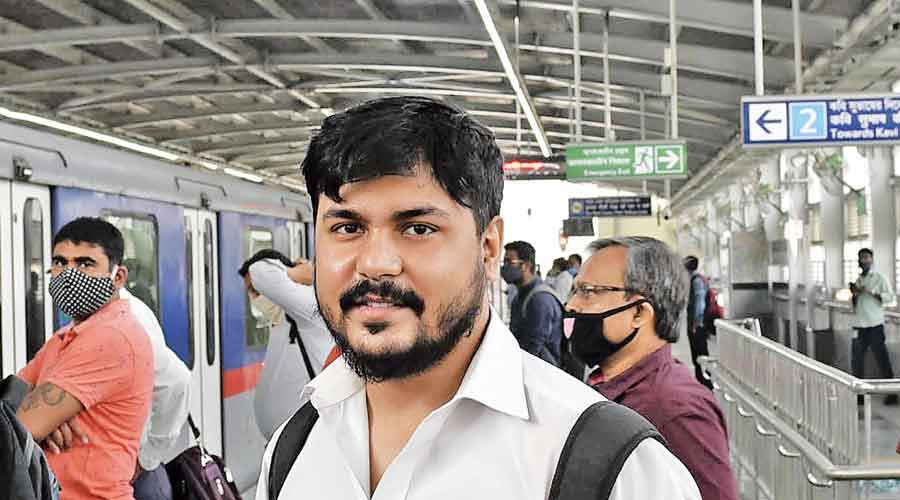 Ayan Roy, 27
Lives at Hindmotor. Works at an architecture firm in Chandni Chowk, near Yogayog Bhavan.
Usual route: Toto from home to Hindmotor station. A suburban train from Hindmotor to Howrah. Then a bus to central Calcutta.
Time taken: Around 100 minutes
Time taken on Tuesday: Around an hour — 20 minutes on a two-wheeler from his home to Dakshineswar Metro station and "a little less than 30 minutes" on Metro. Roy boarded a train from Dakshineswar at 10.05am.
"Getting a toto took some time. The suburban train used to stop for long durations at the Liluah car shed regularly. Compared to the cramped ride on crowded suburban trains and buses, the air-conditioned Metro ride was like a breeze on the first day," said Roy, an architect who graduated from IIEST, Shibpur.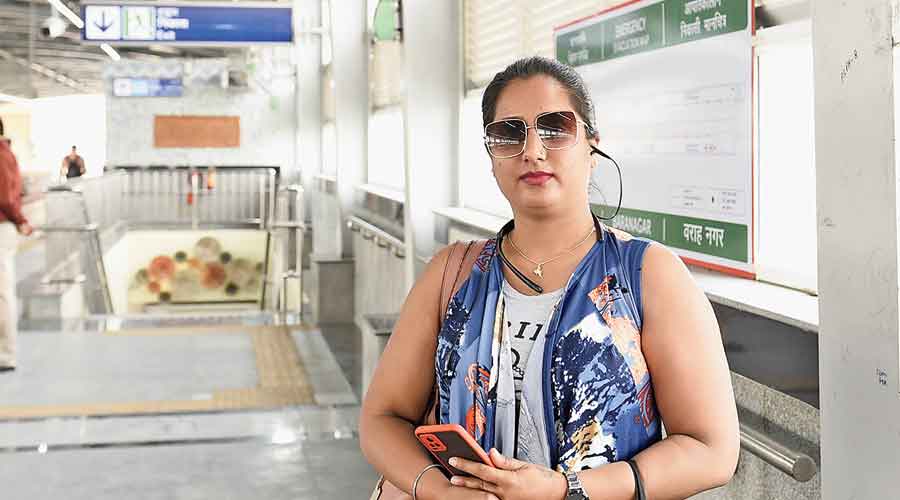 Karamjit Kaur, 29
Lives near Ashokgarh and works at the Deshapriya Park outlet of a parlour chain.
Usual route: Her daily journey included two auto rides, from home to Dunlop and then from Dunlop to Noapara. From there to Kalighat on Metro and finally another auto to Deshapriya Park.
Usual time taken: Around "90-100 minutes".
Time taken on Tuesday: She took one auto to Baranagar station. The total journey took her "55 minutes flat".
"On several days in the past, while returning from work, I had to walk from Noapara to Dunlop because there was no auto," the beautician said. The road is riddled with potholes and the walk would take Kaur around 40 minutes.
Autos and mini-vans are the only transport options between Dunlop and Nopara. The service becomes erratic as the evening progresses.
Baranagar station, in comparison, is "around 10-15 minutes" from her home. "Having Metro at your doorstep makes a world of difference," said Kaur.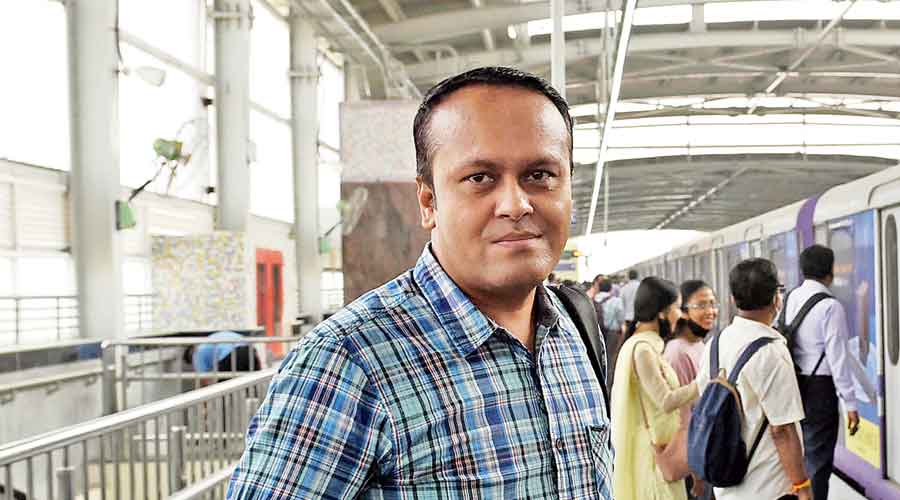 Anil Surana, 42
Lives at Rishra, works with a construction equipment supplier at Chandni Chowk
Usual route: Walk from home to Rishra station and then a suburban train to Howrah. From Howrah, an air-conditioned bus to Dalhousie.
Usual time taken: Ninety minutes.
Time taken on Tuesday: Around one hour. Surana boarded a train from Rishra to Bally and then took an auto to cross the Bally bridge and reach Dakshineswar. The journey from Rishra to Dakshineswar took 30 minutes. From Dakshineswar, a Metro ride to Chandni Chowk took 30 minutes.
Even if his work got over earlier, Surana used to wait till "8-8.30pm" at his office to avoid the evening rush on buses and trains. "From today, I can expect to leave office as soon as I finish work," the 42-year-old said.
Sarabjit Singh, 32
Lives near Vikram Market in Dunlop, works with a real estate developer's office near Tollygunge Phari
Usual route: Auto from Dunlop to Noapara and then Metro
Usual time: 75-80 minutes
Time taken on Tuesday: 50 minutes. His house is "walking distance" from Baranagar Metro station. The ride on Tuesday morning took him "around 40 minutes".
Singh took a 10.40am train from Baranagar. His destination was Rabindra Sarobar. The ride took him around 40 minutes.
Getting an auto between Noapara and Dunlop is not easy, especially during the evening. During the monsoon, Singh has had to wade through the waterlogged road between Noapara and Dunlop many times because no vehicle was available at night. "By taking the Metro from Baranagar, I will not save more than 15-20 minutes. But the journey is much easier," said Singh.