Plastic peril in Sunderbans
Empty bottles, packets and pouches of drinking water lying around on the banks or floating in the river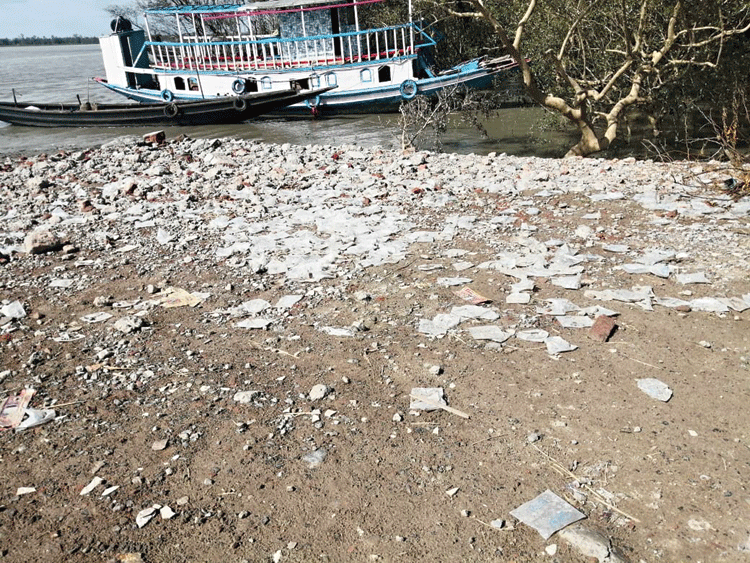 Plastic left behind in the Sunderbans
Telegraph picture
---
Calcutta
|
Published 15.06.20, 09:43 PM
|
---
Plastic left behind by relief workers in the Sunderbans in the aftermath of Cyclone Amphan has left environmentalists worried about the fragile ecosystem of the deltaic region.

Empty plastic bottles, packets and pouches of drinking water are lying around on the banks or floating in the river. Both government and non-government relief work exposed the Sunderbans and the mangroves to plastic.
There has been an organised entry of plastic as government relief work included a lot of plastic water pouches, according to environmentalists.
Water had been ferried in galvanised tanks to remote corners in the aftermath of Cyclone Aila. But it was not possible this time because embankments had breached and transport options were almost nil.
People had no access to drinking water as many of the villages had been flooded, according to district officials working in the area.
Water was ferried on boats in some places and plastic pouches were the only option. "We made brick tanks in the first five days of the water receding," a South 24-Parganas district official said.
While distributing water pouches, villagers should have been told not to dispose them of but to keep them, an environmentalist said. The return of plastic pouches can be incentivised by the administration.
This can turn into a recurrent problem as more relief workers are reaching the Sunderbans. Awareness drives should be carried out so that villagers stop disposing of plastic indiscriminately, the environmentalist said.
"We are aware of the problem and we are taking necessary action," P. Ulganathan, district magistrate, South 24-Parganas, said.
The public health engineering department will be asked to remove the plastic pouches, a district official said. Every gram panchayat has a solid waste management unit and members will be asked to "dispose of plastic responsibly", the official said.
A group of volunteers on Monday collected plastic waste from 14 villages in the Hingalganj block of the Sunderbans. The waste collected over Monday and Tuesday will be sent to the city for recycling.
The group consisted of 50 people from Hingalganj and Calcutta, some of who have worked in providing close to 5,500 families with relief material in the past three weeks.
Former students of Kanaknagar SD Institution in Sandelerbill gram panchayat led the group. "Some of our former students who live in the area realised that providing relief was not enough. There was a need to protect the biodiversity as well because plastic waste has been polluting both the land and the river," Pulak Roy Chowdhury, headmaster of Kanaknagar SD Institution, said.
Roy Chowdhury said it was not just relief workers but also villagers who were responsible for adding to the plastic waste menace. "When they saw teachers and others picking up plastic pouches, some of the villagers appeared embarrassed… they said they would be more careful. It is also a drive to raise awareness."