Calcutta cops help pregnant woman in storm
'The cops were godsends for us'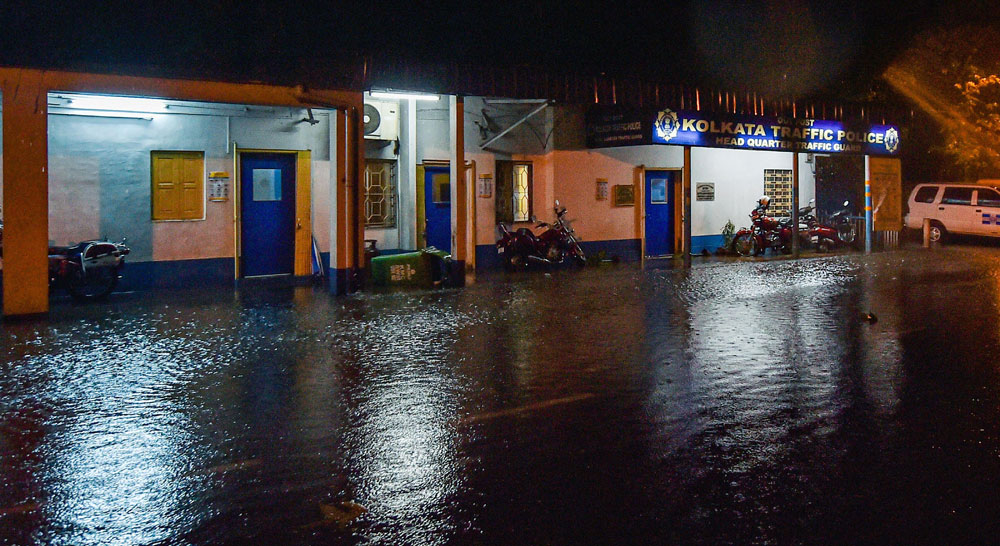 ---
|
Calcutta
|
Published 23.05.20, 09:24 PM
---
A woman in labour was stuck at a flooded Rashbehari crossing on Wednesday night as Cyclone Amphan raged across the city.
A police vehicle posted nearby helped her reach a hospital where she gave birth to a son.
Rhea Singh's husband Debabrata Singh, a garments trader, said the delivery date was May 24 but his wife had labour pain on Wednesday.
"We consulted our doctor over the phone and tried to get her admitted to the nursing home, which had been booked for delivery, on Wednesday morning," Singh said.
"They refused, citing the absence of doctors because of the approaching storm. Another hospital suggested by the doctor refused, too."
In the afternoon, the couple met their doctor at Haridevpur, who advised immediate admission to hospital and suggested SSKM, Singh said.
Around 6.30pm, the couple, along with Rhea's father Asim Mazumdar and Singh's aunt, started from Haridevpur in a friend's app cab for SSKM.
"There was water everywhere at the Rashbehari crossing… it was 11pm and the car's engine stalled…. It was like a nightmare," Singh said.
A police vehicle was nearby and Singh waded through the water to reach the cops and narrated his plight to them.
Officers of Tollygunge police station contacted Ramakrishna Mission Seva Pratishthan while a team of Tollygunge traffic guard officers took Rhea to the hospital in the official vehicle of Somnath Mitra, the officer-in-charge of the traffic guard.
A few hours later, Rhea, a schoolteacher, gave birth to the couple's firstborn.
"The cops were godsends for us. Once they took over, we did not have to worry about anything," Singh said.
Rhea's father Majumdar said: "We were simply very lucky."