Bamboo hope to restore power in Calcutta
Reinstalling the fallen electric poles could take months: Official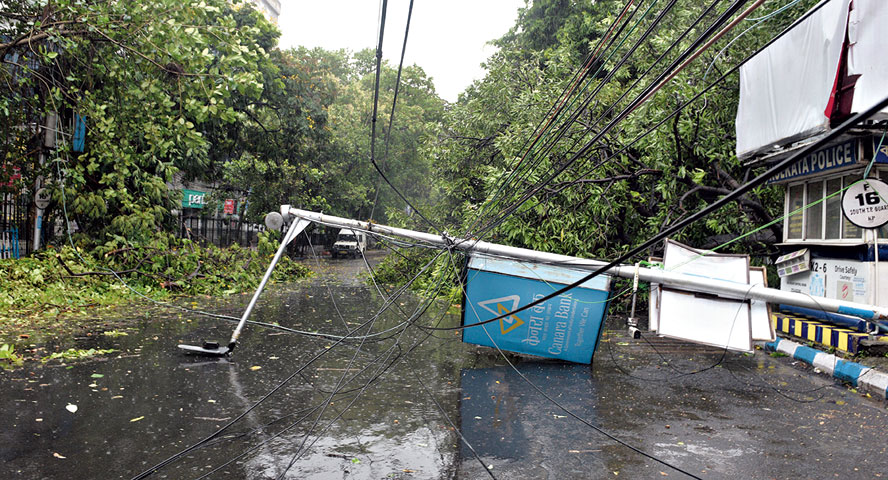 An electric pole on Camac Street damaged by the storm on Wednesday.
Picture by Pradip Sanyal
---
Calcutta
|
Published 24.05.20, 10:01 PM
|
---
Bamboo poles have to be installed as an ad-hoc measure to take forward electric cables that were tied around fallen poles to restore power supply, civic officials said on Sunday.

The officials said erecting metal poles would take months.
A senior official of the Calcutta Municipal Corporation (CMC) said the option of using bamboo poles was discussed in internal meetings over the last couple of days after officials realised the enormity of the damage Cyclone Amphan inflicted on the power supply infrastructure.
Restoring the fallen electric poles could take months, an official said.
"We cannot wait for days for power supply to be restored. So, the bamboo poles can be used as alternatives. Electric cables can be tied around bamboo poles to take the cables forward," said the official.
He said Firhad Hakim, the chairman of the board of administrators of the CMC, spoke about the need to do something immediately.
Bamboo poles can also be a solution for the 4,000-odd lamp posts that have fallen across the city. A CMC official said that unless something ad-hoc was done, large stretches of the city's roads would remain dark for months to come.
The corporation on Sunday was also struggling to restore water supply to many places in Tollygunge, Jadavpur and Behala, which are dependant on deep tubewells.
The tube wells need electricity to work. As power supply is unavailable in many of these places, they cannot be operated.
"There are many parts of Calcutta where potable water still does not reach. Deep-diameter tube wells that run on electricity pump water from underground and supply it to houses. But that has stopped," said a civic official.
He said five generators had been put to use on Sunday to make some tube wells operational but still a lot more remain defunct.
"We are looking for more generators to run more tube wells," said the official.