Crematorium workers recall at felicitation the sweep of Covid tragedy
The doms have learnt to do their job without betraying emotion, yet some of them can hardly control tears watching the tragic fallout of coronavirus from close quarters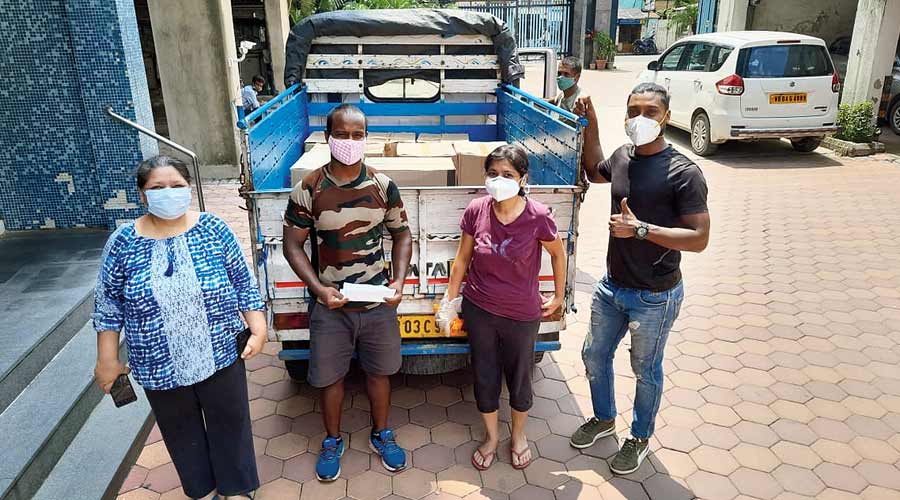 Members of A Little Dream, the NGO that felicitated the crematorium workers.
Telegraph picture
---
Calcutta
|
Published 10.08.21, 03:15 AM
|
---
The impact of Covid has been so severe that even the stoical crematorium workers at times are moved to tears.
Some of them have not been able to forget a few faces, like that of a 35-year-old man who went to a crematorium in Garia on two consecutive days — first to cremate his mother and then his father.
Another crematorium worker said he would probably never forget the sight of a man weeping inconsolably while the bodies of his wife and 17-year-old son were being taken to the pyre.
The doms — those who handle bodies at crematoriums are called so — have learnt to do their job without betraying emotion, yet some of them can hardly control tears watching the tragic fallout of Covid from close quarters.
An NGO recently felicitated the doms who ensured a dignified cremation of Covid victims. Some of the dead had only doms to arrange cremation because family members were not allowed anywhere near. In the early days of Covid, the safety protocol and fear of infection had kept families and friends of the deceased away. Till Friday, Calcutta had recorded 4,977 deaths from Covid.
"I cannot forget the face of the man who had lost his wife and son the same day. He kept crying aloud that he had nothing more to look forward to. Our job demands that we carry on stoically, but these are the moments when we, too, can't hold back our tears," he said.
Rajesh Mullick, 42, a dom at the Garia crematorium, said their work did not allow them to pause and think. "There are moments when we get impacted by the tragedy that has struck a family but we do not think too much about it. We are in a hurry to cremate the next body," said Mullick. Doms form a caste and they have been cremating the dead as a hereditary occupation for generations. But everyone employed as a dom in the Calcutta Municipal Corporation's crematoriums are not from that caste.
Like in other jobs, the CMC advertises vacancies in the rank of doms and invites applications. Anyone who matches the criteria is offered the job, said a CMC official.
Over 8,000 people had applied for six posts of dom at the NRS Medical College and Hospital recently. Graduates, postgraduates and engineers applied for the job, for which the authorities want candidates who have passed Class VIII.
The posts had been advertised in December and a written test of selected applicants was conducted recently. The CMC has about 100 doms working at its eight crematoriums. The bigger crematoriums like the ones in Kalighat and Nimtala employ about 30 doms each. The smaller ones, like the Garia facility, have eight each.
The NGO, A Little Dream, also felicitated other crematorium workers like cleaners, pollution unit maintenance technicians, furnace maintenance staff, sub-registrars and security personnel. "We gifted 250 goodie bags to crematorium workers because we felt they were doing a great job by giving a dignified cremation to the dead," said Reena Chowdhury, the founder of A Little Dream.
The bags were distributed in Siriti, Garia and Nimtala burning ghats, all of which have cremated Covid victims. "Each bag contained 10 surgical masks, a 500ml hand sanitiser bottle, biscuits and cakes. We wanted to thank them for their service. It is a small recognition of their work," said Chowdhury.
Crematorium staff in Calcutta had initially faced stiff opposition from residents of the areas to cremating Covid victims. The residents feared that cremating Covid victims would help spread the virus in the neighbourhood.
An employee at the Nimtala burning ghat said they had to wait for hours to cremate the first Covid body last year.
"There were two problems. Initially the doms were afraid to cremate a Covid victim. By the time the doms had overcome their fear, opposition emerged from residents of the area. A large number of people had gathered outside the crematorium shouting that they would not allow any Covid victim to be cremated there," he said.
After similar protests outside many other crematoriums, the civic body reserved the Dhapa crematorium, located in a relatively less populated area, for Covid victims. Later, when the number of dead increased the cremation started taking place in more crematoriums.