Private hospitals not accepting bookings for first dose
Covid vaccination: Uncertainty fuels second-jab rush
Private hospitals are not accepting any bookings for the first dose on Thursday and Friday; second dose recipients to be vaccinated on these two days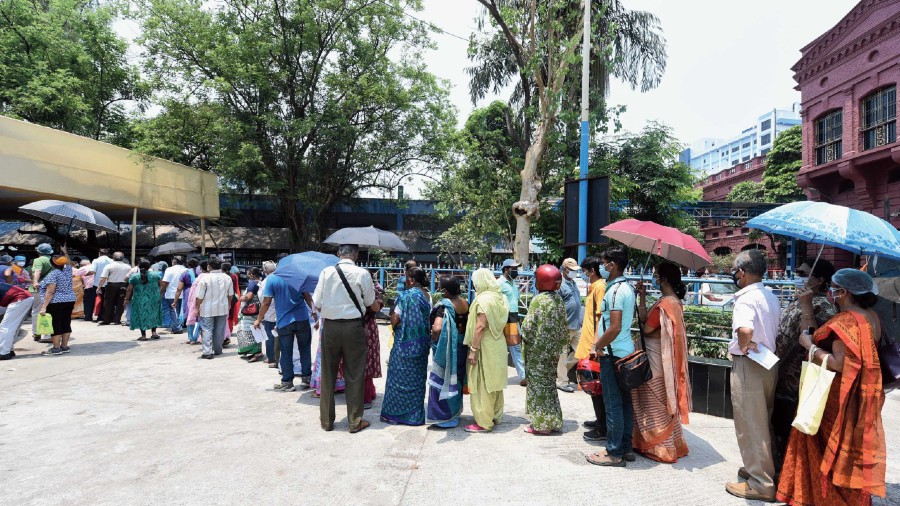 A queue for Covid vaccine at SSKM Hospital on Wednesday.
Picture by Gautam Bose
---
Calcutta
|
Published 29.04.21, 02:01 AM
|
---
Several private hospitals in the city stopped offering slots for administering the first dose of a Covid vaccine on Thursday and Friday and some even failed to confirm appointments for the second dose as they are booked to the limit.
Covid vaccination centres are witnessing a sudden rush as many fear they won't be able to get vaccinated in May.
The Centre has said all private healthcare facilities have to procure vaccines directly from the manufacturers from May.
Private clinical establishments fear they may not get enough doses next month. This uncertainty has led to people queuing up at hospitals for the jab. What has added to the uncertainty, and contributed to the queue, is the health department's advice to hospitals to give priority to second dose recipients.
"We are not accepting any bookings for the first dose on Thursday and Friday. We will vaccinate second dose recipients," said Sudipta Mitra, the chief executive officer of Peerless Hospital.
"There are many who are scheduled to get their second dose in May and they are calling us to know the status. We are telling them to contact us in the first week of May. We are also telling them that it will depend on whether we receive doses," said Mitra.
Alok Roy, the chairperson of Medica Superspecialty Hospital, too, said the hospital would administer Covid vaccines only to second dose recipients on Thursday and Friday.
"About 95 per cent of the recipients at our hospital on Wednesday were second dose recipients. We will only vaccinate second dose recipients on Thursday and Friday. If there are some doses left after administering all second doses, we will give them to first dose recipients," said Roy.
The picture was identical at Belle Vue Clinic, which administered 640 doses on Wednesday. Only 20 of these were first doses.
There were very long queues outside almost all Covid vaccination centres in the city. Hundreds had queued up outside SSKM Hospital. The Calcutta Municipal Corporation (CMC)-run Covid vaccination centres, too, had very long queues outside.
Angry and agitated people, forced to stand for hours for the jab, were shouting outside a CMC clinic in Kasba.
Ananda Lal, a retired professor of English, said his wife had set out at 7am on Wednesday. All vaccination centres she went to had hundreds already in the queue.
"We were supposed to get the second dose of Covaxin on April 13. The majority of vaccination centres are not administering Covaxin. The few that are still administering it are running out of doses in a couple of hours," said Lal.
"It is distressing to see such a situation in the 21st century. It is not possible for those in the queue to maintain a 6ft distance from each other if there are hundreds in the queue. Some of those in the queue could be asymptomatic carriers of the virus and others could get infected. Imagine the plight of people who are frail and who are in their 70s and 80s," said Lal, 65.
Munmun Purohit, 53, who went to Belle Vue Clinic for her second dose, said the vaccination site was packed with people and it was not possible to maintain physical distancing.
"The government has mismanaged the logistics. They are not being able to provide enough doses. Now that I have got my second dose, I am feeling that I have won a war," she said.
Officials managing vaccination centres said the steep rise in Covid numbers and the uncertainty over availability of vaccines in May had led to the rush. "The demand has far surpassed the supply and that is causing the chaos," said an official.
Case count
Bengal on Wednesday recorded 17,207 new infections, 77 deaths and 11,933 recoveries. The number of active cases has risen to 1.05 lakh.
Of the 77 deaths, 22 were reported from Calcutta and 16 from North 24-Parganas, the two worst-hit districts in the state. While Calcutta recorded 3,821 new infections, North 24-Parganas reported 3,778.
The recovery rate fell to 85.26 per cent.