Covid pandemic effect on nursery admissions in Calcutta
Several parents opt for home-tutoring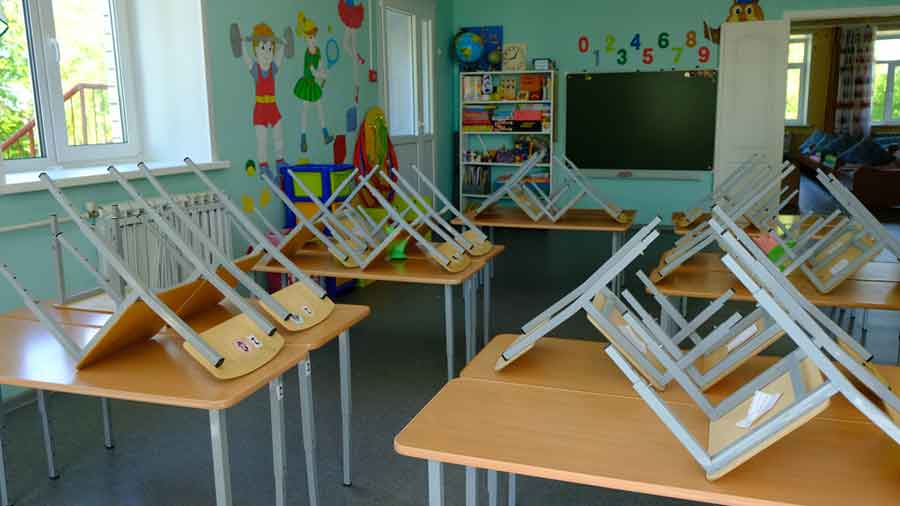 Let's face it; the pandemic has impacted the financial situation of families…. They prefer tutoring the children at home to paying the school fees: A school principal
Shutterstock
---
Calcutta
|
Published 23.08.21, 01:34 AM
|
---
The number of applications for admission to nursery schools is lower than what it used to be before the Covid pandemic, many school heads said.
The impact on application started last year and the numbers are low this year, too.
Parents might not be keen to invest in a situation when they do not know when schools will reopen. They are, instead, opting for home tutoring of the child, the head of a school said.
The application process for nursery usually begins in July or August and continues till the beginning of the next year. 
"The number of applicants is low this year, a trend which started last year," said Amita Prasad, the director of Indus Valley World School.
Parents feel they can tutor a pre-primary child at home and do not want to put them in a school paying a variety of fees at a time when no one is certain when schools will reopen.
Parents have also learnt from the experience of their friends that a virtual class means they would have to hand-hold their children at every step. 
Schools have been closed since March 2020 as a precaution against Covid. Campuses reopened briefly in February only for Classes IX to XII.
A section of parents is waiting to see how the Covid situation pans out before deciding whether they will enrol their children in schools.
"Some parents may not want to invest in formal education and would want to wait for more clarity on reopening of the schools," said Krishna Damani, trustee of South Point.
"Parents are enquiring but we do not know whether they would turn up and enrol their children," said Sister Rani Jacob, the principal of Our Lady Queen of the Missions School, Park Circus.
Schools are also making changes in their seat allotment depending on the situation.
The Assembly of God Church School, Park Street, authorities will take a decision based on the number of registrations. 
"We noticed a change in the current session. There are more applicants for kindergarten than nursery. At 3-plus, parents were continuing at home or in a preschool," said Lionel Chellappa, the principal of the Park Street school.
The financial hardships inflicted by the pandemic have impacted admission. "Let's face it; the pandemic has impacted the financial condition of families…. They prefer tutoring the children at home to paying the school fees," a school head said.
At South Point School, the number of applications for nursery has dropped by 10 per cent. 
At Indus Valley World School, applications have been "trickling in".
A reputable city school, which requested not to be named, received about 550 applications for 200 seats in nursery this year. Before the pandemic, it would receive around 800 applications. 
The Our Lady Queen of the Missions School in Park Circus received about 25 per cent less applications last year compared with the pre-pandemic times. It has not yet invited applications for this year.
The fewer registrations at the Assembly of God Church School, compared with pre-pandemic years, have prompted the authorities to reduce the number of sections in nursery by one.