Covid: Bengal govt asks Centre to provide 40 lakh vaccines for May
According to information, a consignment of only five lakh doses, meant for recipients of second jabs at government-run centres, is headed for the state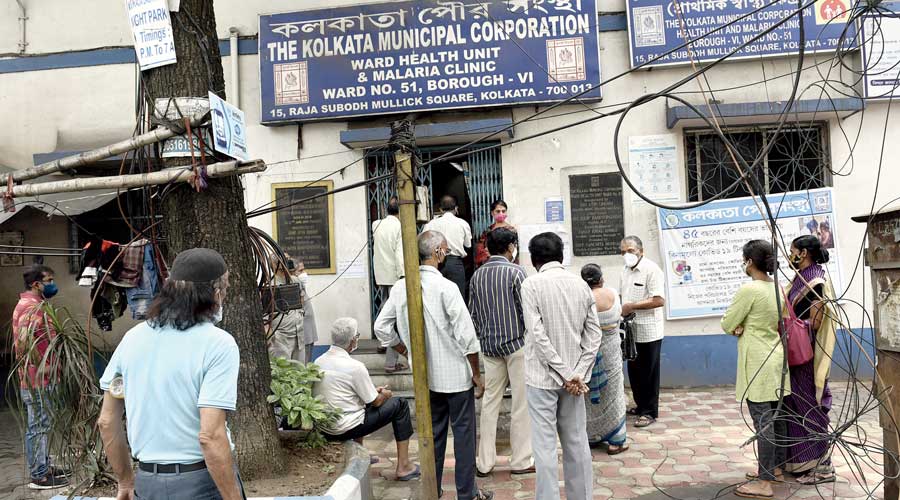 ---
|
Calcutta
|
Published 05.05.21, 01:27 AM
---
The Bengal government has asked the Centre to provide 40 lakh doses of Covid vaccines for May so that all those who had taken the first dose at government and private facilities could be given the second, an official said on Tuesday.
However, for now, a consignment of only five lakh doses is headed for Bengal. And the doses are meant for recipients of second jabs at government-run centres.
Tens of thousands of people who have taken their first doses at private hospitals are awaiting the second jab and it's uncertain when they would actually get it because most private hospitals have suspended Covid vaccination.
Many private hospitals of Calcutta have contacted the manufacturers of the two Covid vaccines being administered in India, but till Tuesday only one — Woodlands Hospital — could procure doses directly from one of the companies.
Woodlands said it vaccinated 225 people in the 18-44 age group on Tuesday.
"We have told the Centre that Bengal needs 40 lakh doses for second jab recipients for May. That will cover those who have received the first dose at both government and private centres. If we can vaccinate these people, then a large part of the population will be protected from Covid," the state government official said on Tuesday.
"If we get the doses, we will distribute them to government and private vaccination centres. Most hospitals have been unable to procure doses directly from the manufacturers," said the official.
State health department officials said the Centre had informed them that four lakh doses of Covishield and one lakh doses of Covaxin would be sent to Bengal on Wednesday.
"But that will be used for second doses at government facilities," said an official of the health department.
The Telegraph reported on Tuesday that the Serum Institute of India, which manufactures Covishield, has informally told the state government that it would not be able to supply fresh doses before three weeks. In Calcutta, most private hospitals have administered Covishield as the first dose.
The state on Tuesday night issued an advisory, again asking private hospitals to directly contact the manufacturers. "We can work as facilitators but the private hospitals should also try to get the doses (directly from the manufacturers)," said a health department official.
Woodlands Hospital said it received doses directly from Bharat Biotech, which manufactures Covaxin.
Rupali Basu, the CEO of Woodlands, said the hospital vaccinated 225 people in the 18-44 age group on Tuesday. The hospital administered only Covaxin, she said.
"We had opened the booking for vaccination at 9.50pm on Monday. Within five minutes all the slots had been booked. On Tuesday, we opened bookings till May 8 and all slots were taken within 10 minutes," she said.
The hospital is charging Rs 1,500 for a dose, of which Rs 1,200 is the price of the vaccine and Rs 300 the administration charge.
"We started communicating with Bharat Biotech and Serum Institute much earlier, at the beginning of the vaccination drive in January-February. We had realised that vaccination would be a very big programme and it had to be done through government hospitals, private hospitals and by directly procuring from the manufacturers. Serum Institute will give us Covishield in mid-June," said Basu.
Chief minister Mamata Banerjee had earlier said that vaccination for the 18-44 age group would start on May 5 in Bengal, but no order or circular has been issued by the state health department.
Basu said that those who were waiting for the second doses should approach government run-Covid vaccination centres at the moment.
Several other hospitals said they were yet to get any concrete response from the two manufacturers.
"We have sent several communications to the two manufacturers but are yet to get any response. We have been forced to stall our vaccination drive," said R. Venkatesh, regional director, east, Narayana Health, which runs the RN Tagore International Institute of Cardiac Sciences.
Peerless Hospital has received a communication from Bharat Biotech, asking it to send its requirements.
"We have asked for 34,000 doses of vaccine and are awaiting the response," said Sudipta Mitra, the chief executive of Peerless Hospital.