Puja Covid code: pandals smaller, lights fewer
Organisers prepare 17-point guide to ensure safety in festivity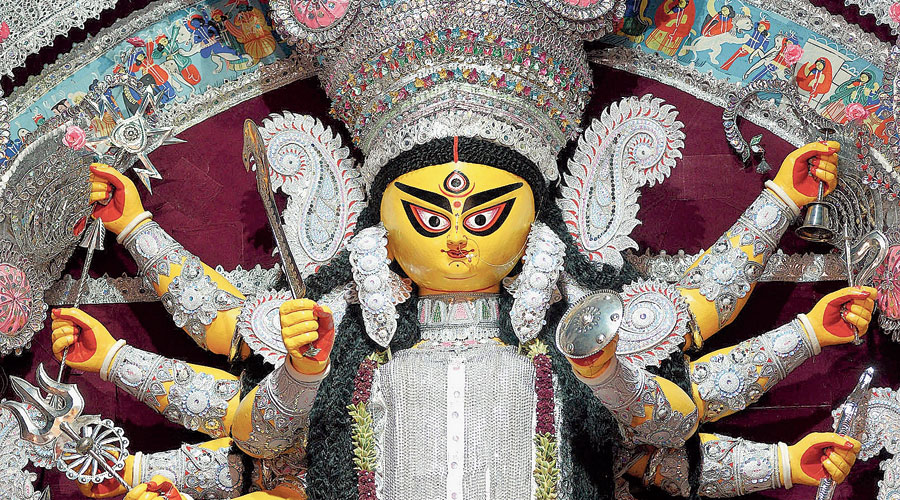 ---
Calcutta
|
Published 17.07.20, 02:56 AM
|
---
A forum of over 350 Durga Puja organisers across Calcutta has come up with a code for the festivity, which is around three months away, to try and ensure that it is not scrapped because of the Covid pandemic.
The code speaks of smaller pandals where visitors will see the idol from a distance, instead of huddling in front of the goddess.
At a recent meeting, representatives of a number of puja committees — small, medium and big — from across Calcutta decided on a 17-point code on how to go about ensuring social distancing during the festivity, which draws lakhs of revelers every year.
The code calls for cutting down the dazzle in an attempt to discourage people from visiting pandals at night and preventing a gathering of more than 25 people inside pandals at any point.
Only whole fruits will be allowed in offerings to the goddess. Pushpanjali, a floral offering, won't be permitted in large groups.
This year Durga Puja begins on October 22 and ends on October 26. Mahalaya, an occasion that precedes Puja by a week, falls on September 17 this year. 
Whether Durga Puja will be allowed or not will depend on the prevailing Covid situation and the protocol that will be in place to tackle the coronavirus that causes the disease.
A health department official, too, suggested that it was too early to plan anything for the latter half of October.
"No code can be fixed now for a festival that usually involves tens of thousands of people," the official said.
On Thursday, Calcutta reported 496 new Covid cases, taking the city's total case count to 11,471. The active case count stands at 4,512.
"We have agreed on a code so that the tradition of organising Durga Puja remains unaffected. The health and safety of all have been given the highest priority," said Saswata Basu, the secretary of Hatibagan Sarbojonin Durgostav Committee and secretary of the forum.
"We will send our plan to the state government ahead of the coordination meeting for Durga Puja."
According to some estimates, the five-day festival generates around Rs 4,000 crores worth of business. The city has around 4,500 community pujas.
Organisers have been anxious for some time now over whether it would be possible to organise Puja this year.
Chief minister Mamata Banerjee held out hope on Wednesday. "Durga Puja will have to be held smoothly. It is a battle for everyone…. We have to fight well," Mamata said while speaking about the state government's efforts to tackle the pandemic.
As much as being hopeful, she was also trying to send out a message for heightened caution.
Several members of the Puja forum said the health concerns of the residents and those of the visitors would be on the top of their minds while adhering to tradition.
"Festivity for some can't pose a health risk to others," said Kajal Sarkar, the president of the forum and a member of the Bosepukur Sitalamandir Durgostav Committee in Kasba.
"We can't enforce this code. But since it has been drawn up after several rounds of consultations, we hope all Durga Puja organisers will abide by it in their own ways," Sarkar said.