Mothers with Covid can breastfeed: Doctors
The patient should take some precautions like washing their hands frequently and wearing a mask while nursing babies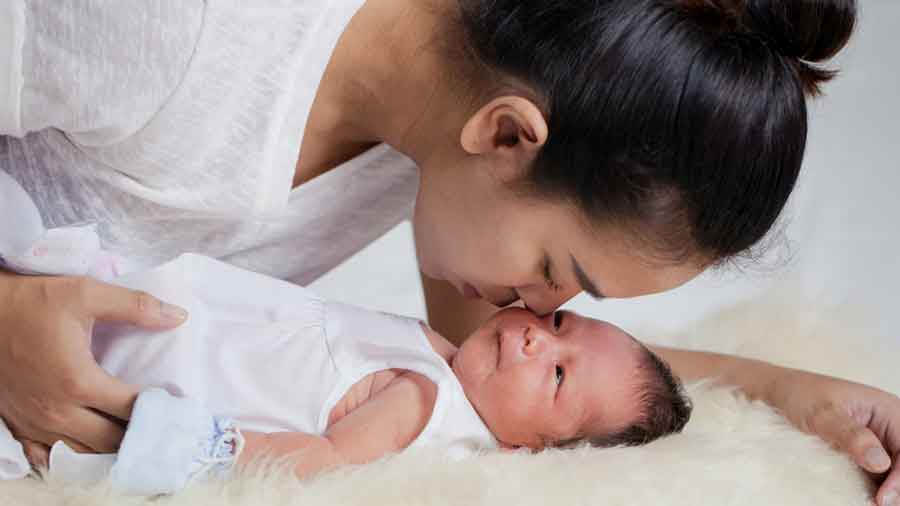 ---
|
Calcutta
|
Published 15.08.20, 03:01 AM
---
The Covid-19 pandemic has led to fear that breastfeeding mothers "might transmit" the virus to newborns, said doctors.
The doctors asserted that the fear was unfounded and mothers who have symptoms of the disease or tested positive can continue to breastfeed their babies as long as they take some precautions like washing their hands frequently and wearing a mask while nursing babies. Breast milk is the best source of nutrition for babies and it is imperative that newborns are not denied the nutrition, they added.
A city paediatrician said she came across multiple cases where the mothers who had tested positive for Covid-19 were scared to breastfeed their babies. "Doctors give a detailed explanation to mothers and they understand. But when they go home from hospital, family members separate the baby and the mother out of fear," she said.
Counselling of mothers and family members and awareness of the community play a key role in debunking myths, said experts.
"There is nothing that suggests that the virus is transmitted through breast milk. Wearing a mask and washing hands regularly are two things that breastfeeding mothers should do regularly to ensure the safety of the newborns," said Apurba Ghosh, the director of the Institute of Child Health.
Nurses in Covid wards are also facing resistance from family members in getting too close to their babies, said doctors.
"All mothers should breastfeed their babies, irrespective of their Covid status. They should maintain respiratory hygiene. A mother should not be separated from her baby unless she is extremely ill," said Neena Ghosh, a paediatrician associated with the Ramakrishna Mission Seva Pratishthan.
Some "Actions for breastfeeding mothers" on the WHO website are:
⚫Practice respiratory hygiene, including during feeding. If you have respiratory symptoms such as being short of breath, use a medical mask when near your child
⚫Wash your hands thoroughly with soap or sanitiser before and after contact with your child
⚫Routinely clean and disinfect any surfaces you touch
"We have witnessed a 250 per cent rise in Indians consulting online for gynaecology since March and one of the most discussed topics was breastfeeding," said a spokesperson of Practo, a digital healthcare platform.
Arockia Virgin Fernando, a gynaecologist who consults on Practo, said: "The Covid-19 virus does not spread during the time of delivery and the only possibility it might infect a child is through air post-birth."
August 1 to 7 was the International Breastfeeding Week.