Cycles pedal back, so do bicycle thieves
Cycles emerge as new target with relaxation of lockdown restrictions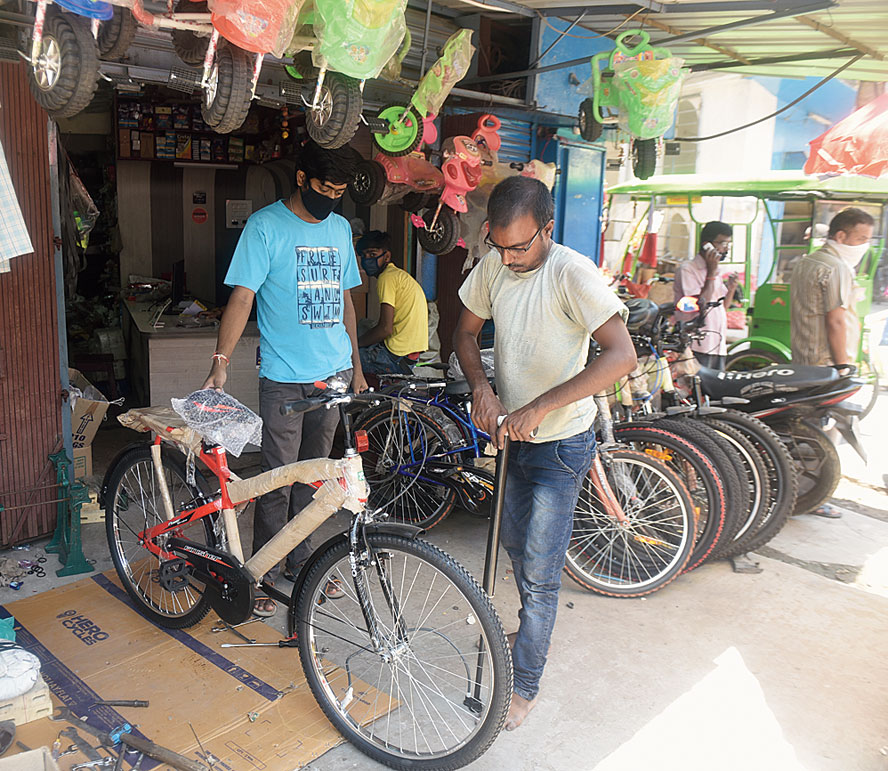 ---
|
Calcutta
|
Published 25.06.20, 04:11 AM
---
Cycles have returned to the target list of thieves after a brief hiatus as more people choose cycles over public transport in times of the coronavirus.
Several cycles were stolen from across the city in the past few weeks and police officers said they could not recall the last time such complaints had been registered.
Most of the stolen ones were new cycles bought by people who wanted to use them instead of travelling by public transport with many people to their places of work.
Many of those who have reported their cycles have been stolen said they used to pedal down from Behala, Bhowanipore and Narkeldanga to reach their offices in Dalhousie.
"We used to hear of bicycle thefts in the early phase of our policing career. The crime index board in police stations used to have the last row dedicated to theft of cycles. Motorcycles replaced the word cycles over the years," an officer of the detective department's anti-burglary wing that looks into cycle thefts said. "There were not even 10 bicycle thefts last year in the entire city."
"Lifters" were more keen on motorcycles, taxis, Matadors and lorries, the officer said. The returns on resale were always worth the effort.
Cycles have emerged as the new target with the relaxation of lockdown restrictions.
A week ago, a geared mountain bike was stolen from inside a housing complex in Sinthee in north Calcutta. Earlier this month, a bicycle was stolen from a house in the Regent Park area in south Calcutta.
Both thefts have been reported and FIRs drawn up based on the complaints. Many cycle thefts have gone unreported, though, the police said.
Many cycle owners said they wanted to avoid legal hassles. Some said the cycles were old but "good enough for a few kilometres".
Some cyclists from parts of Behala, Bhowanipore and Muchipara said the locks had been prised open, possibly with a saw.
The cycle that was stolen in Sinthee was a costly one, the police said. The owner, a woman, had parked the cycle in her housing complex at night. In the morning, it was gone.
"Someone who knew of her new possession must have passed on the information to lifters," an officer of Sinthee police station said. "We are on the job. Let's see."
Mountain bikes or MTBs come in various heights ranging between 4ft and 6ft plus. Their prices vary between Rs 17,000 and Rs 25,000, a cycle shop owner said. A normal cycle will cost anything between Rs 4,000 an Rs 6,000.
A cycle was stolen from a house in Nandalal Mitra Lane in Regent Park between June 11 and 12. The cycle was a few years old but the owner had started reusing it frequently. "We will crack the case in a day or two," an officer of Regent Park police station said.
Gautam Mukherjee, a resident of Roy Bahadur Road in Behala, said he had bought a new cycle for his son a little over a week ago. The cycle went missing from the parking lot of his apartment a few days ago. "It was stolen at night," Mukherjee said. "I didn't file a police complaint because it is usually very difficult, if not impossible, to trace a stolen cycle."
"The theft figures may not be alarmingly high at present but it shows thieves have set their eyes on a new target in this new normal," an officer said. "We will urge all housing associations to ensure CCTV cameras in their complexes are functioning. The same holds true for banks and markets."