Crisis eats into doctors' income
Hospitals cut or withhold payment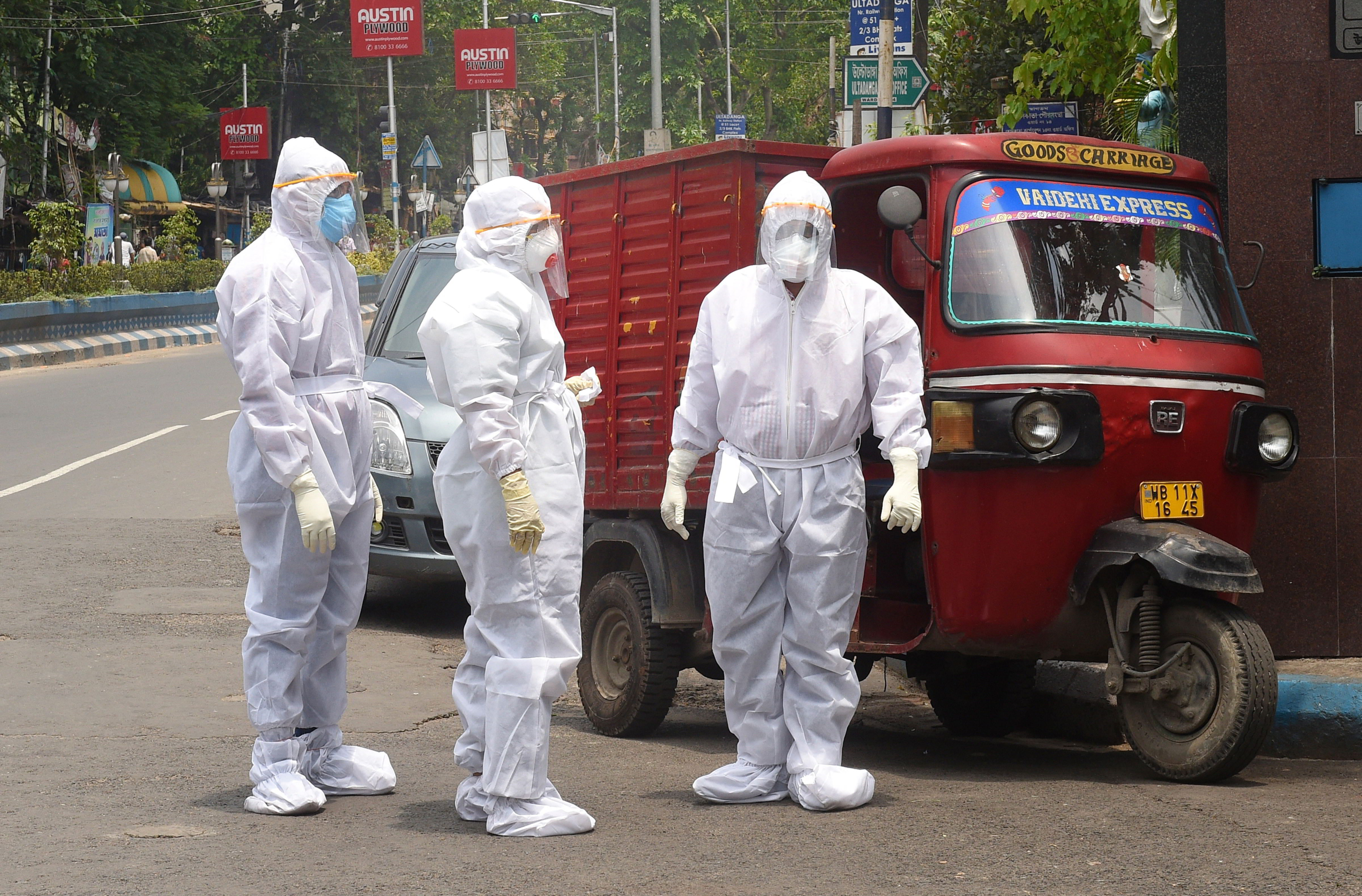 Medics stand on a street to collect swab samples for COVID-19 test, during the ongoing nationwide Covid-19 lockdown, in Calcutta, Thursday, May 07, 2020.
(PTI)
---
Calcutta
|
Published 09.05.20, 11:18 PM
|
---
Most private hospitals in the city have either reduced the pay of doctors who draw a fixed salary or are withholding consultation fees of others because of the financial turmoil unleashed by the pandemic.
In most cases, junior doctors have not been affected but incomes of seniors have reduced, in some cases by half.
A senior doctor at a private hospital said his fees for consultation, surgery and procedures for February were still due.
"The hospital has been able to pay barely 10 per cent of my fees for February, which I usually get in March. The authorities have said they would be able to pay only after they get a loan," the doctor said.
Another senior surgeon said he was not receiving the cheques from the hospital for the surgeries he had done during the lockdown.
Doctors of a private hospital said the management had informed them that their salaries had been reduced by 50 per cent from this month.
Private hospitals said their earnings were down 20 to 30 per cent and they have no money to pay senior doctors, whose remunerations are high.
"The hospitals have become cash-strapped. Private corporates, who are a big source of income for us, are not able to pay. Besides, many payments that we receive at the end of the financial year are due," said Subhasish Datta, the chief general manager of Ruby General Hospital.
Huge dues from the state and central governments (the governments owe the hospitals money for treating their employees under health schemes) as well as corporate clients have made these hospitals cash-strapped, said officials.
The earnings have also been affected by low occupancy because of the lockdown, said officials.
Datta said Ruby was yet to get about Rs 25 crore from various agencies.
"We have to buy a huge volume of personal protective equipment, sanitisers, gloves and other protective gear, for which the suppliers are insisting on upfront payment. So, from May we have to reduce salaries of doctors," he said.
Medica Superspecialty Hospital has cut up to 50 per cent of the payment for doctors, said its chairman Alok Roy.
"The central government owes me Rs 10 crore under various health schemes. I have not received any amount for the last couple of months. But patients keep coming and we have to treat them," said Roy.
Metro had reported in April that Roy had tweeted to the Prime Minister urging him to pay income tax refunds.
"The government has refused to pay extra for PPE for patients under the ex-servicemen health scheme. It is also not paying for the Covid-19 tests," said Roy.
K.K. Aggarwal, president, Confederation of Medical Association of Asia and Oceania, and past president, Indian Medical Association, said: "The governments should come forward and support private sector doctors."
"We are expecting that once the lockdown is lifted, the offices will start functioning and dues will be paid," said Rupak Barua, the group CEO of AMRI Hospitals. The hospital has also resorted to pay-cuts for senior doctors, he said.