Contact tracing push to contain Covid in Salt Lake
More than 700 cases are being reported everyday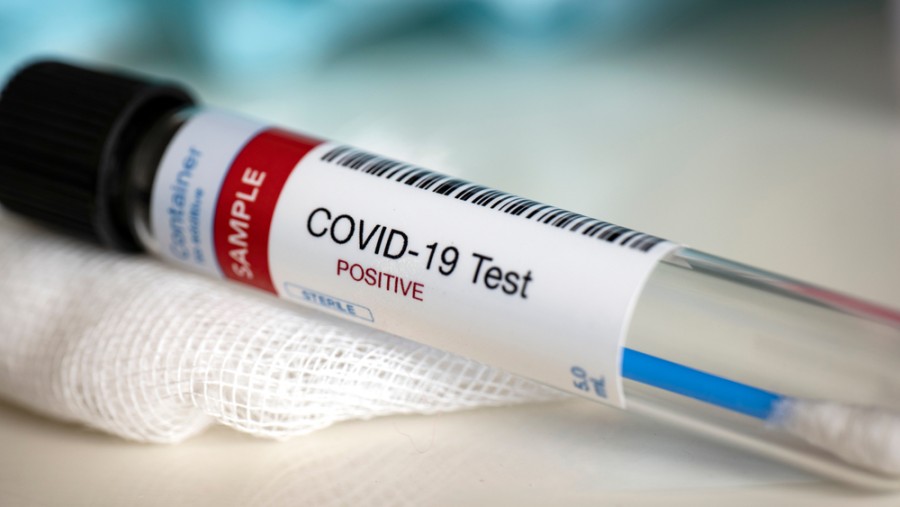 ---
---
Outgoing councillors and ward co-ordinators are now being asked to stress on contact tracing. This means finding out everyone a Covid patient came in touch with and getting them tested too.
According to a health department official, this directive has been communicated to the civic body headquarters as irrespective of urban or rural pockets, the number of cases in North 24-Parganas has been rising steadily. More than 700 cases are being reported everyday.
On Wednesday, North 24-Parganas recorded 805 cases, trailing only behind Calcutta that recorded 875 new Covid cases.
Public health specialists have stressed on the three-pronged strategy to trace, test and isolate anyone who has come in contact with a Covid-positive person. More tests would help identify asymptomatic people who would otherwise be freely mingling with others and spreading the virus.
However at least two health department officials said that the number of people undergoing tests at the two government Covid-19 testing centres in Salt Lake and Rajarhat was below their expectation. In Salt Lake, the centre is the swimming pool complex opposite Mayukh Bhavan and in Rajarhat, it is at Narayanpur.
Initially the civic body would send teams to different blocks in Salt Lake on weekends to set up fever camps as well as advise people on where they can get tests done. But this was stopped due to a shortage of doctors and trained personnel to conduct the tests. Despite the grave pandemic, the civic body continues to run with a single medical officer (doctor).
"Many of our employees also came down with Covid after conducting these block-level camps. This is why we started operating permanent testing centres," said an official.
Many residents, however, said that these were inadequate, given the corporation now has 41 wards. Indira Samanta, a resident of IC Block, had gone to the Central Park testing centre, "but I saw a huge queue there and hurried home. I got the test done from a private lab," said Indira, who tested positive last week and is now in home isolation.
A civic official confirmed that most Salt Lake residents were getting their tests done at private facilities, fearing the crowd at the government facilities.
He added that many were calling the helplines from Salt Lake and adjoining areas asking what to do in case someone was down with Covid-19 or had come in contact with an infected person. "This points to a lacuna in the workings of the civic body's health department," said the official. "Ideally, each urban local body should be prepared to send in a doctor to check on patients who might call for assistance."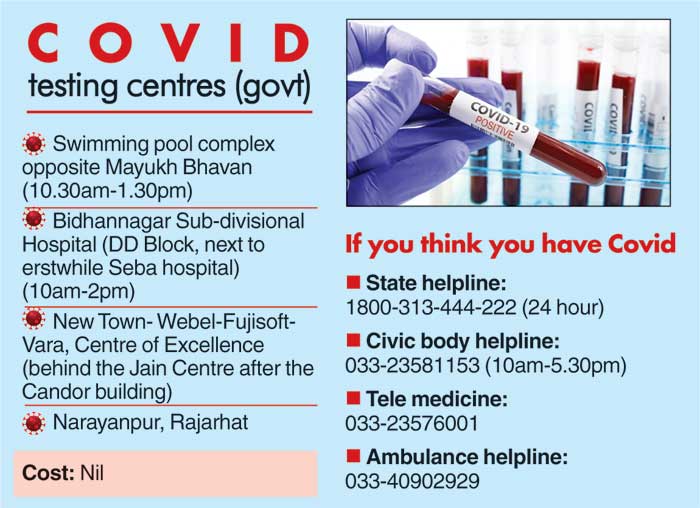 New Town model
The New Town authorities had started a Rapid Antigen Testing (RAT) centre three months ago which has examined more than 1,000 persons since then. RAT tests being quicker (but less accurate), the results are out in an hour and samples are taken everyday from 10.30am-1.30pm except on Sundays.
New Town also has private facilities against payment for drive-in Covid tests near gate number 2 of the New Town Fairground near the Biswa Bangla Gate and swab collection kiosks inside the fairground.
Debashis Sen, the NKDA chairman, said that all these centres were quite popular among the residents. "Many are turning up here as people are scared to go to hospitals for tests, fearing cross-infection," said Sen.