Cable risk unchecked across roads and pavements in Calcutta and Salt Lake
Multiple accidents have taken place over the past couple of years due to this mess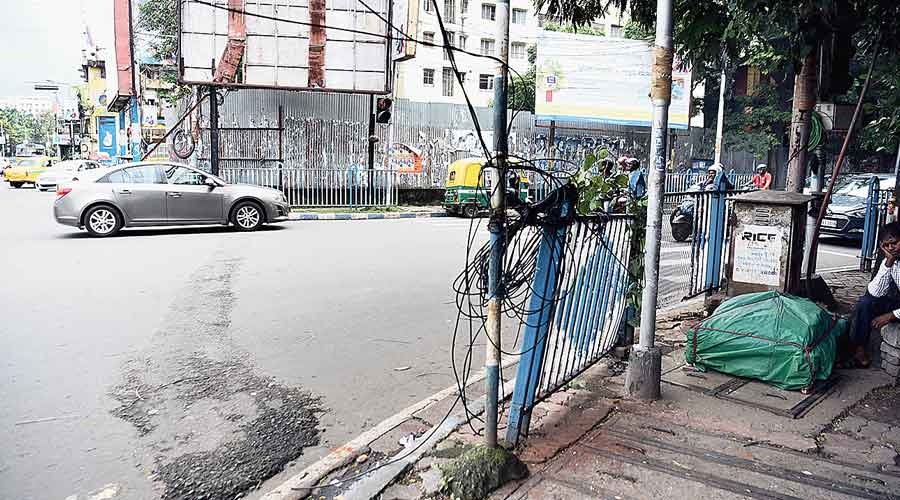 Bundles of wires tied to lamp posts along Ballygunge Circular Road on Thursday.
Pictures by Gautam Bose
---
Calcutta
|
Published 20.08.21, 03:31 AM
|
---
Mazes of cables, spilled across roads and pavements in parts of the city and in Salt Lake, continue to be potential death traps for two-wheeler riders and pedestrians.
A week has passed since a young biker died after the front wheel of his motorcycle got caught in a mesh of cables lying on the road in Salt Lake and a water tanker ran over him.
On Thursday, The Telegraph saw bundles of snipped and dud cables strewn across roads and on median dividers and pavements in many places, including Camac Street, Gurusaday Road, Ballygunge, several stretches of EM Bypass, Sector V and other places in Salt Lake.
A 1km-long stretch from Vardaan Market till the Camac Street intersection had rolls of cables tied around lamp posts and tree trunks. Some snipped wires were lying across the road as well.
The cables were not visible from a distance and most two-wheeler riders were spotted swerving at the last minute to avoid riding over them.
On the Gariahat flyover, several loops of cables were jutting out onto the road and snipped wires were poking out at regular intervals.
The situation was similar in front of the Lalit Great Eastern, where clumps of wires looped around lamp posts were jutting out into the main thoroughfare.
In Salt Lake, too, bundles of snipped wires were spotted lying across the streets in all three sectors of the township.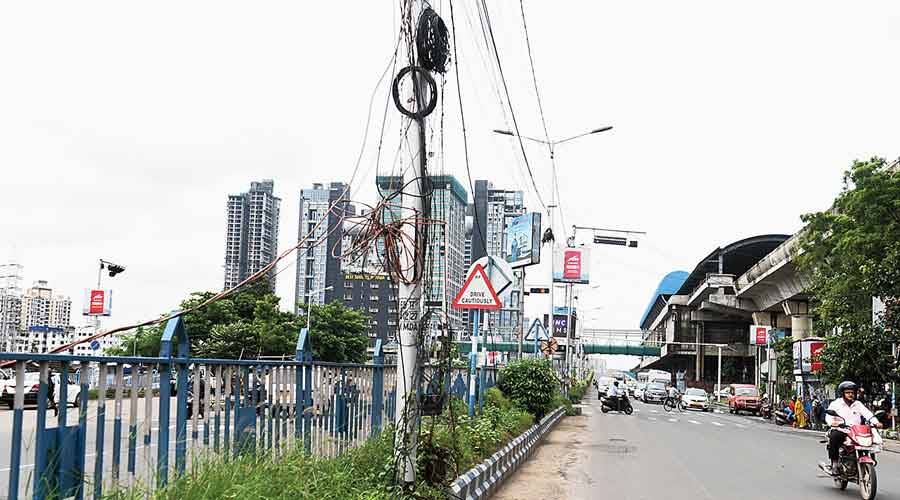 Last week, a 26-year-old biker riding home suffered fatal head injuries after the front wheel of his motorcycle got caught in a mesh of cables lying on the road near Salt Lake's Baisakhi island and a water tanker ran over him.
Subham Dhar, a resident of Canal East Road in Ultadanga, was riding along the Ultadanga-bound flank of First Avenue when the accident occurred around 6pm. Dhar, a medical representative, was wearing a helmet but it had come off under the impact of the crash.
In July, Priyam Majhi, 38, a resident of HC Block, fell off his two-wheeler after the bike's front wheel got entangled with a dangling cable on an unlit stretch of Canalside Road, along the eastern drainage canal, in front of Mahavir Vikas Housing Complex.
In January 2018, a teenager from Beniapukur's Kasaipara had died after his bike's wheels got entangled in a mesh of cables dumped on the road near the Park Circus bridge.
Multiple accidents have taken place across the city over the past couple of years because of the mess of cables lying on main roads but multi-service operators continue to tie cables on street furniture.
Several drives have been undertaken by the Calcutta Municipal Corporation (CMC) and the Bidhannagar Municipal Corporation, but they have yielded little result.
In June, the CMC made tunnels on either side of a 3km-stretch of Harish Mukherjee Road. Cable TV operators and internet service providers have been asked to lay cables through these tunnels and clear the overhead mess on the stretch.
In Sector V, too, the Nabadiganta Industrial Township Authority (NDITA) is making such tunnels.
However, NDITA and CMC officials said that there was "stiff resistance from the cable operators and MSOs" as they do not want to incur extra expenses by way of fees for using the tunnels to channel the wires.
Tapash Das, the joint convenor of All Bengal Cable and Broadband Operators United Forum, said that they had started clearing unused and defunct cables. "We have already removed the dead cables from many places like the Kasba connector. The work is taking time since we have to cover very large areas," he said.
Krishna Chakraborty, chairperson, Bidhannagar Municipal Corporation's board of administrators, said they had started a drive to remove cables but it was getting held up because of rain.
"Our teams are working but it is difficult to snip wires as we need to identify which ones don't work," said Chakraborty.
Chief minister Mamata Banerjee and the chairman of the CMC board of administrators, Firhad Hakim, have requested and warned cable operators to remove the maze of overhead cables and the ones tied around street furniture.