Bust breast cancer myth: city oncologist at webinar
Bhattacharyya said women should be encouraged to go for investigation because all breast lumps are not cancer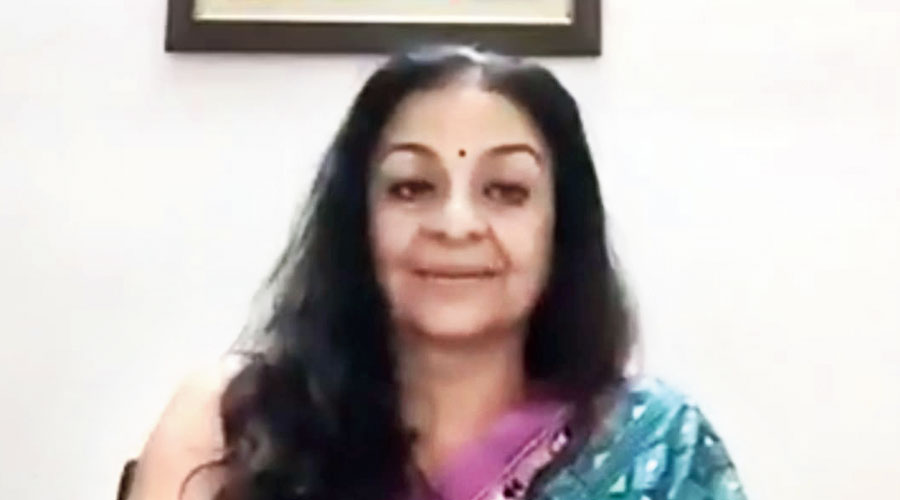 Ruby Ahluwalia speak at the webinar
Screen grab
---
Calcutta
|
Published 30.10.20, 03:12 AM
|
---
The fear of biopsy prevents many from consulting a doctor even if they feel a lump in the breast, said a city oncologist at a webinar to raise awareness on breast cancer.
"When early breast cancer arises in a female commonly and rarely in male, they will feel a lump… they do not want to come to the doctor because of the fear of biopsy. Because there is a myth that if you do a biopsy or operation on a cancer, it will spread," said Shibashish Bhattacharyya, the head of the department and professor of medical oncology at the Calcutta Medical College and Hospital.
"So this myth has to be busted by social workers… healthcare providers, rural practitioners, general physicians and gynaecologists."
Bhattacharyya said women should be encouraged to go for investigation because all breast lumps are not cancer. "Even before a biopsy there is an investigation called mammogram," he said. He was addressing an international symposium on breast health organised by the NGO Sanjeevani Life Beyond Cancer.
"Women often put themselves last on the priority list because they think treatment will entail expenditure and expenses on other things will get compromised. But eventually the cancer reaches an advanced stage, it becomes painful and they have to approach a doctor and the expenditure rises and treatment gets delayed," said Ruby Ahluwalia, the founder of Sanjeevani.
The webinar was organised mostly for students in the age group of 20 to 30. "Earlier, it was believed that cancer is a disease of the old but now a lot of young people are getting it. And if young girls or boys are aware, they will be able to handle both their and their parents' health better," said Ahluwalia.
Pankaj Chowdhary, the president of Darjeeling Oncology Trust, spoke about lack of data and called for increased awareness.
Sucheta Paul, the head of the social work department at St Xavier's University, said it was important to talk to students on these issues.