Partha Chatterjee airs NEP worry
The minister wondered whether the 6% of the GDP would be adequate to meet the goals set in the policy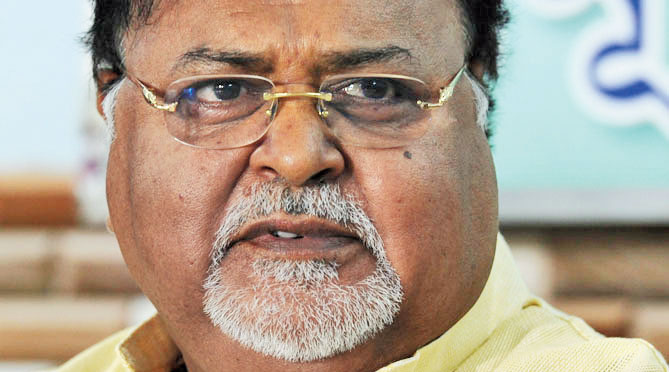 Partha Chatterjee
File picture
---
Calcutta
|
Published 08.09.20, 05:04 AM
|
---
The Centre should give priority to Covid-related matters during the pandemic instead of holding discussions to implement the National Education Policy, education minister Partha Chatterjee said on Monday.
The policy "tries to dilute the country's federal structure", Chatterje said after taking part in a virtual interaction on the policy with Prime Minister Narendra Modi, President Ram Nath Kovind and Union education minister Ramesh Pokhriyal among others.
"It maybe appreciated that in the current pandemic situation, Covid-related issues should get utmost priority.
At a time Covid-19 is raging, they (Centre) are giving emphasis on discussing the National Education Policy," he said.
"But they are not giving any priority to how the spread of Covid-19 can be prevented. They are not giving any priority to how loss of lives can be prevented and the health of common people protected. This should have been discussed first. We have told the President it was high time that discussions were held on Covid-19."
The policy is centralised in nature although education comes under the concurrent list, minister Chatterjee said. "It tries to dilute the federal structure of the country, which is guaranteed in our Constitution, by trying to prescribe almost everything centrally."
Minister Chatterjee wondered whether the 6 per cent of the GDP would be adequate to meet the goals set in the pol-icy and said it was unclear how the fund sharing would take place.
"There is no clarity on the issue of fund sharing," Chatterjee said.
A state government official said: "Until we manage to overcome the onslaught of Covid, we will not be left with enough resources to spend on this project. The Union government should be realistic."
Chatterjee said the Bengal government had "strong" reservations about the common test concept at the national level for admission to undergraduate courses, multi-layered undergraduate courses, and discontinuation of MPhil courses — some of the changes that have been enumerated under the policy.
"We, therefore, request the Centre to provide us with appropriate time to present our complete views," he said.
Sugata Bose, the Gardiner professor of Oceanic History and Affairs at Harvard University, had written in The Telegraph on August 17, describing the policy as a recipe for unenlightened over-centralisation.
He wrote: "The announcement of the policy bypassing Parliament and any real consultation with the states is one more brazen and cynical attempt to advance the ruling configuration's ideological agenda under the cover of Covid-19. It is a recipe for unenlightened over-centralisation."
An official of the higher education department said: "No one knows when the academic session will start. At a time like this, Covid-19 should be the first and only priority for any such interaction at a forum like this."