Alipore bridge truck bar likely
Dahi Ghat bridge in the Port area will become the lone bridge for the movement of heavy goods vehicles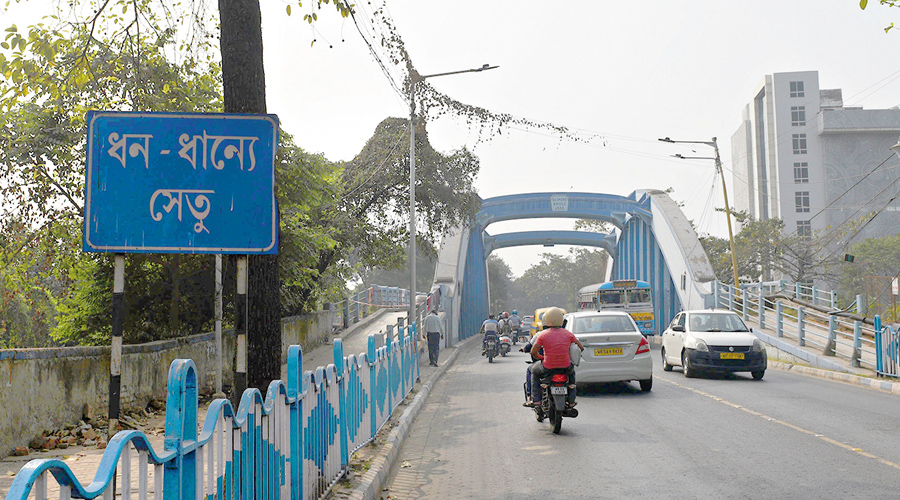 ---
|
Calcutta
|
Published 14.01.21, 03:15 AM
---
The bridge that connects DL Khan Road with Alipore across the Tolly's Nullah could soon be closed to heavy goods vehicles.
With the imposition of restrictions on trucks and lorries on the bridge, called Dhana Dhanya Setu, Dahi Ghat bridge in the Port area will become the lone bridge for the movement of heavy goods vehicles from the southern fringes to Vidyasagar Setu, through the heart of Calcutta.
Every day, thousands of goods vehicles enter the city from Diamond Harbour and Maheshtala, on the southern fringes of the city, and head for Vidyasagar Setu.
Six bridges over Tolly's Nullah have been the major arterial lines that connect the city to the southern fringes for smooth passage of goods vehicles. Three of these have been closed to heavy vehicles because of repairs since 2019. The Chetla bridge, on which heavy vehicles are permitted, opens onto Chetla Central Road, which is too narrow for heavy goods vehicles, police said. "At present, only Dhana Dhanya and Dahi Ghat bridges are open to heavy vehicles."
The city-bound flank of the 90-year-old Zeerut bridge, near the Alipore zoo, had been declared unfit for heavy vehicles in May 2019. The old steel bridge in Kidderpore and the Kalighat bridge have been closed to heavy vehicles since August 2019.
"When the Kidderpore steel bridge was closed to heavy vehicles, all trucks from Maheshtala, Bishnupur, Diamond Harbour and other sides were diverted through Dahi Ghat bridge to reach Vidyasagar Setu. Earlier, the Zeerut bridge, which used to share some of the load, had been closed to heavy vehicles," said an officer of the traffic department.
When heavy vehicles were restricted on the Zeerut bridge in May 2019, the vehicles were being diverted through Dhana Dhanya bridge. "Now, if Dhana Dhanya bridge is also closed to heavy vehicles, the entire load will be on the Dahi Ghat bridge. It will be very risky and will affect the city traffic if any heavy vehicle breaks down on the bridge," the officer said.
The top brass at the city police headquarters are likely to hold a meeting with the agencies in charge of maintenance of the bridges that have been under repair for years now, Lalbazar sources said.