Aerobridge turns PPE changing room, disrupts services
Passengers discard Covid gear in violation of rules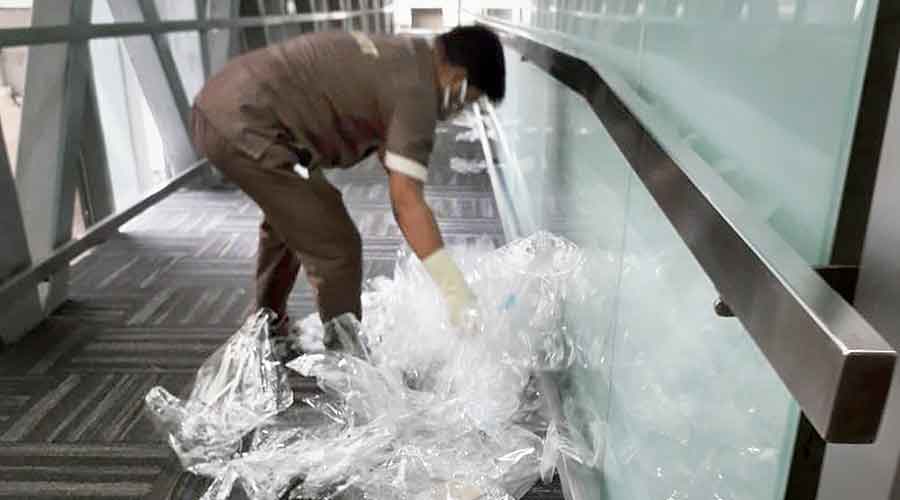 An airport employee removes face shields and PPE packets discarded by passengers on an aerobridge
Sourced by The Telegraph
---
Calcutta
|
Published 05.09.20, 03:52 AM
|
---
Two aerobridges at the airport had to be closed for more than half an hour on Wednesday because a number of passengers who had arrived on flights from other cities discarded face shields and PPE packets on the floor.
Airport officials said the incident happened on the aerobridges at the arrival gates 20 and 24 in the domestic section of the airport terminal. 
"Some of the passengers had thrown their face shields and PPE packets on the floor of the aerobridges.
Our employees had to clean those and sanitise the aerobridges for reuse," airport director Kaushik Bhattacharya said on Friday. 
The protective equipment is given to fliers in the middle seats as a precaution against Covid-19.
Officials of several airlines said in-flight announcements were frequently made telling passengers to discard face shields, PPE and the packets in which these are handed to passengers at designated places. 
At the Calcutta airport, the authorities have placed yellow bins in which passengers are supposed to discard the PPE and face shields. The bins are placed in the corridors, which are extensions of aerobridges, and also in the baggage collection area, said officials.
"We have about 25 such bins placed in several areas in the arrival section. The number has been doubled recently to further facilitate disposal of PPE by passengers. But despite that, many passengers are throwing them on floors of aerobridges, resulting in disruption to services," Bhattacharya said.
Earlier, there were reports of passengers discarding PPE on the floors of the terminal.
Officials said they had increased the personnel strength in the arrival area to boost surveillance on passengers. 
"Because of increased surveillance, the incidence of PPE being discarded on the floor of the terminal has reduced. But it is not possible to keep people deployed inside aerobridges as well," said an official.