Calcutta's Red Road set for Durga parade
Organisers of 74 pujas to take part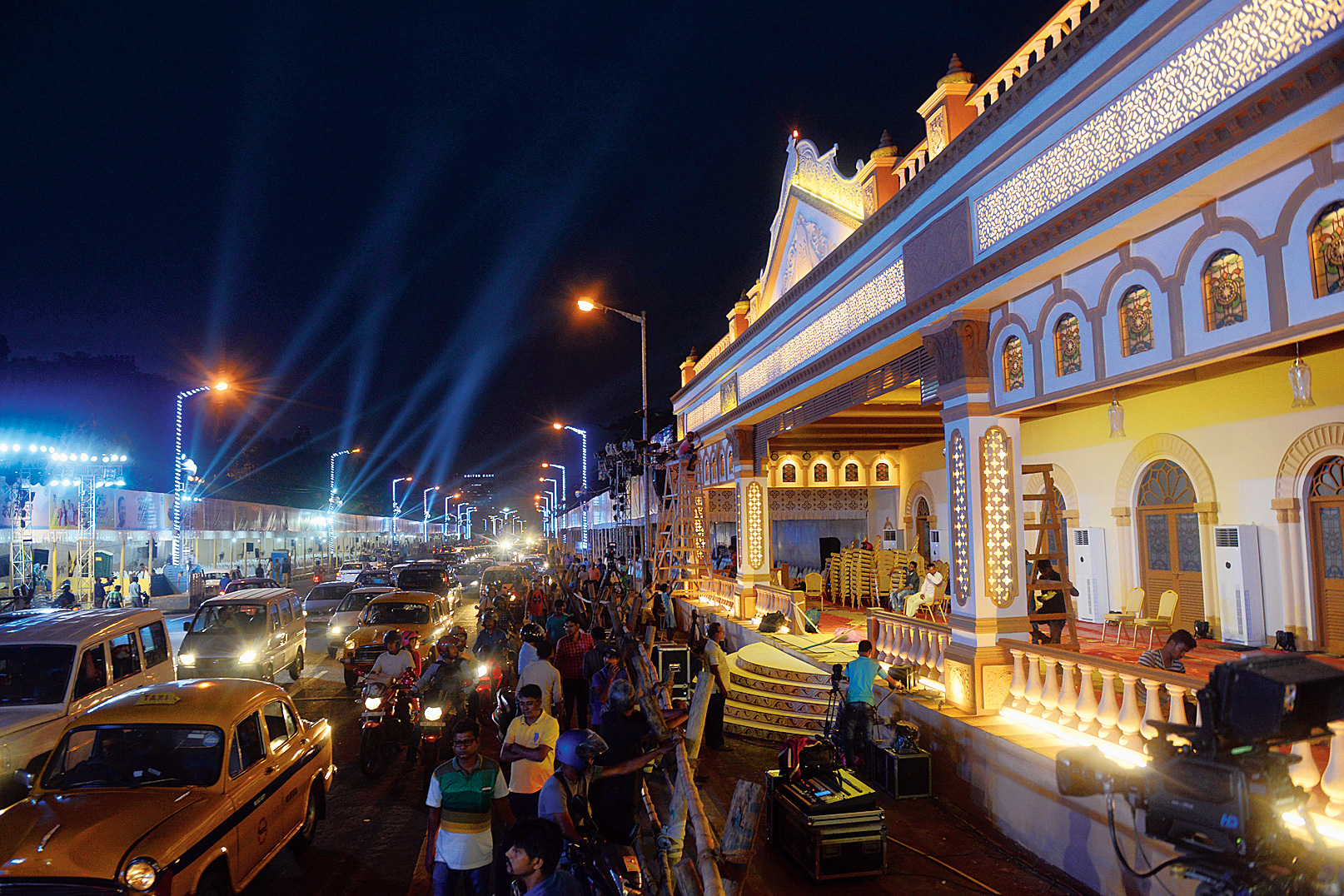 ---
|
Calcutta
|
Published 22.10.18, 09:11 PM
---
Calcuttans will get a last glimpse of the idols of almost all big-ticket Durga pujas on Tuesday.
The organisers of 74 pujas will take part in a parade on Red Road from 4.30pm on Tuesday. Chief minister Mamata Banerjee will be in the audience of the carnivalesque farewell to the goddess, being organised by the state government. Last year, 69 pujas had participated in the parade.
Metro gives a lowdown.
The show
A stage measuring 80ft by 25ft and modelled on a typical old Calcutta mansion has come up along Red Road. The chief minister will sit on the stage, which has been made of plywood, fibre glass and pith. Another stage, across the road from the main one, has come up to accommodate celebrities.
Arrangements have been made to seat more than 16,000 spectators along the road.
A novel addition this year — the immersion parade was first organised in 2016 — is a dance item to be put up by 25 Iskcon devotees from abroad. The devotees will perform to the theme song of Suruchi Sangha — Ya Devi Sarvabhuteshu — penned by the chief minister.
"To us, Durga is an extension of Radharani. This is the first time we are taking part in the event," said Radharaman Das, general manager of Iskcon, Calcutta. "The devotees have come from the US, Russia, Australia, Ukraine, Latvia and elsewhere. They have been staying and rehearsing at the Salt Lake stadium."
When
The parade is scheduled to start at 4.30pm. The organisers have been asked to bring their idols to Kidderpore Road early on Tuesday.
The parade
The organisers will move with their idols from the South gate of Fort William to the East gate. Once the police give the go-ahead, following a nod from information and cultural affairs department officials at the spot, each committee will hit Red Road with its idols. An official said each committee could use up to four vehicles and would have a minute-and-a-half to perform in front of the chief minister.
Immersion
After the parade, the idols of the big pujas will head for Baje Kadamtala Ghat, off Babughat, for immersion. "The other organisers will be directed to Gwalior Ghat. Some can also head for Nimtala Ghat in the north. A few may want to return to their para before immersion. They will be allowed to do so," an official said.
Traffic
Red Road is likely to be closed to traffic from around 11am. Once the road is closed, vehicles will be diverted through Mayo Road and Dufferin Road. Kidderpore Road, where the organisers will gather with their idols, will be closed to traffic, too.Vehicles will not be allowed on Lovers Lane, Queensway and Plassey Gate Road from the afternoon. South-bound vehicles from the BBD Bag area will move through Mayo Road. "We may also direct vehicles through RR Avenue," an officer said.