Calcutta airport clears out trolley touts
Wheelchair users still face cash demands, and beware of taxi touts at night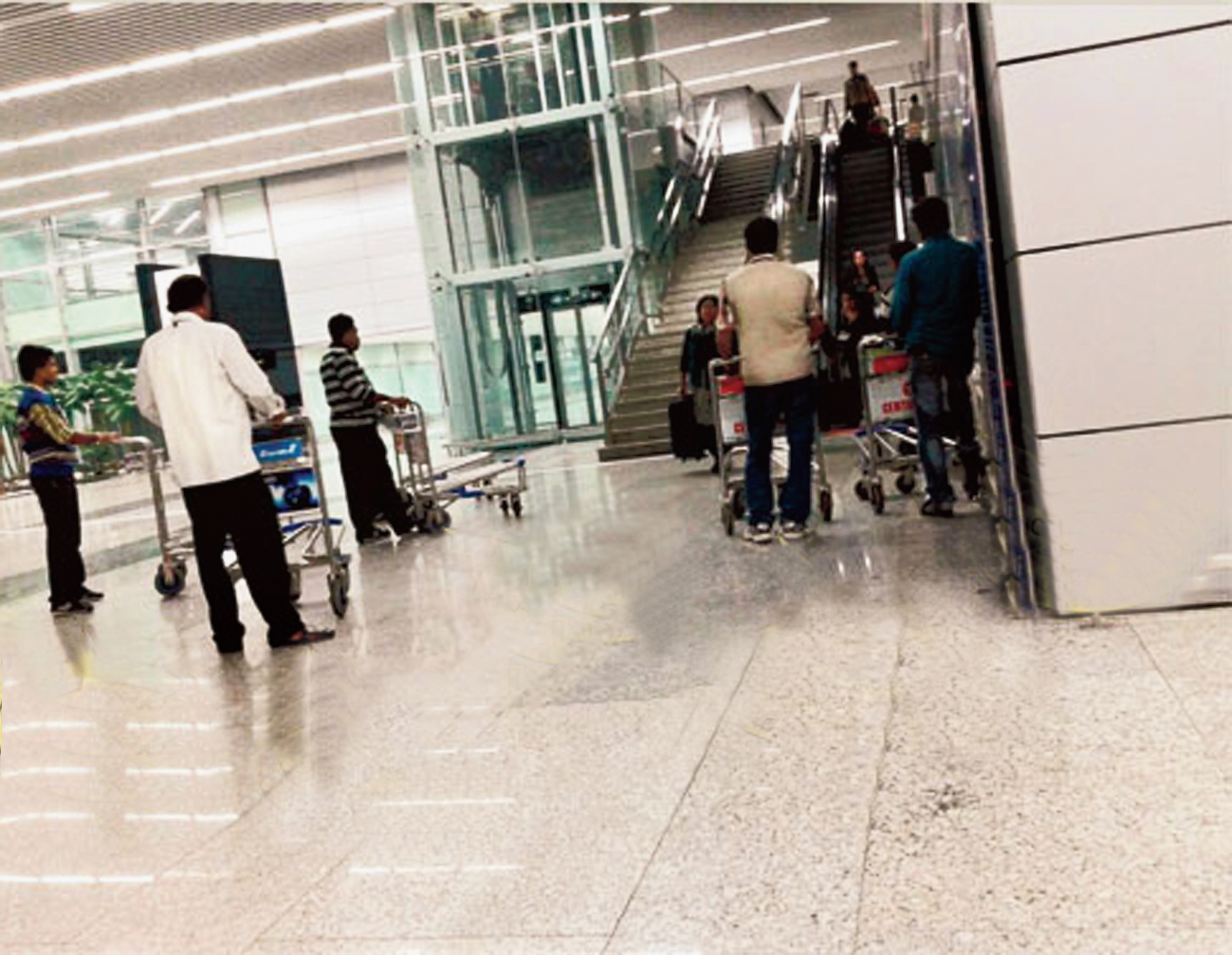 ---
|
Calcutta
|
Published 07.11.18, 07:58 PM
---
Calcutta airport appears to have been rid of its pesky trolley touts, although there is still no escaping the purveyors of wheelchairs for a fee and taxi rides with fares that shock.
Passengers arriving on international flights are no longer mobbed by trolley pushers notorious for their pretence of helpfulness and rudeness when refused money. A Calcuttan returning from a trip early on Tuesday was surprised not to find a tout pursuing him in the arrival area.
"On each occasion earlier, I would find five to six persons standing with trolleys at the end of the stairs just before the luggage carousel. They would approach all passengers, offering trolleys and assistance. I did not see even one this time," he said.
Finding a full rack of trolleys was another pleasant surprise for him. "I have lost count of the number of times I have had to look around for a trolley because the rack would be usually empty," he said.
Airport officials said the change was the outcome of persistent efforts to discipline the trolley retrievers. In May, around 10 of them were blacklisted and banned from entering the terminal after it was found that they had stayed back beyond the age of retirement. Six more were removed recently.
The number of trolley retrievers has declined from 84 a few years ago to 64. "We have spoken to the trolley retrievers and tried to sensitise them to passenger needs," airport director Atul Sharma said.
The agency handling the contract for trolley retrieval has also been asked to ensure that its workers do not harass passengers, an airport official said.
The customs authorities have done their bit by barring trolley retrievers from the arrival area of the international section.
The one problem that hasn't been solved is the harassment wheelchair users face.
"We had booked wheelchairs while buying tickets online. On arrival, we got our wheelchairs but weren't prepared for the demands of the touts masquerading as helpful employees," said a 62-year-old man who was travelling with his wife and another elderly couple. "Before getting into our car, we thanked the two persons who pushed our wheelchairs but they kept standing and staring. Then one of them asked for money," he recalled.
Airport officials said the conduct of the wheelchair handlers was the responsibility of the airlines that had outsourced this service to other companies.
Taxi touts also continue to rule outside the terminal, sometimes even threatening drivers of app cabs that come to pick up passengers. Police booths have been set up at the taxi stand in front of the terminal at the arrival level, but touts remain in the frame, especially late in the night when several international flights arrive.
"I was standing outside the terminal waiting for my driver to bring the car when one person came up to me and asked whether I needed a taxi," recalled a woman who recently returned from a trip to Bangkok. "He wasn't a taxi driver, just a tout."
Another passenger said the driver of his app cab was asked by a tout why he was picking up someone he had approached.
An officer of the Bidhannagar police commissionerate said passengers could report such incidents at two booths manned round-the-clock.