Bus injures teen, mob ire erupts on NH2
The incident happened at busy Muchipara crossing when the market on both sides of the service lanes was crowded on the first day of Durga Puja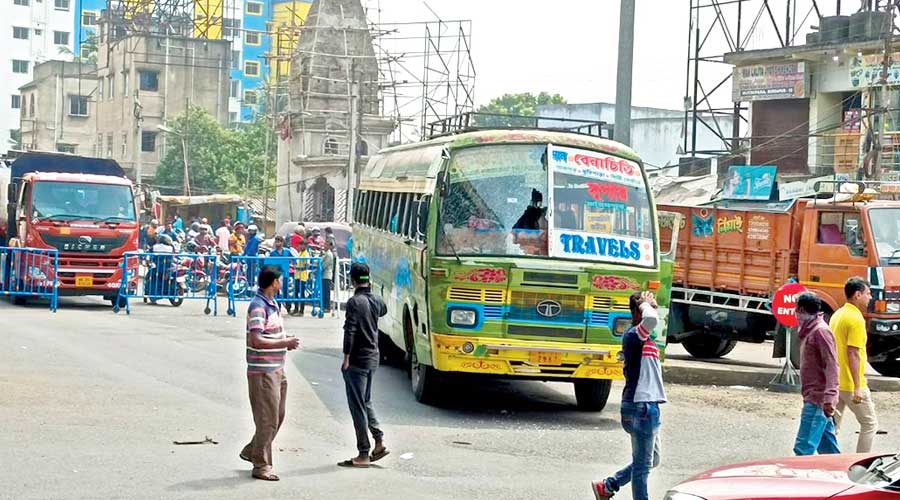 ---
Durgapur
|
Published 12.10.21, 02:11 AM
|
---
Angry residents ransacked several vehicles and blocked two service lanes of NH2 in Durgapur town for over three hours after an Asansol-bound Volvo bus knocked down and injured a 19-year-old at 10.30am Monday.
The mob also manhandled policemen who had gone to the spot to control the situation.
The incident happened at busy Muchipara crossing when the market on both sides of the service lanes was crowded on the first day of Durga Puja.
Witnesses said the bus that usually uses the overbridge of the highway was on the Asansol-bound service lane as the bridge was closed for repairs. "The Volvo overtook a bus at Muchipara crossing and suddenly took the wrong route. The youth, Amit Prasad, standing beside the Calcutta-bound service lane, was hit," said Chandan Gorai, an eyewitness.
As Amit slumped, the bus driver and helper fled. Angry residents, who blocked the crossing and hurled stones at vehicles, alleged that most of the time no traffic policeman stayed on the accident-prone crossing.
Traffic on the busy Calcutta-Delhi highway was held up till at least 2pm . Protesters finally dispersed after police promised to bear the cost of Amit's treatment and deploy traffic police on the crossing.
Rushed to Durgapur subdivisional hospital, Amit was shifted by police to a private hospital.
The protesters also demanded compensation and money for the treatment of the injured and compulsory police posting at the crossing.
The police said the NHAI was repairing cracks on the overbridge and had closed the bridge for traffic. That's why vehicles, including trucks and buses, are using narrow service lanes to negotiate the busy crossing.
"The closure of the bridge has made it difficult for us to manage the traffic bottleneck on both sides of the service lanes. Sometimes buses and other small vehicles take the wrong route to avoid the snarl," said a police officer.
 "We will bear the entire cost of the treatment of the injured youth and ensure police posting here. We will also urge the national highway authorities to finish repair work fast," said Dhrubajyoti Mukherjee, assistant commissioner of police (Durgapur).