Teak worth Rs 1 crore seized
The logs were apparently loaded in Assam and were supposed to be smuggled to Maharashtra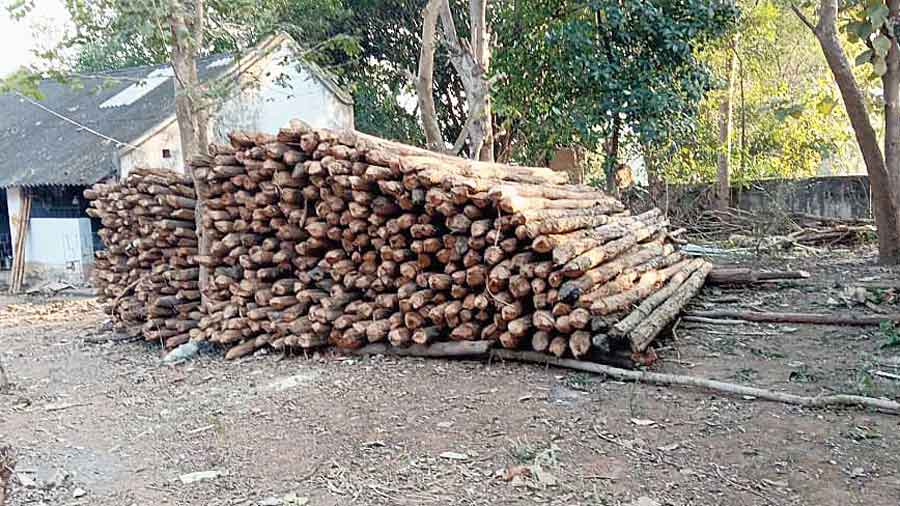 Representational image.
File photo
---
Siliguri/Raiganj
|
Published 23.08.22, 02:26 AM
|
---
 An illegal Burmese teak consignment worth around Rs 1 crore was seized by foresters of the Ghoshpukur forest range of Kurseong forest division from Ghoshpukur on the outskirts of Siliguri on Sunday night.
The logs were apparently loaded in Assam  and were supposed to be smuggled to Maharashtra. Five persons have been ar¬rested in this connection.
"We had information that a timber consignment would be smuggled through Siliguri. Accordingly, we intercepted a truck at Ghoshpukur," a forester said.The team, led by Tsonam Bhutia, the range officer of Ghoshpukur, carried out the raid.
"The truck was loaded with sacks of cement and rice husks. But as the sacks were removed, Burmese teak logs were found underneath. We took the driver and cleaner into custody and during interrogation they said that the logs had been loaded in Guwahati and the consignment was on its way to Nagpur," the forester added.
The duo also revealed that three others, suspected to be members of a timber smuggling racket, were tailing them in an SUV. "In due course, we also intercepted the SUV at the same location. The three persons in it were also arrested," the forester said.
Cannabis haul
In North Dinajpur, a team of Chopra police station seized three persons with 86.10kg cannabis on Sunday night.Sources said five persons had taken a bus from Assam and were supposed to head for Uttar Pradesh. However, during their journey, they fought with the bus conductor over some issue, prompting the driver stop the vehicle at Jiakhuri area of Chopra and ask them to get down.
Seeing them with five bags, some residents got suspicious and informed police. Before a police team could reach the spot, two of them fled. As policemen searched the luggage of the three, they found packets of cannabis in all the bags. Altogether, 86.10kg cannabis, the cost of which is aro¬und Rs 3 lakh, was seized. Those arrested are Gobind Das, Bablu Chowrasia and Uttam Sahani, all residents of Deoria district of Uttar Pradesh, police sources said.