Bulbul fells 45 trees in city, Salt Lake
In Bidhannagar, five trees were uprooted and branches of another six fell in various places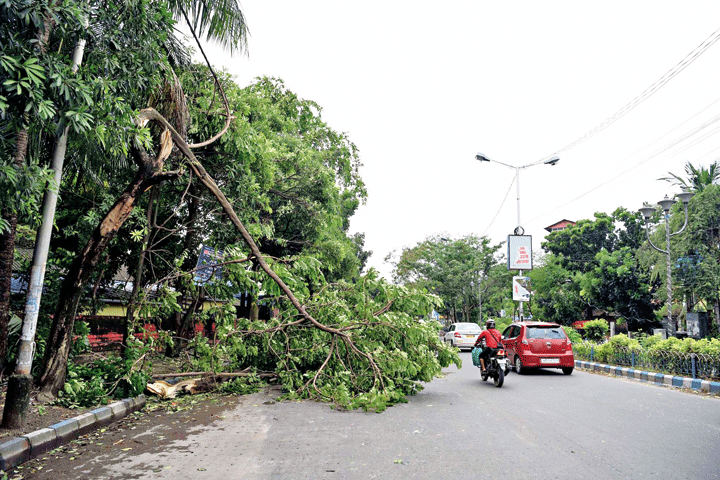 ---
|
Calcutta
|
Published 10.11.19, 08:57 PM
---
At least 40 trees were uprooted in Calcutta and branches fell at around 40 other places on Saturday and Sunday under the impact of Cyclone Bulbul, which made landfall on Saturday evening around 150km from the city.
In Bidhannagar, five trees were uprooted and branches of another six fell in various places.
An official of the Calcutta Municipal Corporation (CMC) said portions of an old house on Bechu Chatterjee Street, in north Calcutta, collapsed on Saturday. The sheds of a number of kuchha houses were blown away, too.
The Alipore Met office said Saturday's wind-speed peaked at 60kmph at 10.30pm in the city. The wind roared at 50kmph a few times but the average speed ranged between 30 and 50kmph.
Mohammad Sohail, 28, who worked as a cook at a Ballygunge club, died after a tree fell on him on the club premises on Saturday afternoon, even before the cyclone had struck. A bleeding Sohail was taken to a nursing home on Broad Street, where he was declared dead.
"As many as 40 trees were uprooted and branches fell at around 40 other places in the city on Saturday and early on Sunday," a CMC engineer said. "This was the highest number of trees to be uprooted in a storm in the city in three years."
The rain that accompanied the storm made it difficult for CMC workers to cut and remove the uprooted trees and fallen branches.
"We had six-member teams in each of the 16 boroughs who were tasked with cutting trees. There were also two five-member central teams," the engineer said.
"But they couldn't work for a long time because it was raining.... They had to wait for the rain to stop or at least weaken to start operations."
CMC officials said all fallen trees and branches had been removed by Sunday afternoon. "The primary task was to clear the roads so that traffic was not held up. The branches have been kept along the edge of several roads," an official said.
Parts of Kidderpore and some other low-lying areas were inundated. The water receded on Sunday.
The house on Bechu Chatterjee Street that partially collapsed did not have any resident, a CMC official said. "No one was injured. We have cordoned off the area. Demolition will start on Monday," he said.
An official of the Bidhannagar Municipal Corporation said five trees were uprooted and branches of another five fell in Salt Lake on Saturday and Sunday. One of the uprooted trees was in front of AMRI Hospitals and another was near City Centre.
"We had opened a control room that functioned overnight. Teams with power-saws moved around the township. There are no reports of any loss of life or injury," the official said.
In New Town, too, branches of several trees fell. "Our teams cleared branches whenever a call came," said an official of the New Town Kolkata Development Authority.