Bridge spanner in fray
Pranab Mukherjee's son faces 'failed' promise allegation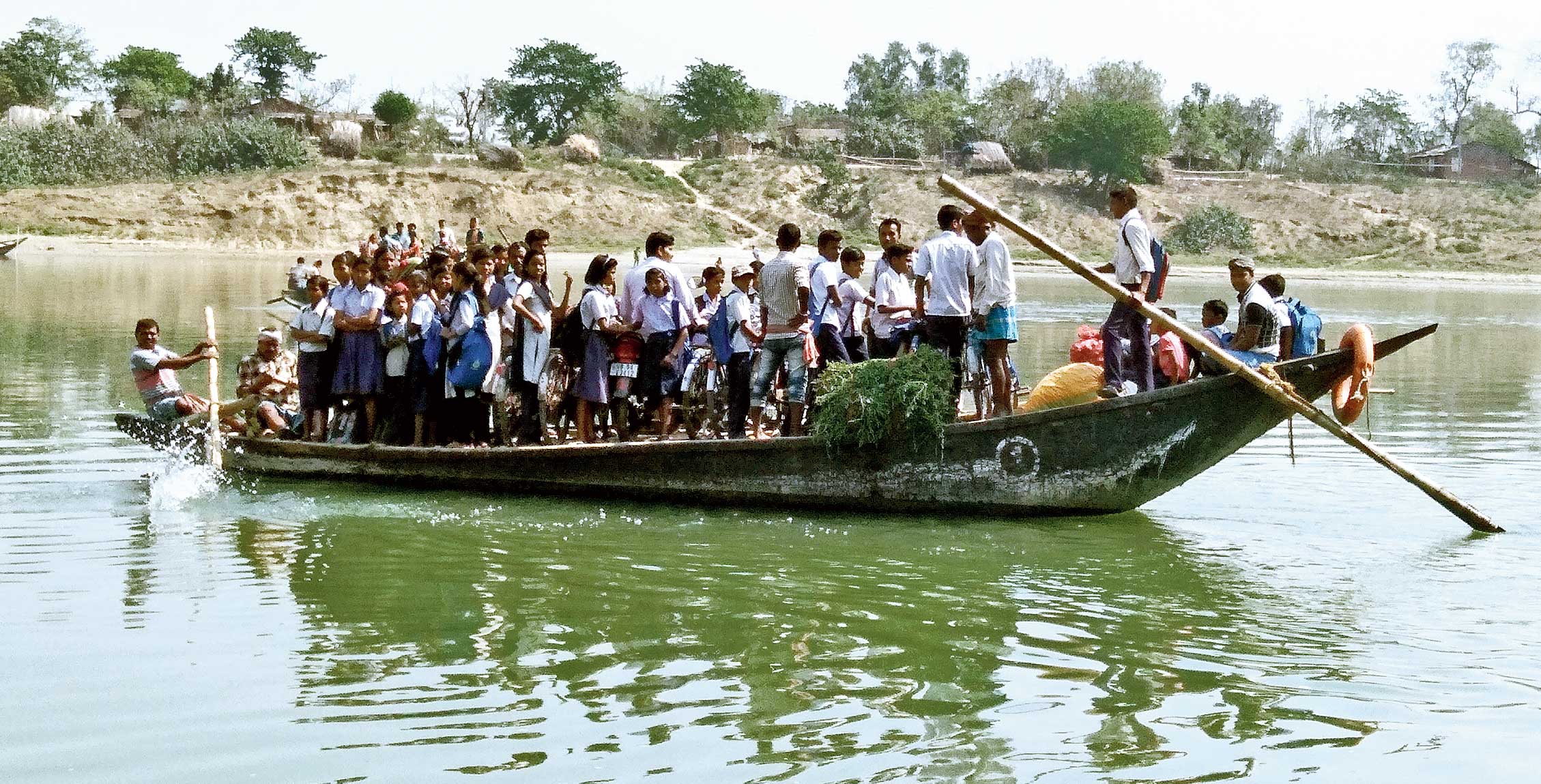 ---
---
A purported promise by former president Pranab Mukherjee and his son Abhijit to build a bridge and their alleged failure to deliver have become the talking point among 80,000 voters of Suti in the Jangipur Lok Sabha constituency served by the duo.
In 1997, 59 residents of Suti's Amuha village were killed when an overcrowded boat was swept away by strong currents in a canal of the Farakka Barrage.
"Pranab-babu had assured us of a bridge at Amuha in 2004. His son Abhijeet promised us the same in 2014. Even after 15 years, no bridge has come up. Another general election is here and we will question them this time," Jaylal Mondal, 52, a resident of Lokaipur village on the western bank of the canal.
The boat that sank on 22 October, 1997, had mostly people visiting a carnival on the eastern side of the canal. Twenty-years on, the residents still have little choice but to use crowded and precarious boats to cross the canal daily.
The 40km long and 100m wide canal was carved out in 1975 by the Farakka Barrage Authority. The canal, which finally dissolves into the Bhagirathi river, is used by coal barges of the National Thermal Power Corporation in Farakka.
The canal passes through the middle of the Suti Assembly segment. Around 250,000 people live at 10 villages on the west side of the canal. They have to board overcrowded boats daily to get to the eastern side, where police station, block development office, high school, hospital, bus stand and college are located.
"The population is increasing and there are limited number of boats. The load makes it very difficult for boats to navigate through currents, and everyone is always in a hurry," said Sujan Das, a boatman.
Imani Biswas, who had represented Suti as a Congress MLA and later joined Trinamul, said: "Pranab Mukherjee could have easily helped construct a bridge across the canal. He did open a few establishments in Jangipur: provident fund and income tax offices and an Aligarh Muslim University campus."
Samrat Ghosh, a BJP leader in the area, said: "People were very hopeful when Mukherjee won from Jangipur in 2004. They compared him to A.B.A. Ghani Khan Chowdhury, who made sweeping changes in Malda. But the residents of Suti have been left disappointed. He has helped factory owners, maybe, but not common people. And his son Abhijit is hardly interested, he lives in Delhi."
Pranab had won from Jangipur in 2004 and 2009. After he became the president in 2012, the seat was vacated and his son Abhijit won in a bypoll. He was elected from the same seat in 2014 also. He will take on Khalilur Rehman of Trinamul and Mafuja Khatun of the BJP this year.
Asked about the promised bridge, Abhijit said: "My father never makes promises before doing a job. So that claim is impossible. Further, I never made such a promise in 2014. I have spoken to engineers. The bridge has to be high to let barges and launches pass under it. Approach roads will have to be built and land will be required for that. Many houses at the Amuha village will have to be demolished."
Asked about the disenchantment, Abhijit said: "I have done a lot for Jangipur."
Mukherjee said when he had visited Amuha on March 17 to attend a public meting, the bridge issue came up.
"I discussed the problems with Congress workers,' Abhijit added.