Bowbazar traders told to give details
Process part of an effort to rehabilitate the traders affected by the East-West Metro tunnel fiasco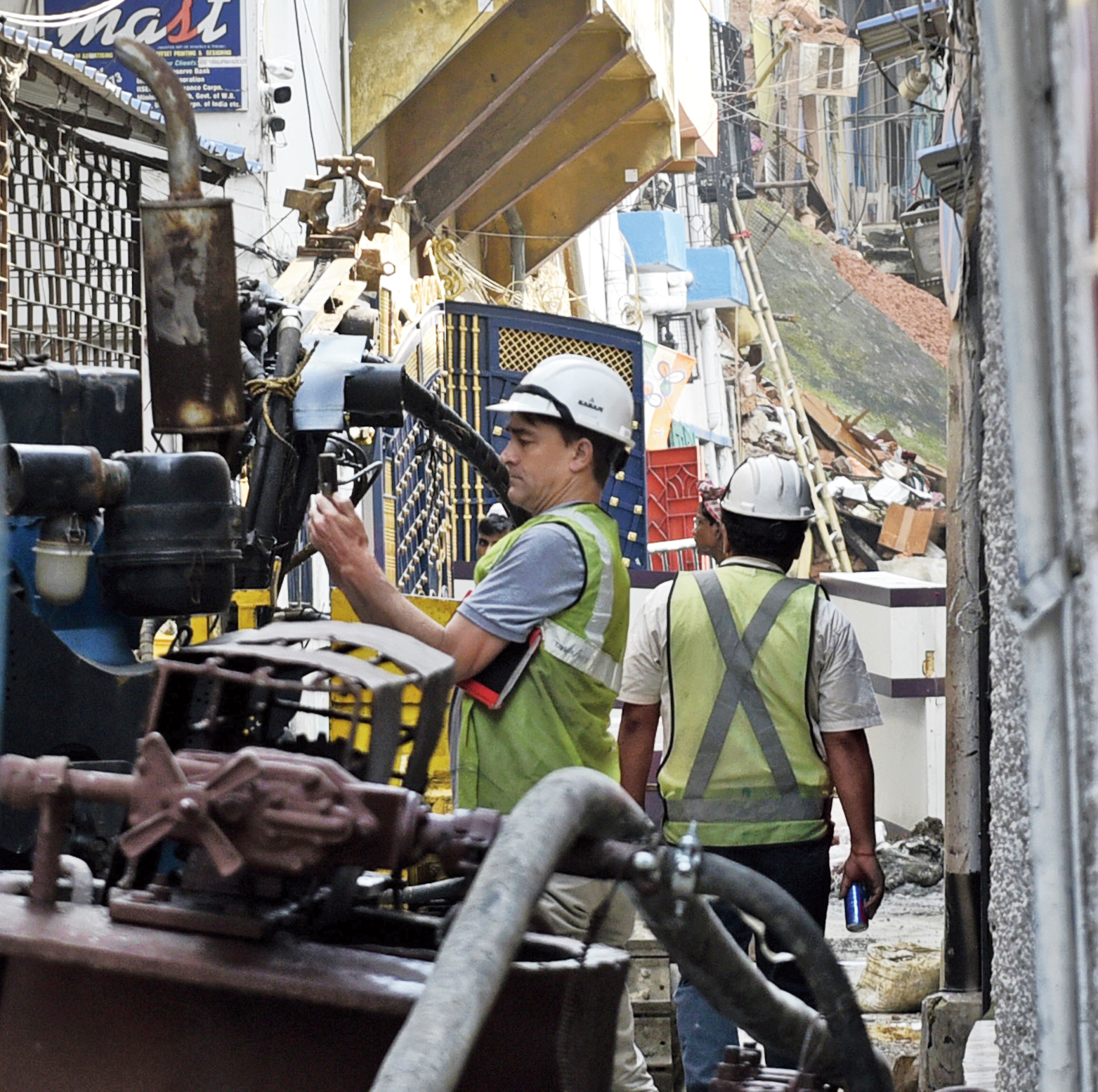 Officials at work in Bowbazar's Syakrapara Lane on Sunday.
Picture by Sanat Kr Sinha
---
Bowbazar
|
Published 15.09.19, 08:39 PM
|
---
Forty-four traders from Bowbazar, who have not been able to run their businesses since the East-West Metro tunnel mishap a fortnight back, have been given a form where they have to state their business details.
The process was part of an effort to rehabilitate the affected traders, said officials of Kolkata Metro Rail Corporation (KMRC), the implementing agency of East-West Metro.
The officials said they had identified two locations — Lusan Sarani in Jorasanko and Sukeas Lane in Burrabazar — where the traders could be rehabilitated.
Since the officials are not sure which of the buildings would need extensive repairs before its residents and other occupants are allowed to return, they have decided to relocate the traders outside the affected zone so they could resume business at the earliest.
The committee that is surveying the health of the buildings on the three affected roads in Bowbazar — Durga Pituri Lane, Syakrapara Lane and Gaur De Lane — is expected to submit its report on Wednesday. Based on the findings, KMRC will decide which buildings need to be pulled down, which need repairs and which are fit to live in.
"The traders have not been able to run their businesses for about a fortnight. We have to give them an alternative space from where they can run their businesses. The forms were distributed as part of the process," said a KMRC official. He termed the relocation "temporary".
The KMRC had earlier asked traders to submit their trade licences. Seventy traders have so far handed over their trade licences and the documents have been forwarded to the Calcutta Municipal Corporation (CMC) for verification.
Metro reported on Sunday that KMRC officials and police called on a number of traders to check their documents on Saturday.
"The CMC has so far verified 50 trade licences. Copies of the form were handed over to 44 traders today," a KMRC official said on Sunday.
"The form will be handed to all genuine traders. We want to be careful to ensure that no false claim is entertained. So, we have asked the CMC to verify the trade licences."
KMRC officials also said they would be able to hand over damages to more evacuated families after banks authenticate their account details. So far, 97 families have been given compensation cheques. Altogether, 688 people have been evacuated from 68 buildings.
The Metro authorities have also sought approved plans of 20 buildings from the CMC. A preliminary inspection by KMRC had revealed that buildings would need demolition. The final decision, however, will be taken after the survey committee sends its report.