Reading has always been a 'minority pastime' and mobiles not to blame, says Ruskin Bond
The author shares anecdotes with an eager audience of students and teachers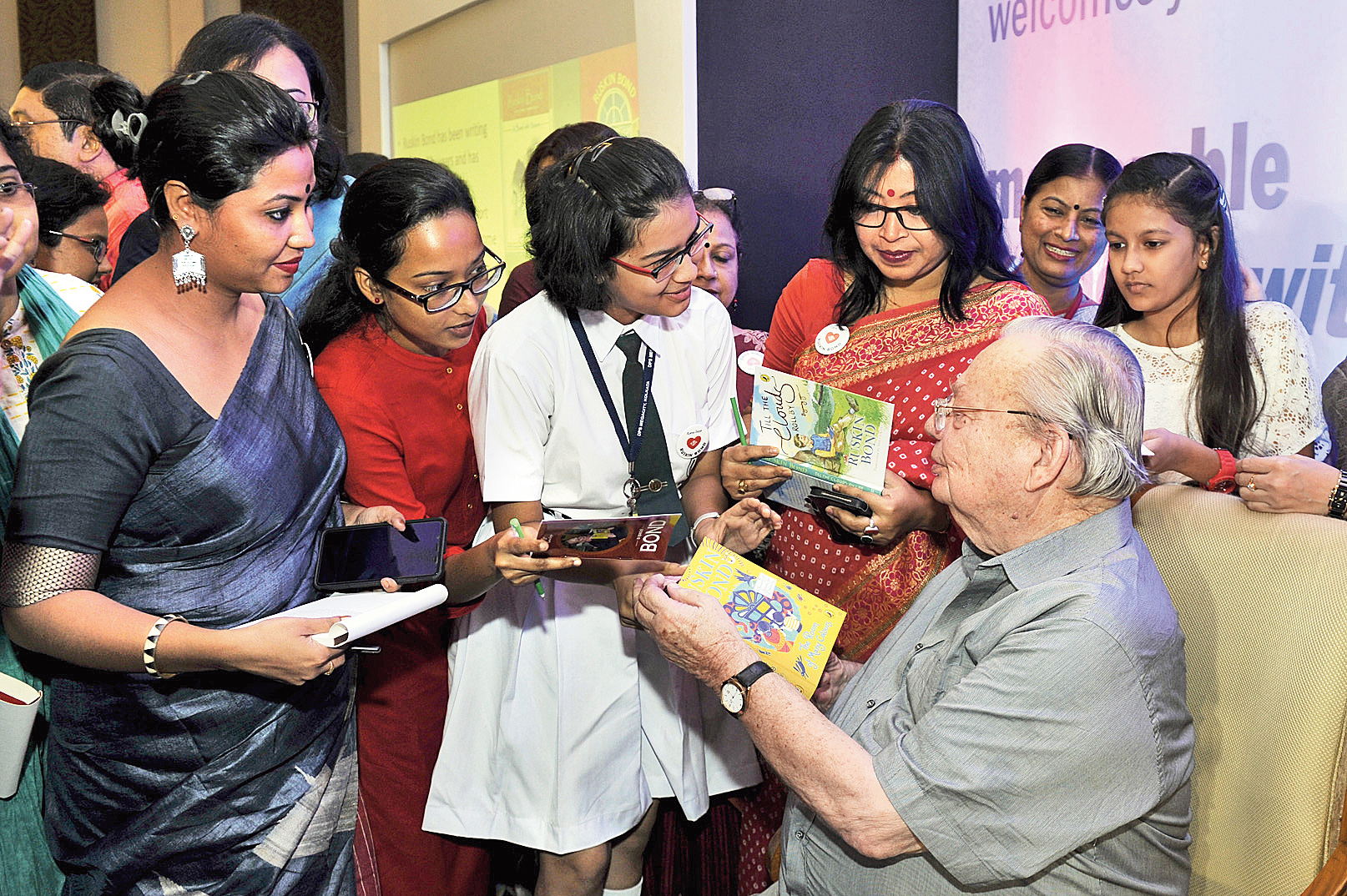 Ruskin Bond with students and teachers at a city hotel on Saturday.
Sanat Kr Sinha
---
Calcutta
|
Published 29.09.18, 09:37 PM
|
---
He still digs into the dictionary to discover new words, loves to sleep when he is not writing and makes his own bed, a habit he picked up in boarding school. Ruskin Bond, forever young at 84, on Saturday shared anecdotes and episodes from his life with an eager audience comprising heads of schools, teachers and students.
The Mussoorie-based author, who has been writing for more than 65 years and has a body of work spanning 500-odd short stories, novellas, essays and poems, said the idea of getting better keeps him going. "I try to improve my writing," he said. "There is only one way to improve your writing, whether you are a child or a grown-up…(and) that's to read more. I keep the Oxford English dictionary on a table and I often dip into it just for fun. You could keep on discovering new words, their meanings and origins. It's quite fascinating. You keep on discovering new things if you read."
Bond considers himself "a lazy writer", scribbling words that create magic prose and poetry for an hour or so by his bedside in the morning.
"It's just that I have been writing for so many years, for 65 years, so if you write two or three stories in a month, well, your multiplication is better than mine," he said.
Memorable Moments with Ruskin Bond, the event presented by Ratna Sagar at The Gateway Hotel, had an audience of more than 400 from 220 schools listening with rapt attention as the author read out portions from his own stories and later answered questions.
According to the vice-principal of one of the participating schools, "even teachers were behaving like children" to get an autograph or a selfie with the author.
Bond does not carry a mobile phone but believes that technology isn't to blame for young people not reading as much as they should. Reading has always been "a minority pastime", he said.
Even back in the day when he was a schoolboy in a class of 35, there were just a couple of serious readers among the boys, Bond recalled.