BJP sidelines old guard to focus on Bengal poll win
Party started expanding in state 'inorganically' by inducting defectors from other parties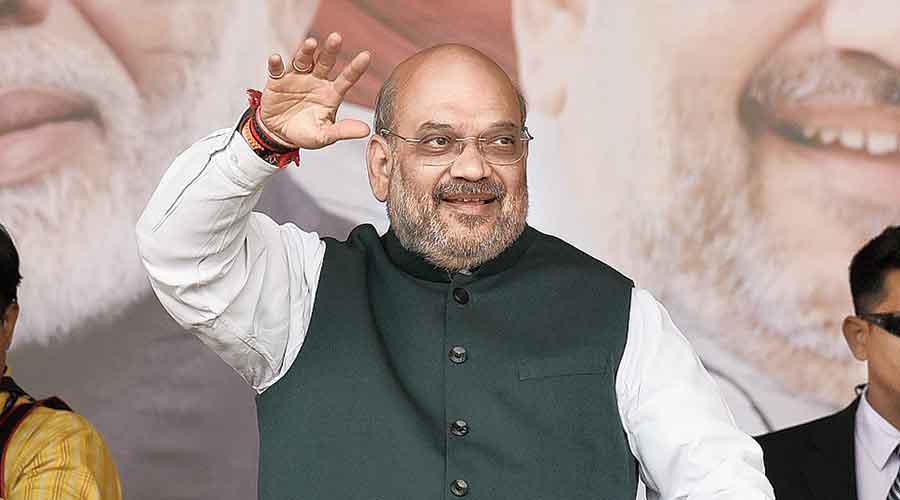 ---
Calcutta
|
Published 09.11.20, 04:46 AM
|
---
The Union home minister Amit Shah's two-day visit to Bengal, with comments on accommodating those who want to join the BJP, may have ended up cementing the positions of turncoats in the party, many in the state party unit believe. 
Since the BJP started expanding in Bengal "inorganically" by inducting defectors from other parties, especially Trinamul, the party has seen a power struggle between the old guard and newcomers. Over the last few months, the tussle intensified, but members of the old guard believed they had an edge.
"That myth seems to have broken...during his visit, Amitji made it clear that the party values those who can contribute towards winning the polls in Bengal and also sent out a message that those coming from other parties would have to be accommodated. If that is the consideration, turncoats clearly have an edge," an old BJP worker said.
Shah's message that the party would get 200 seats has set the momentum for the polls, which means winning elections is now the sole focus. "So more people will join the party from Trinamul and the relevance of BJP's old guard will decline. New inductees from the ruling party will be seen as assets in the BJP in view of their ability to manage elections," said a source. 
The old BJP worker said that during important events such as Shah's visit in the past, the party's old guard played an important role. This time, it appeared that the whole event has been "captured" by the turncoats from Trinamul. 
"If you remember television footage, leaders like Mukul Roy and Anupam Hazra were seen in (more) close proximity to Amitji than our state president Dilip Ghosh," another source said. 
Defectors from Trinamul, Roy is now a national vice-president of the BJP, while Hazra is a national secretary. 
Citing an instance of the change, this source referred to the visit of Shah to the home of Nabin Biswas, a representative of the Matua community. Mohit Roy, a saffron old guard and a prominent leader associated with the refugee movement, was not invited.
The Matuas are a large populace of refugees from the erstwhile East Pakistan and an important vote bank for the party. "The Matuas are refugees and a leader like Mohitda wasn't invited. Instead, Sabyasachi Dutta (MLA and defector from Trinamul) took charge of organising the event," the source said. 
This source added that since Dutta has influence over the Rajarhat-New Town Assembly segment, and a few adjacent seats, he was given priority at the Matua home under the Rajarhat-New Town area. 
During his trip, Shah met three sulking party old-timers, former state presidents Tathagata Roy and Rahul Sinha and former general-secretary (organisation) Subrato Chatterjee. "They were looking for rehabilitation, but it seems they will have to wait," said a source.