BJP's Delhi tea grievance
BJP leaders submit a memorandum to Union commerce minister Suresh Prabhu and narrate plight of tea workers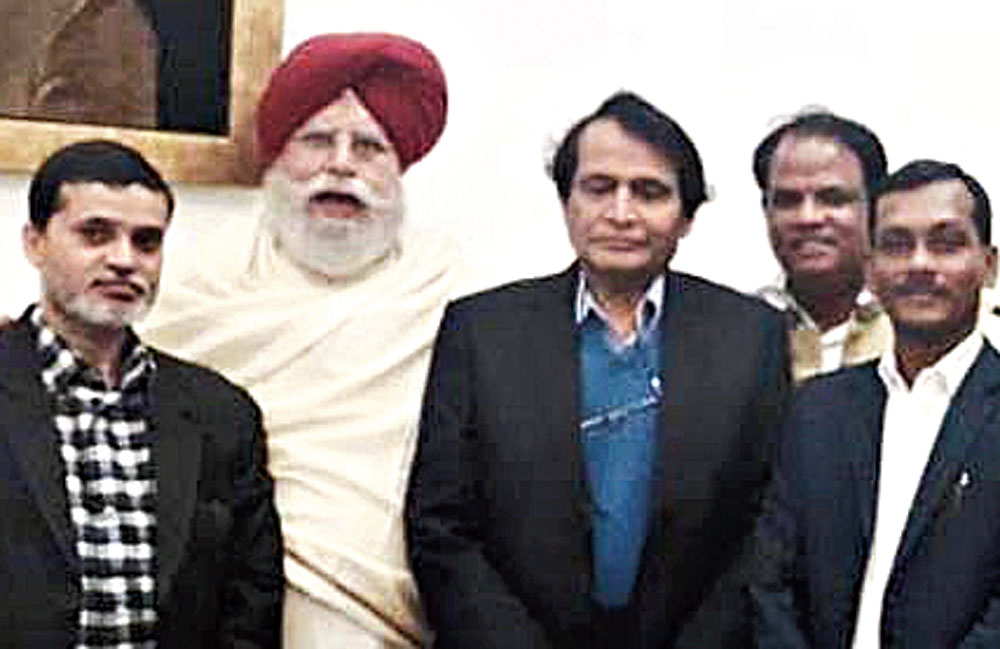 Darjeeling MP SS Ahluwalia and Alipurduar BJP leaders with Union minister Suresh Prabhu in New Delhi on Wednesday
Telegraph picture
---
Alipurduar
|
Published 02.01.19, 07:43 PM
|
---
A delegation of BJP leaders from Alipurduar district met Union commerce minister Suresh Prabhu in New Delhi on Wednesday and sought his intervention for improvement of socio-economic conditions of tea garden workers in Bengal.
Led by S.S. Ahluwalia, the Darjeeling MP and Union minister of state, Ganga Prasad Sharma, the district BJP chief of Alipurduar and some leaders met the minister. They submitted a memorandum to him and narrated the plight of tea workers and their family members.
"We have requested him to visit the Dooars to know about the tea population that is being deprived of several benefits in the state. The state government occasionally extended some doles but has never acted to address serious issues. The violations of legislations which govern the industry by a section of tea planters, absence of minimum wage and delay in payment of provident funds and gratuity are some of the issues which have never been the priority of the state. That is why we have sought his intervention," said Sharma.
In course of the visit, the BJP leaders have urged Prabhu to mull over the proposal to form a high power committee to conduct a study of the tea gardens in Bengal.
"Tea used to be a very healthy industry but these days, mostly in the Dooars, the gardens are often closing down and management representatives are speaking of unsustainable situation. It is necessary to conduct a study so that necessary plans can be drawn up to resolve the problems of lower price realisation," said another BJP leader who was part of the delegation.
While briefing the Union minister on the tea industry, the BJP leaders also mentioned that workers and their families were not aware of a number of central schemes, which could help in their socio-economic development.
Political observers are, however, considering the visit as a tactical move by the BJP.
"The party wants to prove to tea workers its sincerity in resolving their problems. This is all the more because Trinamul leaders have been consistently alleging that the BJP and the Centre had not done anything for the tea population," said an observer.
Trinamul leaders are, however, unperturbed.
"Earlier, the Prime Minister had promised that he would take steps for improvement of workers' conditions in closed tea estates. But nothing has happened. Instead, the state moved in to help the workers. Those residing in tea gardens are well aware of the BJP's empty promises and will not stand by them," said Mohan Sharma, the president of the Cha Bagan Trinamul Congress Majdoor Union.