BJP lands for hill fight
GJM's Binay Tamang camp waves black flags as BJP's candidate of Darjeeling Parliament seat arrives to file nomination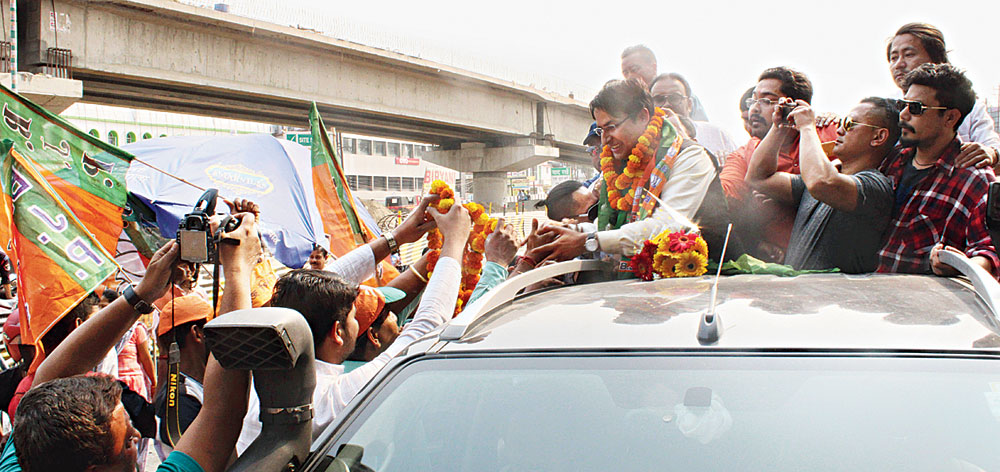 ---
|
Bagdogra
|
Published 25.03.19, 09:00 PM
---
Raju Bista, the BJP candidate of Darjeeling Parliament seat, was received by hundreds of people at the Bagdogra airport on Monday and left for the hills in a convoy of 50 vehicles.
However, a group of suspected supporters of the Gorkha Janmukti Morcha's Binay Tamang camp waved black flags at the 33-year-old entrepreneur in Kurseong en route to Darjeeling.
Supporters of the BJP, Gorkha National Liberation Front and the Morcha's Bimal Gurung faction were present at the airport to welcome Bista. Accompanied by GNLF and Morcha leaders, Bista stepped out of the terminal around 1.30pm amid loud cheers and slogans.
"My party will retain the Darjeeling seat as we have the support of two major political forces in the hills. We are confident of securing a higher margin than the last Parliament polls," Bista told newspersons.
Many people have offered him khadas (traditional silk scarf) outside the airport.
In 2014, BJP candidate S.S. Ahluwalia had won Darjeeling by a margin of around two lakh votes.
Asked about the demand of the separate state which had time and again found place in the BJP's election manifestoes, Bista did not give a direct reply.
"It is an old issue. The BJP is always is in favour of smaller states for better administration. However, I am not the appropriate person to comment on the subject. We can discuss the matter in future," said the BJP nominee.
Bista said he would file nominations on Tuesday.
As his cavalcade carrying prominent GNLF and Morcha leaders headed for the hills, the candidate witnessed protests in Kurseong. A group of people lined up along the road and waved black flags at the candidate.
"The BJP has not done anything for the hill people… the MP (Ahluwalia) stayed away from the hills for around two years. They had assured us that our statehood demand would be looked into but nothing was done," said one of the protesters.